Today marks Scotland's most significant reopening of the economy since the first national lockdown in March 2020.
As of today, social distancing in pubs, restaurants and shops is no longer a legal requirement. And, after being closed for over 500 days, nightclubs and music venues opened their doors last night.
However, despite Scotland lifting many of its COVID-19 restrictions, face coverings and working from home will likely be a part of everyday life until sometime next year.
As the country exits Level 0, it is important to reflect on how the Scottish economy has been performing so far this Summer.
The latest GDP figures indicate that the Scottish economy is 2.7% below pre-pandemic levels, this compares to 3.1% for the UK overall.
The performance of the accommodation and food services sector has been improving since the beginning of summer, and this is expected to continue as businesses dependent upon nightlife reopen this month.
The number of vacancies in the Scottish economy has been increasing and employment has begun to pick up in most parts of the country.
Jobs, both new and existing, will look slightly different moving forward as around a third of Scottish businesses expect to keep homeworking in some capacity in the future.
Life beyond Level 0 has been made possible due to COVID-19 vaccinations. The UK continues to perform well globally in terms of the share of the adult population that have been vaccinated. And, as of 6th August 2021, 90% of Scotland's adult population have received their first dose of the COVID-19 vaccine, and 74.6% have received both doses.

The latest data on the Scottish economy
Table 1: Real time indicators dashboard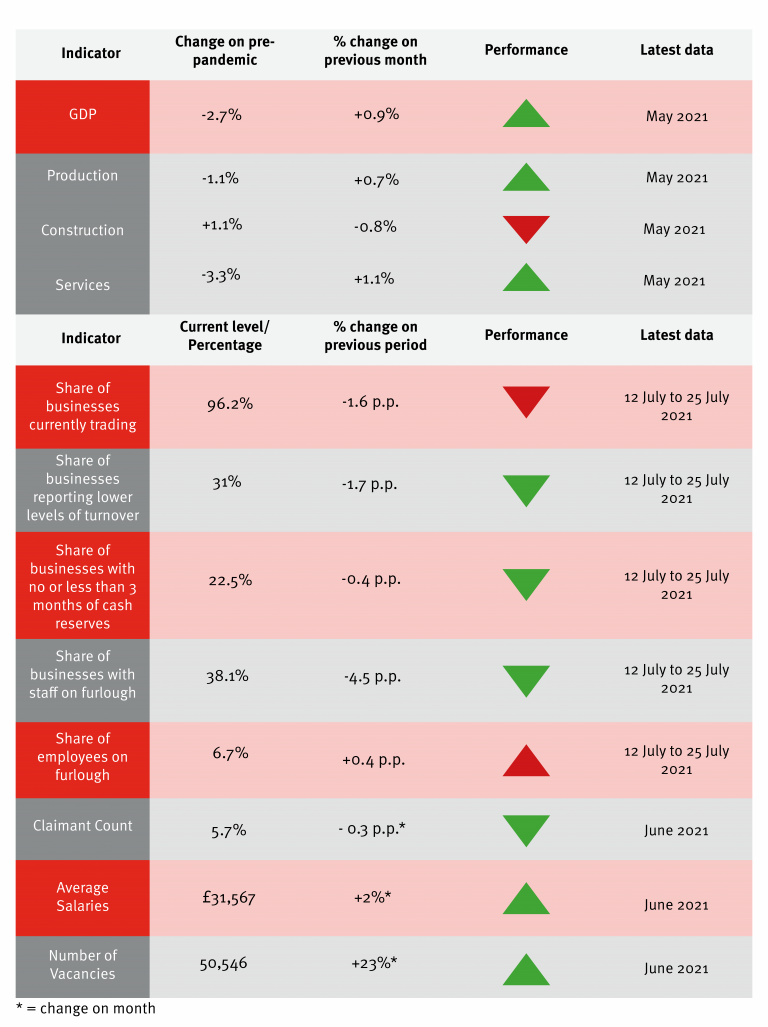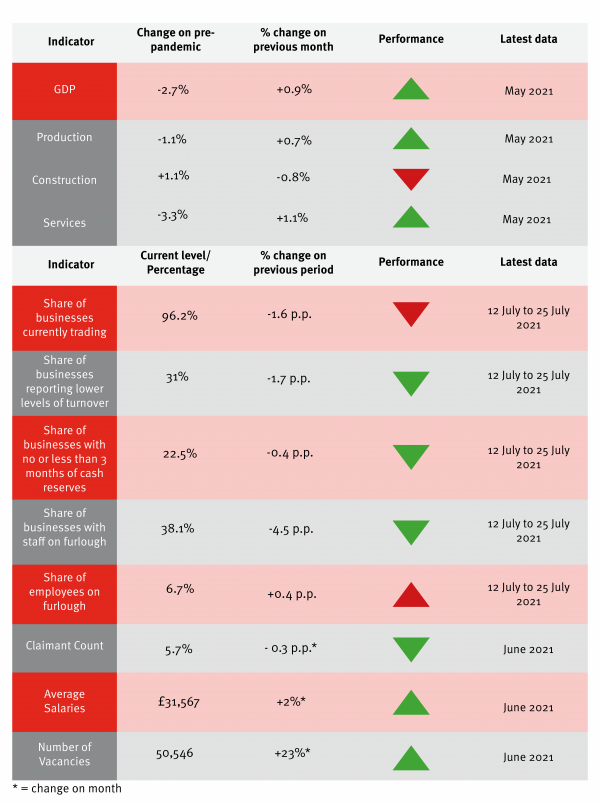 Source: Scottish Government Monthly GDP, Scottish Government BICS, ONS (NOMIS), Adzuna
Chart 1: Scottish GDP, Feb 2020 – May 2021: Scottish GDP grew by 0.9% in May – mostly driven by the services sector – as further restrictions were eased across the country. Accommodation and food services contributed the most to growth in the services sector, and is now operating at around 70% of its pre-pandemic levels. The construction sector contracted for the second month in a row, by 0.8%, however, remains 1.1% above pre-pandemic levels.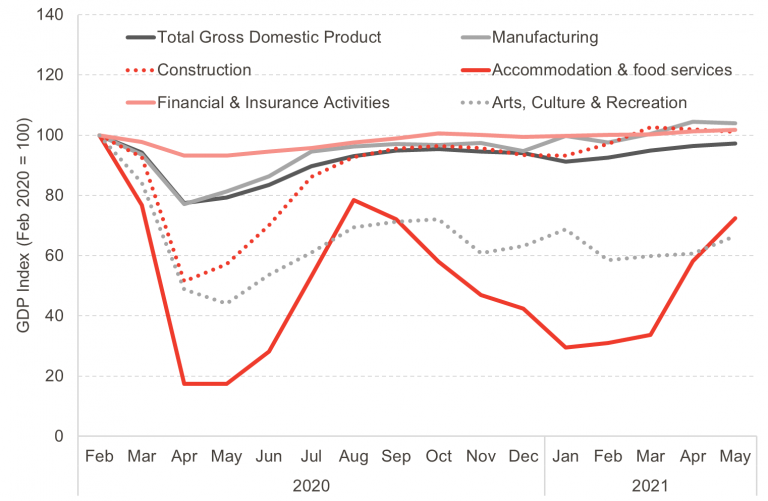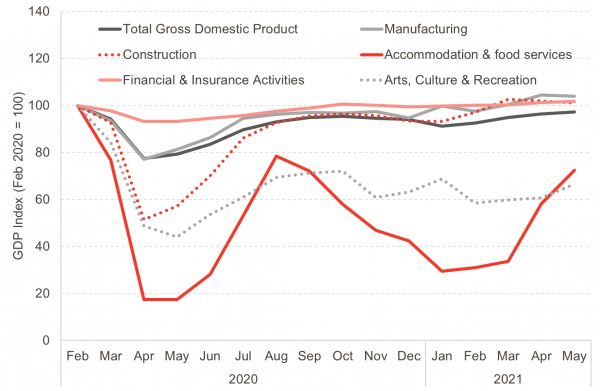 Source: Scottish Government
Chart 2: % of businesses currently trading, Scotland, 15th June 2020 – 25th Jul 2021: 96% of Scottish businesses were trading in mid-to-late July. Despite experiencing a slight decline in July, over 80% of accommodation and food services businesses were operating last month. There has been a significant improvement in this sector over summer, and with nightclubs opening in Scotland on the 9th August, this indicator is on track to increase further into August. 95% of accommodation and food services businesses are currently trading in the UK overall; likely driven by England's 'freedom day' having been on the 19th July, a few weeks before Scotland's.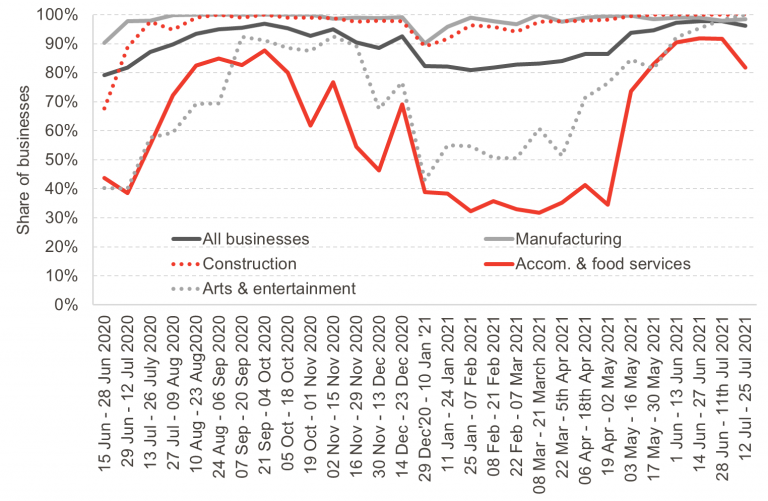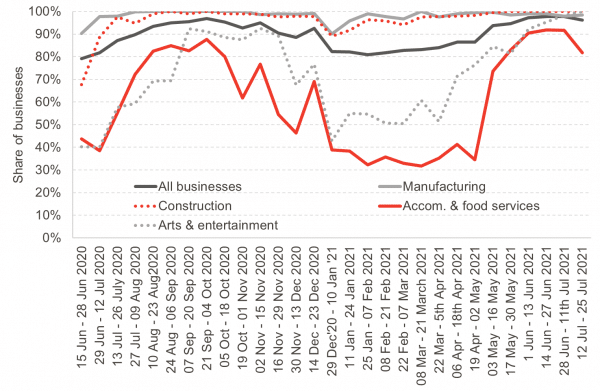 Source: Scottish Government
Chart 3: Employment from PAYE RTI, Scottish regions, January 2020 – June 2021: Despite the recent pickup in vacancies (up 23% in June), employment across Scottish regions has yet to return to pre-crisis levels – although, there has been significant improvements across the country this Summer. Southern Scotland has been the fastest to recover while the North East has been most profoundly affected. The true impact of COVID-19 on employment will be seen once the furlough scheme finishes at the end of September.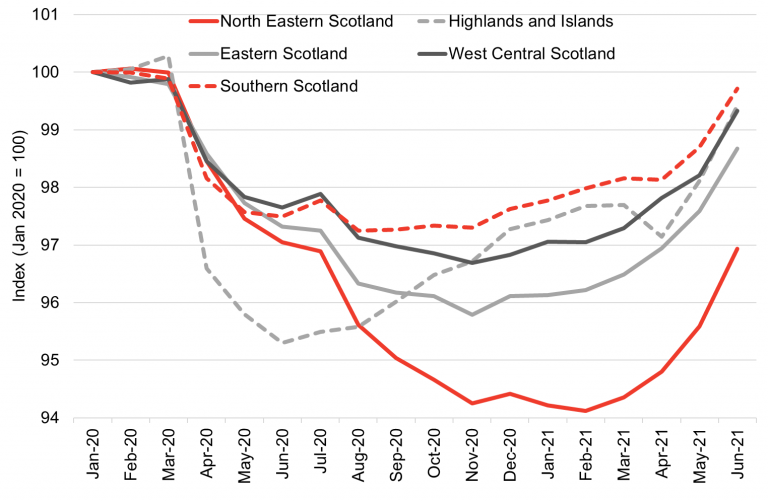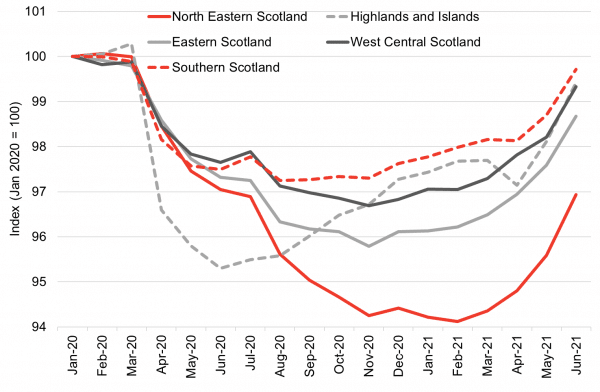 Source: ONS
Chart 4: Share of businesses responding yes to "Does your business intend to use increased homeworking as a permanent business model going forward?", UK, 12 – 25 July 2021: 33% of businesses in Scotland expect to permanently use increased homeworking in the future; this compares to 27% for the UK overall. Whilst less businesses in Northern Ireland and Wales expect to implement longer-term homeworking, many English businesses, typically in London, expect to keep homeworking moving forward.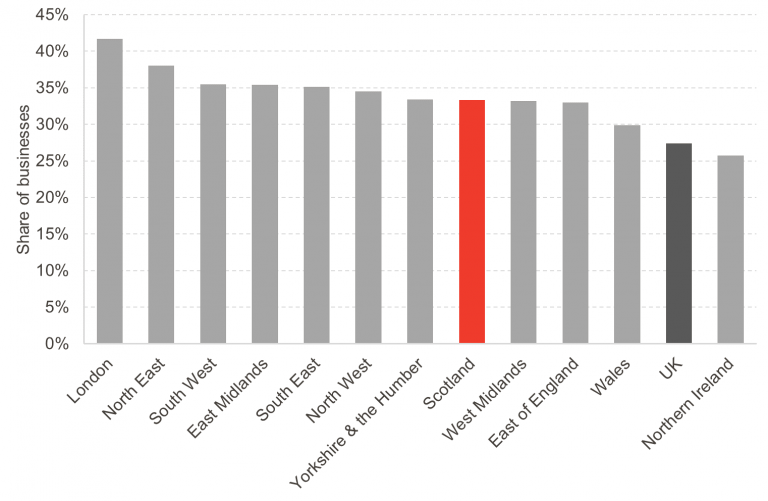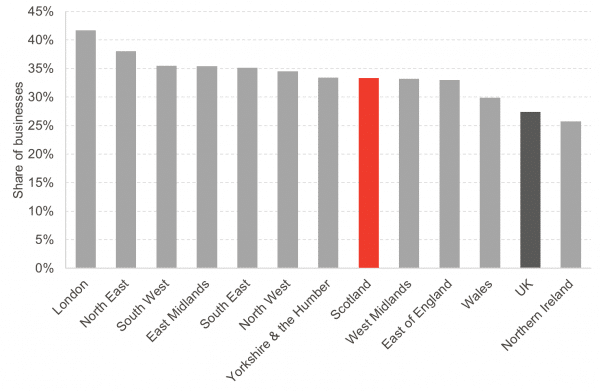 Source: ONS
Chart 5: Share of all people fully and partially vaccinated, as of 8th August, selected global economies: Vaccination rates across the world are now at high levels. The UK currently has some of the highest vaccination rates among world economies, which will support future economic recovery. As of 6th August 2021, 90% of Scotland's adult population have received their first dose of the COVID-19 vaccine, and 74.6% are double vaccinated.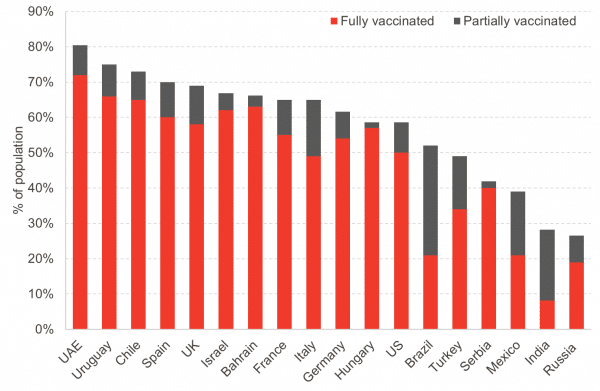 Source: Our World in Data
Note on our real-term indicators analysis:
We review newly available data each month and provide a regularly updated snapshot of indicators that can provide information on how the economy and household finances are changing. Each month we investigate new sources from known data sources and use publicly available data.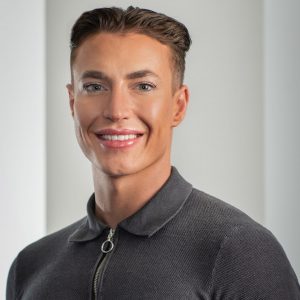 Adam is an Economist Fellow at the FAI who works closely with FAI partners and specialises in business analysis. Adam's research typically involves an assessment of business strategies and policies on economic, societal and environmental impacts. Adam also leads the FAI's quarterly Scottish Business Monitor.
Find out more about Adam.
Ben is an economist at the Fraser of Allander Institute working across a number of projects areas. He has a Masters in Economics from the University of Edinburgh, and a degree in Economics from the University of Strathclyde.
His main areas of focus are economic policy, social care and criminal justice in Scotland. Ben also co-edits the quarter Economic Commentary and has experience in business survey design and dissemination.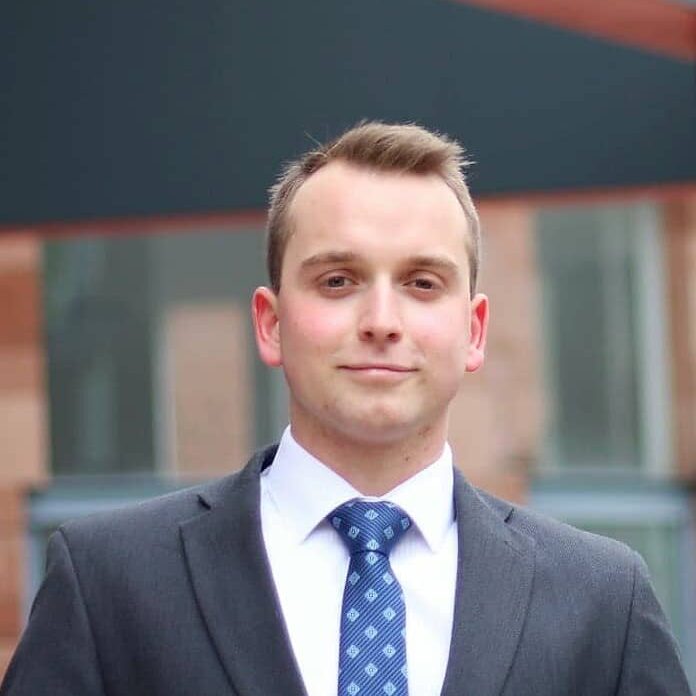 Frank graduated from the University of Strathclyde in 2019 with a First-class BA (Hons) degree in Economics. He is currently studying on the Scottish Graduate Programme MSc in Economics at the University of Edinburgh.
He has experience from a variety of economic policy institutions including the European Commission in Brussels, the Slovak Central Bank and the Ministry of Finance.