---
Grant Allan & Stuart McIntyre
http://www.nowcastingscotland.com
Fraser of Allander Institute, University of Strathclyde
---
The performance of the Scottish economy has been relatively fragile for some time now; growth has slowed since early 2015 and shows little sign of picking up. In this blog we provide the latest update from our nowcasting model for Scotland. Further details on our approach and model are available here.
This month our estimates of growth in the Scottish economy put current growth (Q1 2017) at a modest 0.38%. This remains relatively low by historical standards, although better than some recent quarters.
Our most recent nowcast for 2016 Q4, for which official estimates are released by the Scottish Government next month, put growth at 0.42%. This is very marginally better than our current estimate for 2017 Q1.
As we have highlighted on a number of occasions, much of the relative weakness in the Scottish economy since the start of 2015 can be pinned on the low oil price causing a decline in North Sea activity which in turn impacts on the local Scottish economy. However, overall business and consumer confidence has been weaker now in Scotland for a relatively sustained period of time as the chart below shows.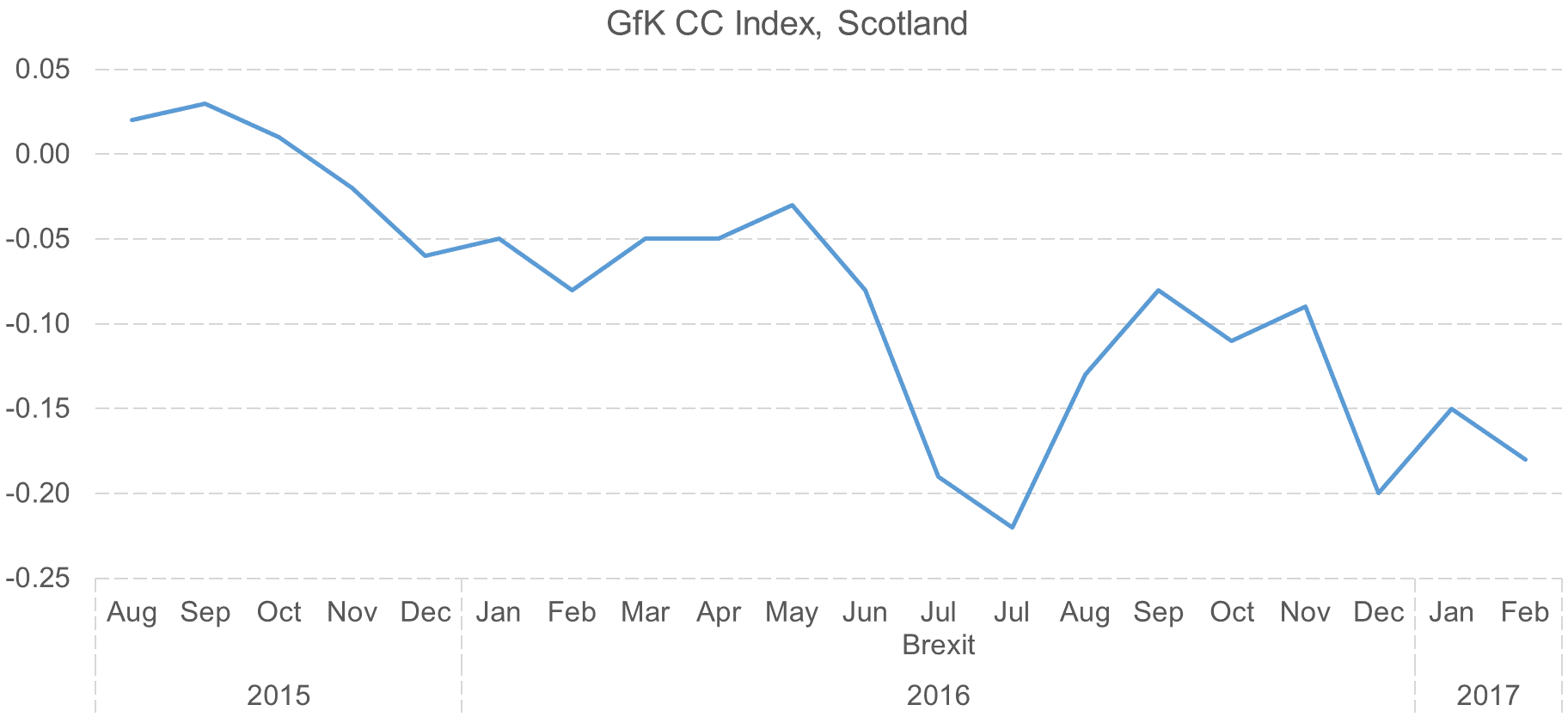 If you put our latest nowcast for 2016 Q4 (which suggests better growth than in previous quarters of 2016) together with the published GDP growth rates for Q1-Q3 2016 we can produce an estimate of growth in 2016. When you do this, you get a growth rate of just 0.6% in 2016.
To put that into perspective, that is a lower GDP growth rate that the UK economy had in Q4 alone (0.7%). It is also well below the historical long-term growth rate for Scotland of over 2%; the equivalent figure for the UK as a whole in 2016 was 1.8%.