This update provides a snapshot of new data on the Scottish economy and households.
Business indicators confirm that Scottish businesses continue to operate well below capacity, but there is clear evidence of more businesses returning. The latest BICS from ONS now puts the number of businesses in Scotland to have paused trading temporarily at 14.3% (down from 18.0% in the second half of May). This figure is slightly higher than for England (11.8%) but in line with Wales (13.8%) and slightly lower than Northern Ireland (16.7%).
The reopening of High Street retailers at the start of this month brought a spike in demand – even exceeding pre-crisis levels. However, the latest labour market data shows that the number of vacancies in Scotland remained at historical lows in June, and with further job losses being announced on a daily basis, unemployment is likely to rise sharply in the weeks ahead.
Earlier this week the Chancellor announced further spend to protect jobs and stimulate economic recovery as support from the Job Retention and Self-employment Income Support schemes begins to scale back. Among other things, this support includes a new "Kick Start" Job Guarantee Scheme and a Job Retention Bonus. It remains to be seen whether or not these measures will be enough.  See our article from Wednesday for a summary of measures and our article from yesterday on the implications for the Scottish budget.
Chart 1: Business turnover index in Scotland, Jan 2011 – May 2020: businesses in all sectors except food retail reported decreased turnover in May compared to the same month last year. Accommodation & food services remains the hardest hit sector.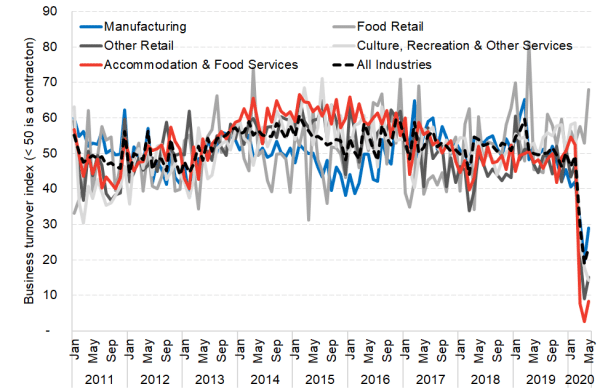 Source: Scottish Government
Chart 2: Trading status of businesses, UK nations, 1st – 14th June 2020: 7% of Scottish businesses have resumed trading in the first two weeks of June and 4% intended to do so in the latter half of the month – slightly higher than the UK average.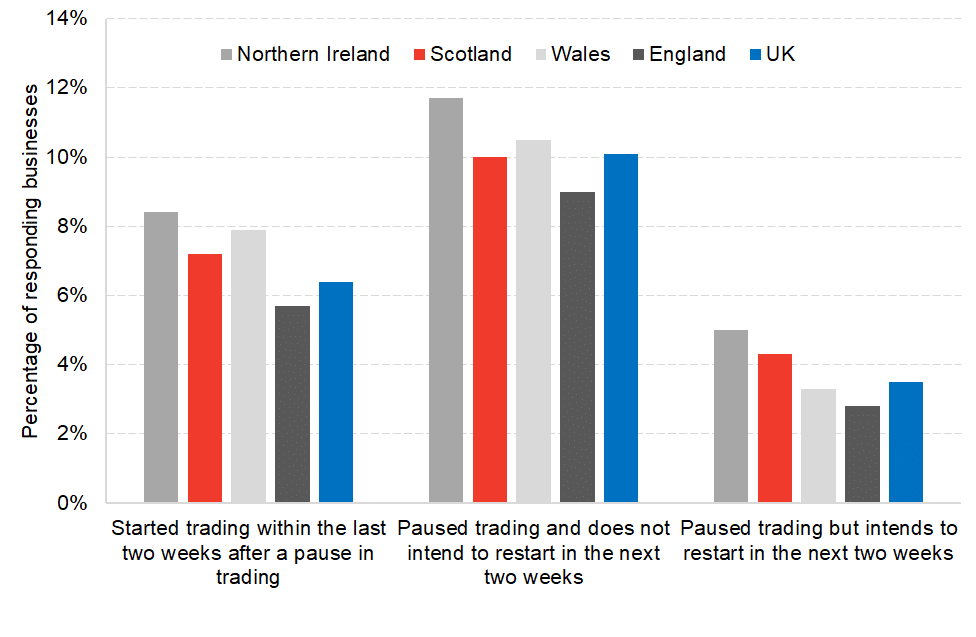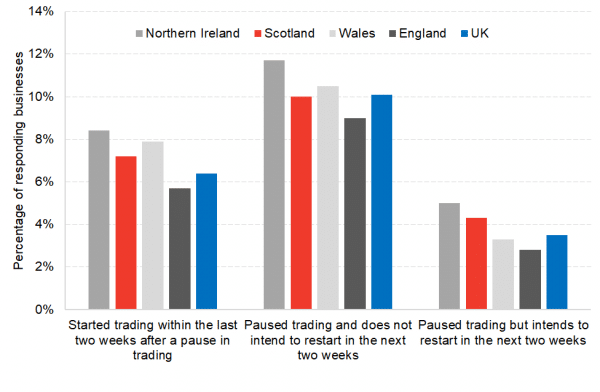 Source: ONS BICS
Chart 3: Percentage of businesses with cash reserves for 3 or less months, UK nations, 20th April – 14th June 2020: the cash reserves of Scottish businesses improved slightly in the first two weeks of June and Scotland still has the lowest share of cash-constrained businesses in the UK.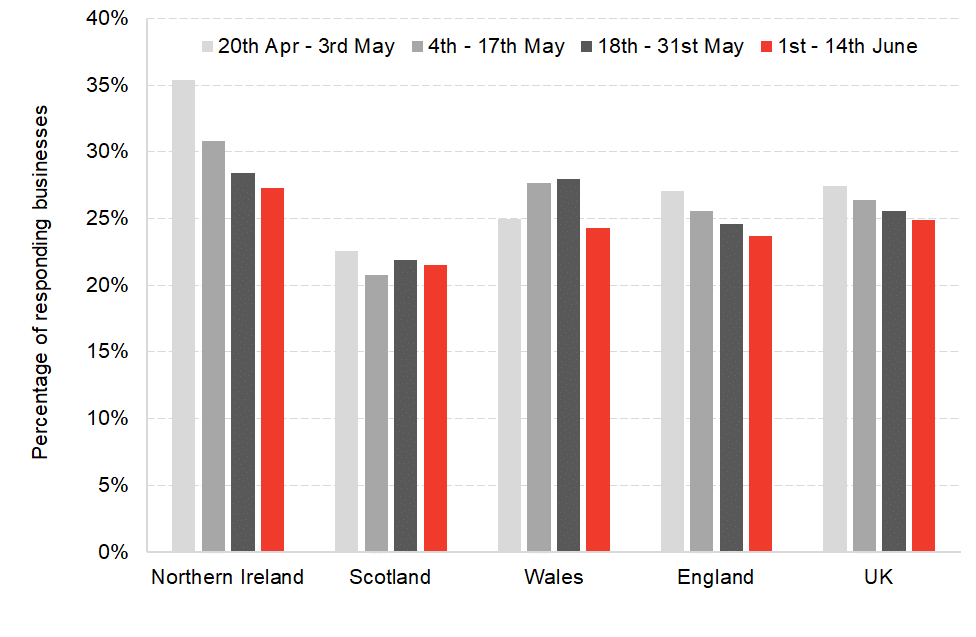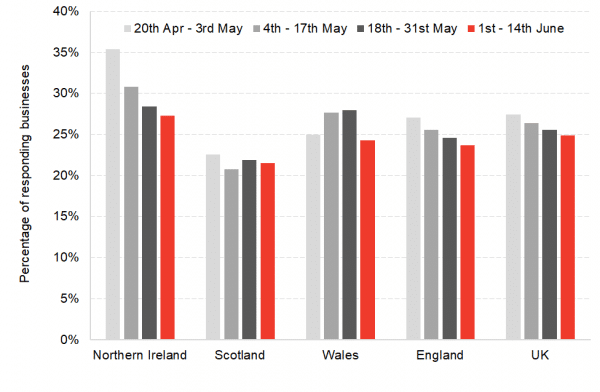 Source: ONS BICS
Chart 4: Google searches for products and services in Scotland, 5th January – 28th June 2020: consumer interest continued to improve in the car and High Street retail sectors in the week commencing 28th June. After the reopening of non-essential stores on 1st July interest in High Street retail soared, exceeding the levels experienced during the same week last year by more than 50%.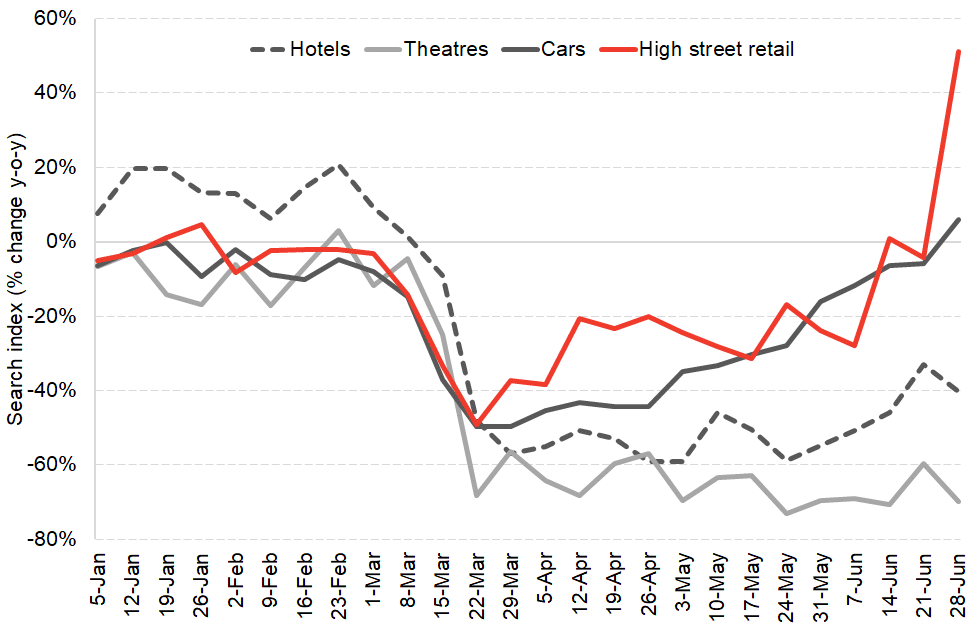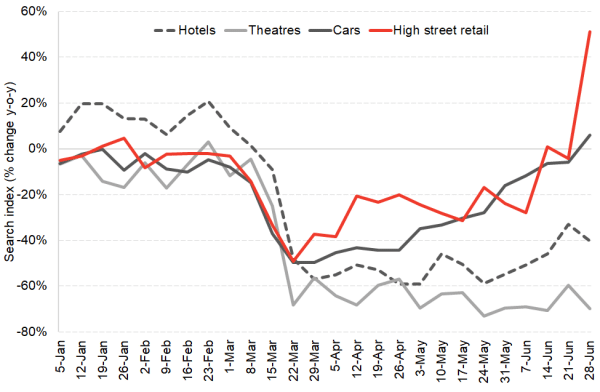 Source: Google Trends
Chart 5: Number of applications and expenditure on crisis grants in the Scottish Welfare Fund, January 2018 – May 2020: the number of applications for crisis grants was 37% higher in May compared to the same month last year. However, the number of applications and expenditure on crisis grants decreased in May compared to its peak in April.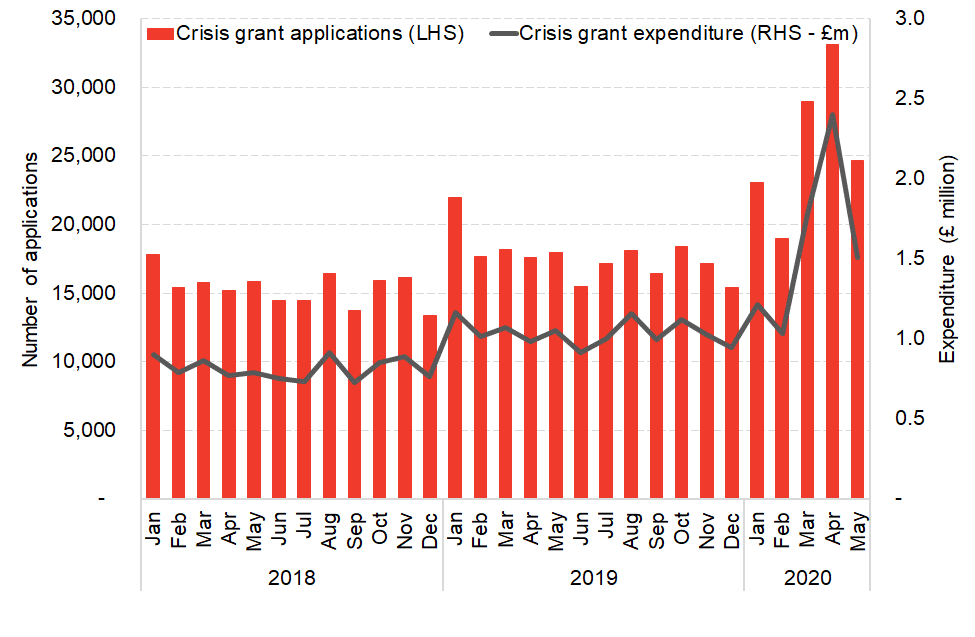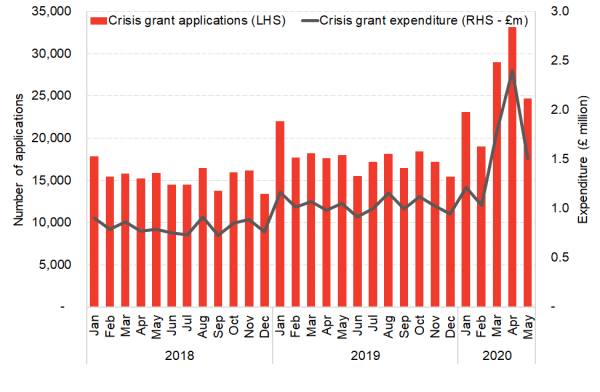 Source: Scottish Government
Chart 6: Number of vacancies in Scotland, May 2019 – June 2020: vacancies in June were 60% below that of last year however, there were 1,400 more vacancies advertised compared to last month.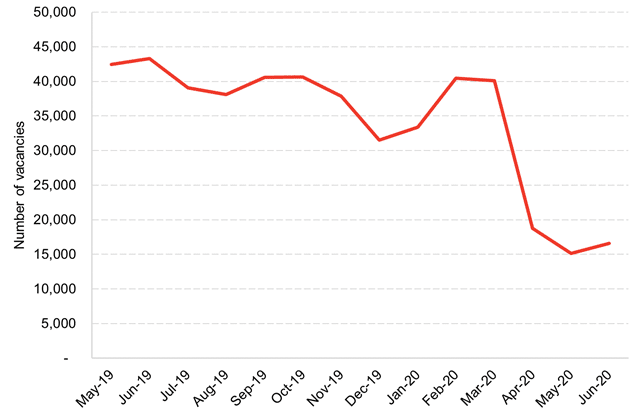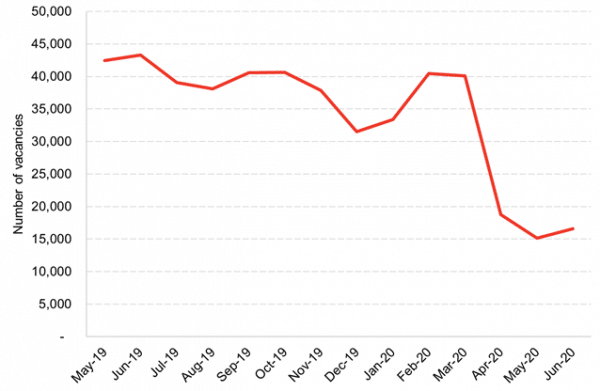 Source: Adzuna Labour Market Stats
Note on our real-term indicators analysis:
We review newly available data each week and provide a regularly updated snapshot of indicators which can provide information on how the economy and household finances are changing week to week. This allows us to monitor changes in advance of official data on the economy being released and also to capture key trends that will be missed by measures such as GDP. Each week we investigate new sources from known data sources and use publicly available data.
The Fraser of Allander Institute (FAI) is a leading economy research institute based in the Department of Economics at the University of Strathclyde, Glasgow.