---
Fraser of Allander Institute, University of Strathclyde
---
To help obtain a picture of how businesses are reacting to the decision to leave the EU, we undertook a survey of Scottish companies to gauge their initial assessment of what the outcome means for them and their future plans.
The survey was conducted between Monday 5 July and Tuesday 12 July and covered more than 320 firms. It is – to our knowledge – the first post-referendum survey in Scotland of business sentiment.
Surveys are always subject to sampling variation, however in instances such as this they can provide a helpful early indication of the reaction from the business community to major events. Clearly how firms actually respond in due course will depend upon a number of factors, including the final UK-EU exit agreement. The qualitative conclusions that can be drawn are nevertheless highly interesting and provide important insights for policy.
Key Results
The key headline conclusion is that of the firms surveyed, just over 60% said Brexit will have a negative impact on their business and only 19% believe that it will have a positive impact. One third said the impact would be 'very negative'.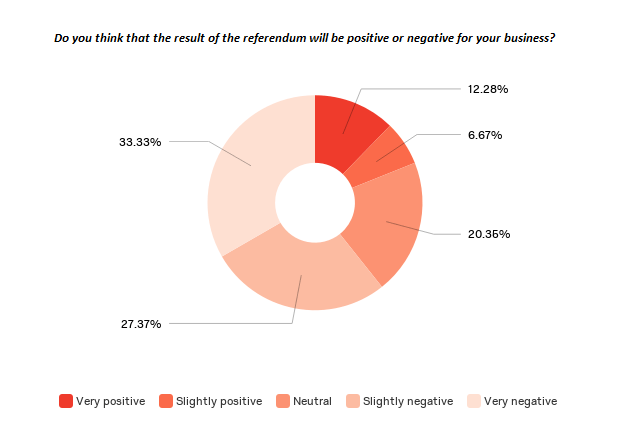 We followed this up by asking firms if they believed that the referendum result could have a direct bearing on their future investment and recruitment plans. Around 40% said that it could have a negative impact on their investment plans with a further 40% responding that it was unlikely to lead to any change. Around 10% said it was likely to have a positive impact on future plans. The response was similar when asked about recruitment plans, although the number saying that it was unlikely to have any impact was higher at 55%, with 34% saying that they believed that it would have a negative impact and just 4% believing that it would have a positive impact.
One particularly striking result from the survey is the lack of preparation – at this stage – for the UK exiting the EU. More than 85% of firms reported that their firm has done no preparation whatsoever – or 'very little' – with less than 1% reporting to having made significant plans.
This is consistent with evidence from the UK as a whole. This suggests that a key priority for many businesses over the coming months will be working out what Brexit – and the various possible different economic and political arrangements – will mean for their business model and operations.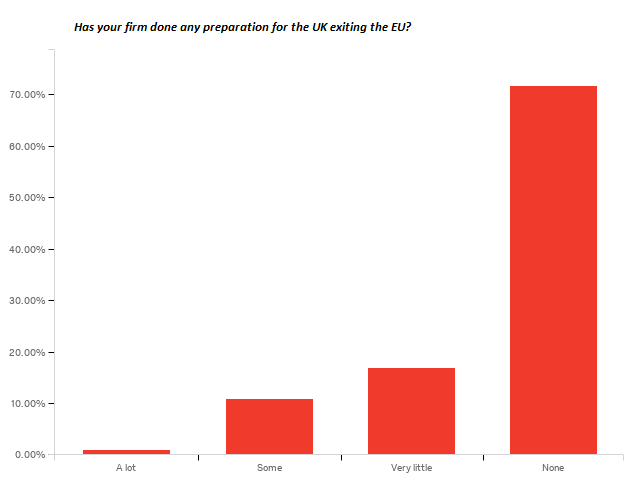 We also asked firms whether or not they had already changed their investment and recruitment plans as a result of the referendum outcome. For Investment/Expansion, just over 25% of firms reported that in response to the referendum some of their planned investments/expansion activities have now changed.  The remaining 75% said that they hadn't changed.
Of this subset of firms that have already changed their plans, we find very little evidence of firms having actually cancelled their investment or recruitment plans outright – with firms postponing their plans until the short-term uncertainty is removed, by far the most popular response (63% postponed at least until short-term uncertainty is removed; 33% postponed indefinitely; and 4% cancelled entirely).
Broadly similar results were found when asked about current recruitment plans.
For 67% of the firms surveyed, the resolution of uncertainty is a key issue in the UK's negotiation of its exit from the European Union. 49% of firms cited Access to the Single Market as a key issue.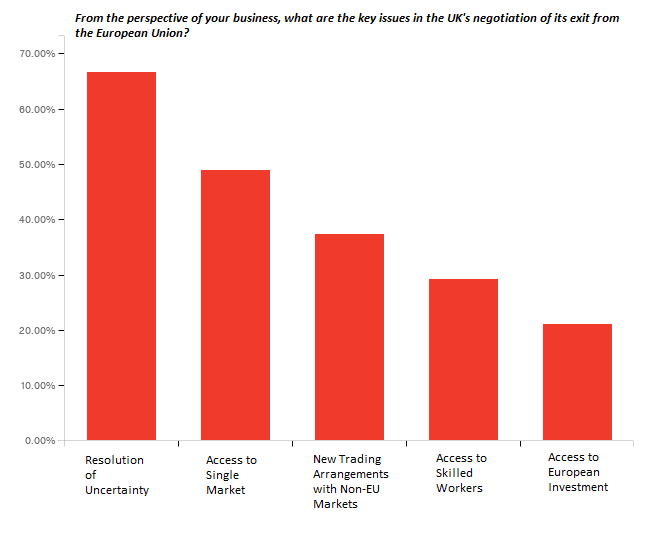 So what does this survey tell us?
Firstly, as pointed out above, surveys are always subject to a degree of variability – a different set of questions to a different group of firms may get different quantitative results. The results are however, broadly consistent with other evidence from the UK.
Even considering all necessary health warnings, the survey does reveal an interesting picture of the reaction within the Scottish business community to the EU referendum result.
In this regard, there seems to be little doubt. The clear consensus amongst business is that Brexit will have a negative impact. It is unsurprising therefore that we find that many are adjusting their expectations about future investment and recruitment plans. What we don't know from this survey is the scale of this re-alignment and/or how these plans will evolve as the months pass. We intend to re-visit this survey over time to test these exact questions.
In contrast, we find no evidence from the survey of major decisions being undertaken to cut-back investment or jobs immediately. The importance attached to the resolution of uncertainty is unsurprisingly a key issue for firms – particularly given the lack of preparation for the UK leaving the EU picked up in the survey.
Resolving the current political and economic uncertainty – as best as possible – must now therefore be the key priority. In this regard, it is imperative that policy-makers do all they can to help reduce this source of instability to allow businesses to invest and press-ahead with their recruitment plans. The longer the period of uncertainty continues, the more damaging the impact will be on the economy.
The Fraser of Allander Institute (FAI) is a leading economy research institute based in the Department of Economics at the University of Strathclyde, Glasgow.