Last week the Governor of the Bank of England warned that Brexit has created a "high level of uncertainty" and "companies are holding back on making big decisions".
Earlier this month, the Bank cut its growth forecast to just 1.2% for 2019. If this turns out to be correct, this will be the slowest year of growth since the financial crisis.
Not all of this is down to Brexit.
Some of the revision reflects a weaker global economic outlook – with data out last week showing that Germany has just avoided entering recession by the narrowest of margins.
With the data pointing to a lowing UK economy, what is the latest data telling us about how well the Scottish economy is holding up?
Recap the latest UK Data
Firstly, a quick recap on recent UK data.
The latest official data confirms that – at 1.4% – 2018 was the slowest year of growth since 2012. Recall that trend growth is usually closer to 2.5%.
Growth would have been even lower, but was boosted by a surge in spending over the summer due, in part, to the good weather and World Cup.
Chart 1: UK quarterly economic growth since 2017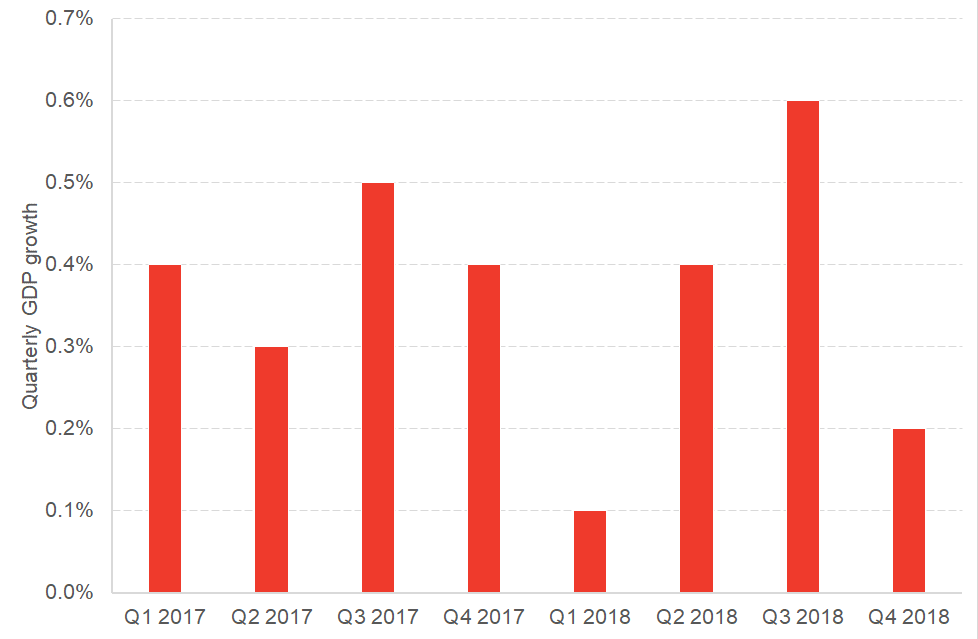 Source: ONS
Growth slipped back to just 0.2% in the final quarter of the year.
New monthly figures showed that the UK economy actually contracted by 0.4% over the month of December – with output shrinking across all major sectors (with the exception of agriculture, but this only makes up less than 1% of our economy).
Table 1: Breakdown of GDP growth rates by month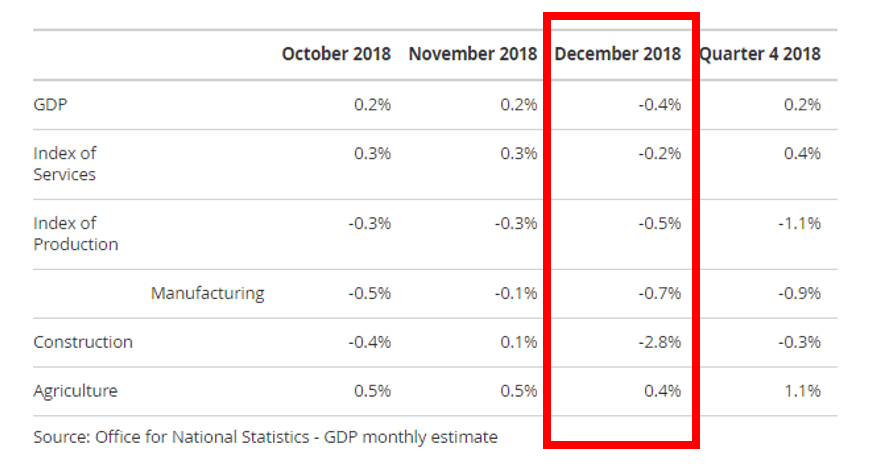 Source: ONS
Of course, we shouldn't read too much into one monthly or quarterly release of data, but taken with the latest suite of business surveys, it does point to a pattern emerging.
The UK PMI indicator fell to just 50.3 in January 2019, narrowly above the cut-off point of 50 which marks the dividing line between activity expanding or contracting. For services, the value was right on the edge at 50.1.
The CBI's Business Confidence Index fell to minus 23 – the lowest reading since the EU Referendum in 2016. The FSB Small Business Confidence Index also fell in the final few months of the year to its lowest level since 2011 (minus 9.9).
Of most concern is what is happening to levels of investment.
Business investment is necessarily driven by long-term decision making. It is therefore the key component of our economy most susceptible to uncertainty.
If such uncertainty is temporary, any long-term impact on investment will be minimal as any delayed or mothballed activity will come back on stream at a later date. But the longer the uncertainty persists, the more damaging it can be for the long-term health of the economy.
Businesses live with uncertainty all the time. But what is particularly challenging about the current climate is that the uncertainty stems from a lack of clarity about the future policy environment in which businesses will operate it. It's also not helped by the erosion of competence and credibility within UK policy circles.
Business investment has now declined for four consecutive quarters in the UK – the first time since the 2008-09 financial crisis. Over the year, investment is down 3.7%.
There is a range of evidence that Brexit uncertainty appears to be behind this trend with both the volume and value of investment transactions falling, and new projects increasingly being delayed or put on hold.
Up until 2015 – and the passing of the EU Referendum Act – business investment had been recovering in line with previous recessionary periods. But since then, new analysis by the Bank of England suggests that this as stalled.
Chart 2: Recovery in business investment since financial crisis to EU referendum and beyond
                                                                                                              Source: Bank of England
What about Scotland?
Official growth figure for Q4 will be available next month, so for the time being we are limited to looking at official data to the end of September.
As we have discussed elsewhere, after a challenging couple of years, growth in the Scottish economy had started to pick-up toward the tail end of 2017 and into early 2018.
Chart 3: Scottish economic growth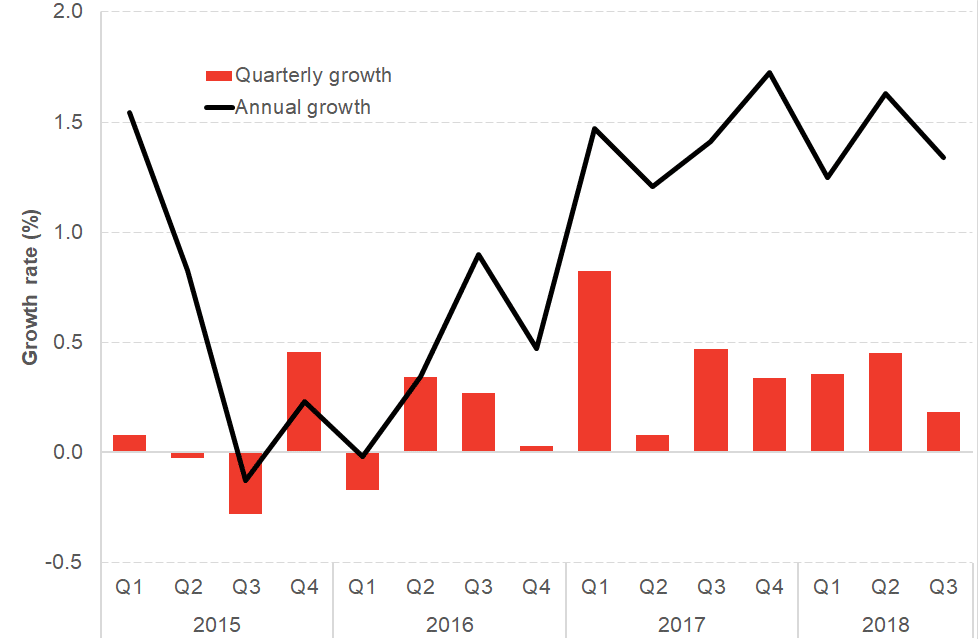 Source: Scottish Government
But the figures for Q3 were disappointing.
Updated figures published late last month have revised down growth over the summer to just 0.2%.
Over a longer-time period, growth remains well below trend.
Quarterly growth of 0.2% was lower than the UK rate of 0.6%, although given that Scotland had been growing faster than the UK during the first half of the year, annual growth comparisons between Scotland and the UK are broadly the same.
However over time, the gap between Scotland and the UK that opened up in late 2014 has yet to close.
Chart 4: Growth in GDP per capita: Scotland vs. the UK
                                                                                                      Source: Scottish Government
Our latest nowcasts suggest that the Scottish economy grew by a below trend 0.3% (albeit slightly above the UK – which was 0.2%) in Q4 2018, and is expected to be similarly weak in 2019 Q1 (with a nowcast estimate of 0.3%).
Business investment – which has been weak for some time – has also been slipping back recently (even before adjusting for inflation).
Chart 5: Business Investment in Scotland (seasonally adjusted)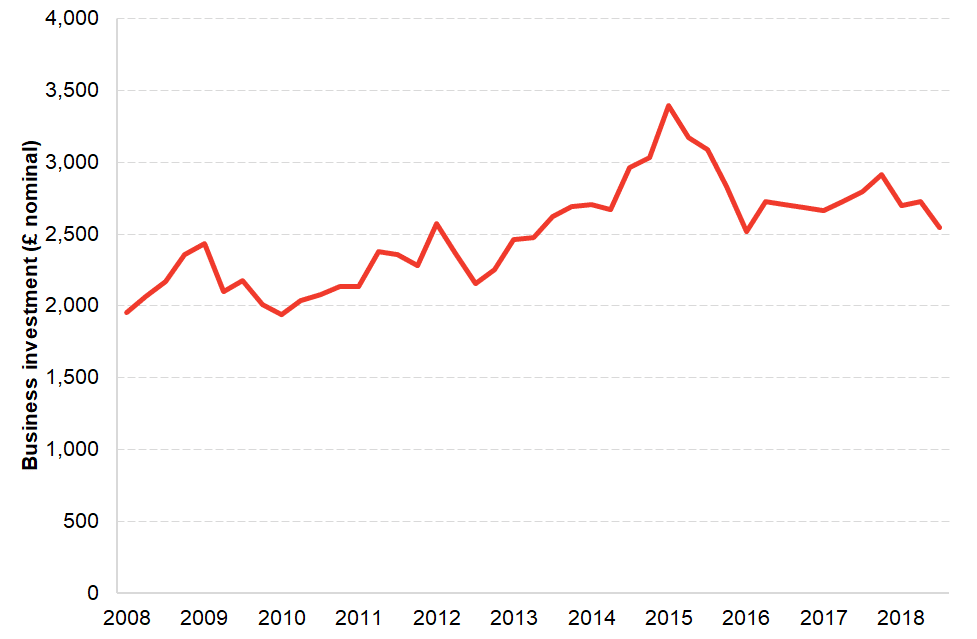 Source: Scottish Government
What about more up to date information?
On the one hand, there is some evidence to suggest that the economy is remaining relatively resilient.
Retail sales have continued to grow, up 0.6% in real terms in the final three months of 2018. Unemployment continues to be at a record low of just 3.6%.
But on the other hand the emerging evidence does suggest some trouble ahead.
Whilst our own latest FAI Scottish Business Monitor suggests that businesses' day-to-day operations remain relatively resilient to ongoing uncertainty, investment intentions were down once again.
Table 2: FAI Scottish Business Monitor results for Q4 2018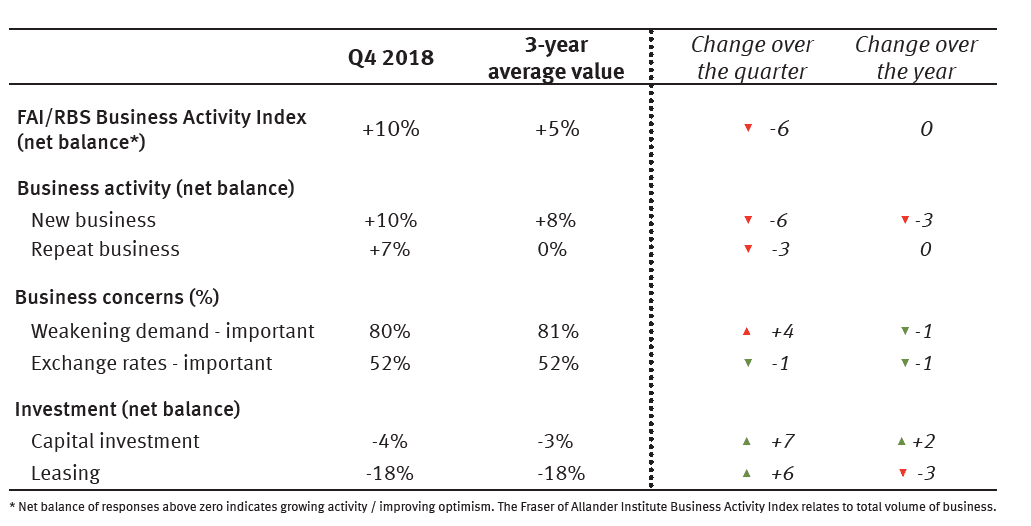 Source: Fraser of Allander
This month's Scottish Chambers of Commerce also pointed to weak levels of investment across most sectors.
Manufacturing – arguably the sector most exposed to a 'no-deal' Brexit – posted a particularly downbeat set of results, with optimism in the sector at its lowest level since 2012.
It is not hard to see why. Across all key markets, domestic, UK and international, the sector reported a sharp decline in both current orders and expected orders.
Chart 6: Orders in manufacturing – current and expectations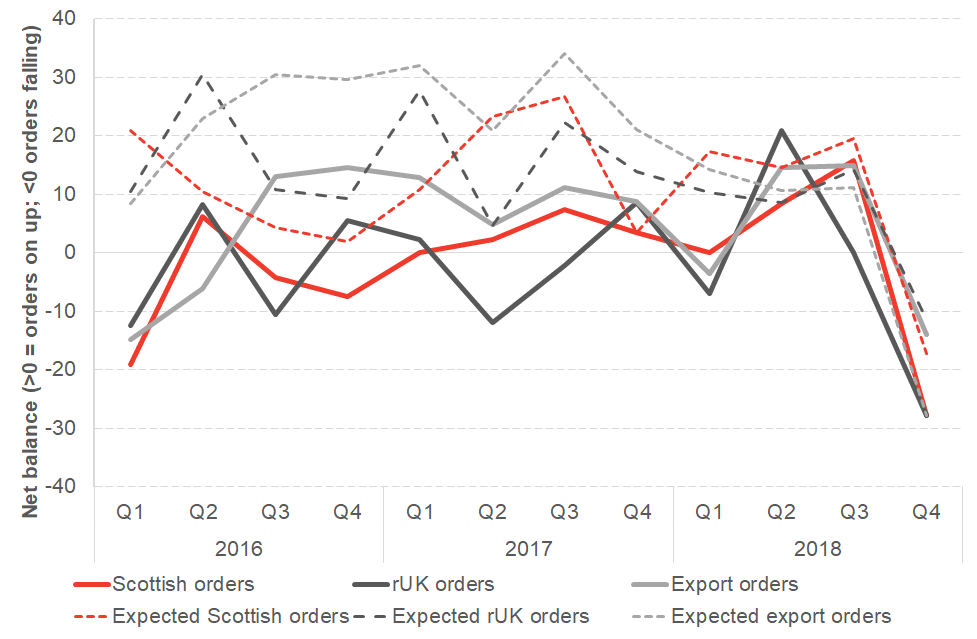 Source: Scottish Chambers of Commerce/FAI
Similar results have been picked up elsewhere.
The FSB's Small Business Confidence Index for Scotland posted its lowest result on record during the final three months of 2018. And according to the latest PMI, output across Scotland's private economy declined for a second successive month in January 2019.
Amongst consumers, confidence remains weak. The Scottish Government's consumer sentiment indicator continues to show households' outlook for the Scottish economy and household spending remains negative. The composite indicator of confidence fell once again in the final three months of the year to minus 5.8 – the lowest value since the series began in 2013.
Chart 7 : Consumer confidence in Scotland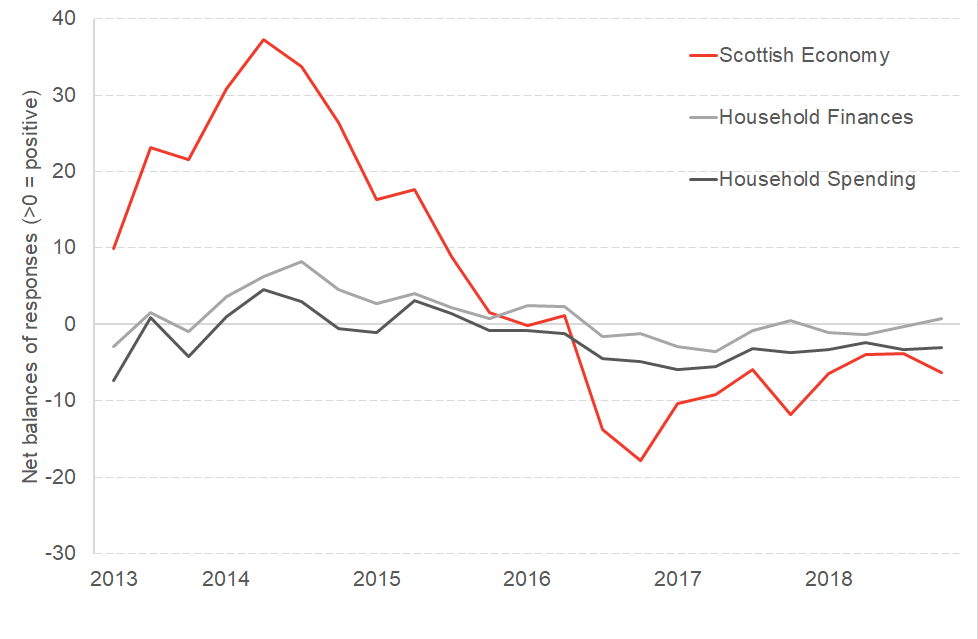 Source: Scottish Government
In summary, in many areas day-to-day activity in the Scottish economy is continuing as normal. Indeed, with so much uncertainty around many businesses that we speak to see no other effective strategy other than to keep their short-term operations going as planned.
But many are also telling us that an increasing amount of their time is spent on developing contingencies, including delaying investments and building up reserves. An increasing number are also telling us of challenges of securing contracts and orders post the end-March.
As we outlined in a blog late last year, with just over 40 days to go until the UK is scheduled to leave the European Union there is likely to be a lot of volatility in economic data over the coming months. Whether or not 'winter is coming' is too early to call just yet. But it is clear that businesses across Scotland are becoming increasingly nervous about the potential risks from a disorderly Brexit.
The Fraser of Allander Institute (FAI) is a leading economy research institute based in the Department of Economics at the University of Strathclyde, Glasgow.