Today we've had some good news on UK economic growth, with GDP rising 0.3% between December and January. It may not sound like a lot, but it was higher than expected. However, part of the success story in January comes from the fact that December was so bad. This yo-yo-ing of growth from positive to negative territory (see chart) may mean that we in aggregate we escape a technical recession (defined as 2 consecutive calendar quarters of negative growth) but it doesn't mean our economy looks in anything like good health.
Chart: UK Monthly GDP since January 2022 (source ONS)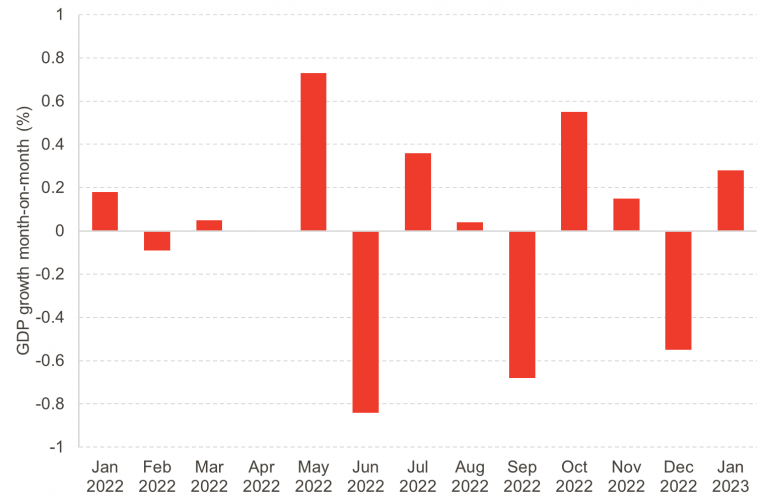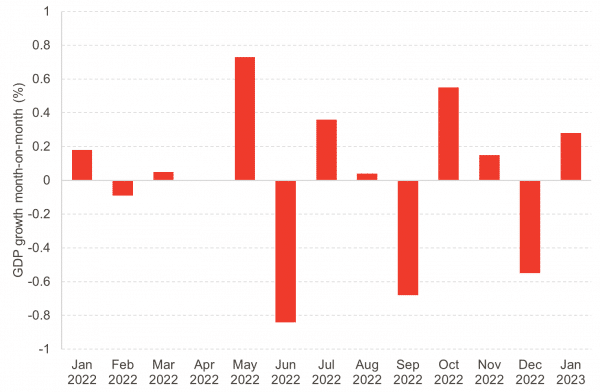 Looking into some of the data in more detail shows that factors such as growth in private sector health procedures, the end of the December postal strikes, and attendance at school returning to normal following a drop in December are key to why growth was positive in January compared to December. None of these feel like encouraging leading indicators of a healthy public or private sector, or indeed a healthy population.
Nevertheless, this better-than-expected news is helpful for the UK Chancellor ahead of the Budget next week. All eyes will be on the expected announcement of future support for energy costs. Recent media reports suggest that the current Energy Price Guarantee for consumers may continue for at least another 3 months, and recent falls in the wholesale price of gas may indeed make this an affordable option for the Chancellor. Whether or not there will be changes in the previously stated scaling back of support for businesses is less clear.
Other possible areas to look out for include childcare reforms (these may affect England only but could lead to Barnett consequentials), accelerated changes to the pension age, and new tax breaks for businesses. And as well as the Budget announcements, we have another set of forecasts from the OBR to look forward to. It will certainly be an interesting day and we'll be busy figuring out what it all means for Scotland, so look out for our analysis on the day.
This week I've had the privilege of spending some time in the company of the Royal Society of Edinburgh and their invited guest for a series of events this week: Martin Wolf. This was to kick off RSE's Scotland – Europe Initiative. Our relationship with the EU in the future remains uncertain, but this initiative provides a welcome reminder of the importance of Europe in Scotland's future, regardless of the exact form of the constitutional set-up. Martin's lecture yesterday certainly threw into sharp focus the issues facing our European neighbours – both short and long term.
The question is how do we make the most of the opportunities that will present themselves (and they will, even if they are fewer and further between than would have been the case in an alternate non-Brexit dimension). This issue, among others, is an area that the RSE initiative will hopefully shine a light on and we look forward to seeing how this progresses over the next year.
It's the final chance this weekend to apply for our Senior Knowledge Exchange Fellow vacancy which closes on Sunday. If you like what we do, why not come and work with us! More details available here.
Emma is Deputy Director and Senior Knowledge Exchange Fellow at the Fraser of Allander Institute