Today (Thursday 6th) is the first day of the new tax year (hands-up who missed the ISA deadline, again) and a number of changes in both UK and Scottish policy come into effect. Here is a brief rundown of some of the changes that have come into play at the start of this new financial year.
Firstly, taxes.
For higher rate tax payers the new 1p comes into effect in Scotland as well as the reduction in the threshold for those paying the additional rate, mirroring what has happened in the rest of the UK. Other band thresholds, including the personal allowance (the rate at which people start to pay tax) have remain frozen.
The UK Spring Budget announced changes to the pension annual allowance and lifetime allowance also come into effect.
Council Tax bills have gone up across the country. Local authorities have the ability to vary the Band D rate charged, which then translates into rises in bills across all bands via a set of multipliers. On average, Band D rates have risen by 5%, but there are clear exceptions (Chart 1). Failure to reform Council Tax makes any additional revenue raised through Council Tax regressive in nature. Failure to revalue the tax base means that increasingly the bills paid by households bear little resemblance to the relative value of their home.  This isn't the fault of Councils – the ball firmly remains in the Scottish Government's court on this one.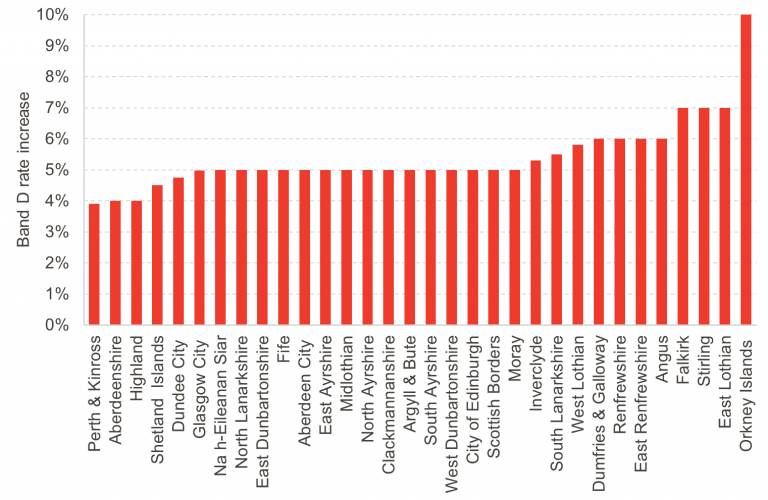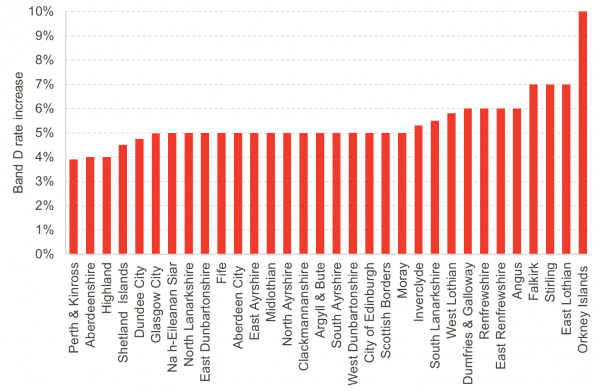 Unlike Council Tax, there has been a revaluation for Non-Domestic Rates. Even though the poundage rate charged to non-domestic properties has remained frozen (as also the case in rUK) businesses will see a change in their bills reflecting their updated 'rateable values'.
Secondly, benefits
The UK Government announced in its Autumn Statement that reserved benefits would be uprated by 10.1%. This practice of uprating, using the previous September CPI, is standard procedure.
Devolved benefits have received the same uplift from the Scottish Government, with the exception of the Scottish Child Payment. This increased in value in November 2022 and it was decided it was not in scope for further uplift for 2023/24.
Although not strictly a benefit, the continuation of the energy price guarantee on energy means that we are not facing a rise in our energy bills this month. The guarantee has been extended at its current level for a further 3 months, by which time it is hoped that energy prices will have come down to more reasonable levels. It will hopefully be warmer by then too!
On that note, we wish you a pleasant Easter weekend, and fingers crossed that the sun will shine.
Emma is Deputy Director and Senior Knowledge Exchange Fellow at the Fraser of Allander Institute