The economy in recent weeks has resembled the Scottish weather: not quite the summer we hoped for but definitely could be worse, and we hope for better to come.
Inflation easing
This week's announcement on inflation coming in at 7.9% in the year to June 2023 was lower than markets were expecting. According to the ONS, the fall was driven by lower motor fuel prices and an easing in the rate of food price growth. We're sure readers of the FAI weekly update don't need to be reminded of this, but just in case, remember that a drop in the inflation rate does not mean that average prices are falling. However, as the Resolution Foundation's Torsten Bell pointed out in a useful thread on Twitter, in June 2023 it looks like we (finally) had a situation where average wage growth was higher than inflation, meaning that real wages rose. Of course, averages are just that, and will not apply to all, but it's a chink of sunshine nonetheless. Many will hope that this easing of inflation will ease the pressure on the Bank of England's Monetary Policy Committee. The next rate decision is due on the 3rd of August.
Recent labour market news
On the 11th June, the latest labour market statistics were released covering the period March to May 2023. The employment rate reduced slightly over this period, leading to an increase in both unemployment (people seeking work) and inactivity (people not working and not seeking work). Inactivity statistics have been moving in opposite directions in Scotland compared to the rest of the UK over recent quarters, although as the chart shows, this follows a period of relative convergence of the UK and Scottish rates, and rates have tended to be higher in Scotland than the UK average over recent years.
Chart: Economic Inactivity Rates in Scotland and UK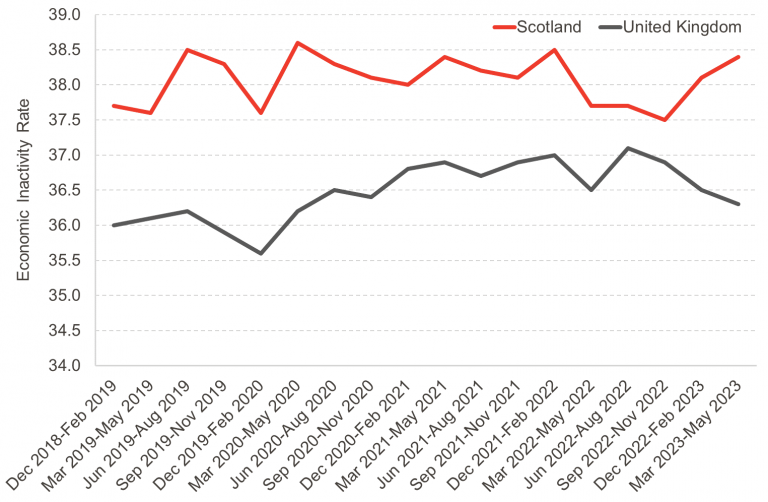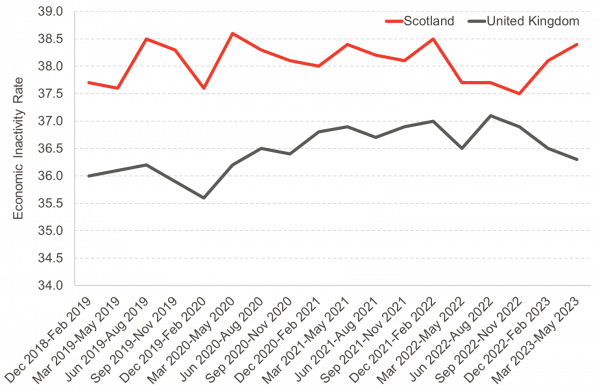 "Risky" Finances
According to the OBR, in a report published on the 13th July, the pressure on UK public finances has risen considerably over the last year, due to a combination of inflation and interest rate rises, and accelerated changes in demographic change. One key part of this is the fact that the UK has a relatively high proportion of inflation linked debt compared to other advanced economies. Their frankly terrifying forecasts see UK public debt rising to over 300% of GDP over the next 50 years, from around 100% now (indeed statistics out today show that the UK's debt pile is now officially higher than GDP in June 2023). Nothing is inevitable, and these forecasts are drawn up to provide context and evidence for government decision-making in the years ahead. Difficult decisions, as ever, loom.
That's it for this week. If you haven't seen it yet, I'd encourage you to watch our colleague Adam's presentation as part of this year's Pride in Economics Event. You can find it on our website.
Emma is Deputy Director and Senior Knowledge Exchange Fellow at the Fraser of Allander Institute