Yesterday we looked at the options for people who have seen their earnings disappear but are excluded from the UK Government's Coronavirus Job Retention Scheme and the Self Employed Income Support Scheme. For those who can't find alternative employment, the social security system will be the place many turn for support. And this is indeed what is happening. Universal Credit (UC) is where new claimants will head, and yesterday the DWP gave an update on UK caseload. Over the last fortnight, they have processed 950,000 successful claims, ten times the usual amount for a fortnightly period.
Whilst we don't yet know the split between how many people are claiming because they are now unemployed versus those seeking additional income because hours/earnings have fallen significantly, we would fear that many fall into the former category and hence will be relying on UC for their entire income.
Chart 1: Illustration of scale of new claimants to Universal Credit compared to normal on-flow to unemployment related benefits (assumes all new claimants to Universal Credit in last fortnight have become unemployed)
Source: Alternative Claimant Count and most recent UC on-flow, DWP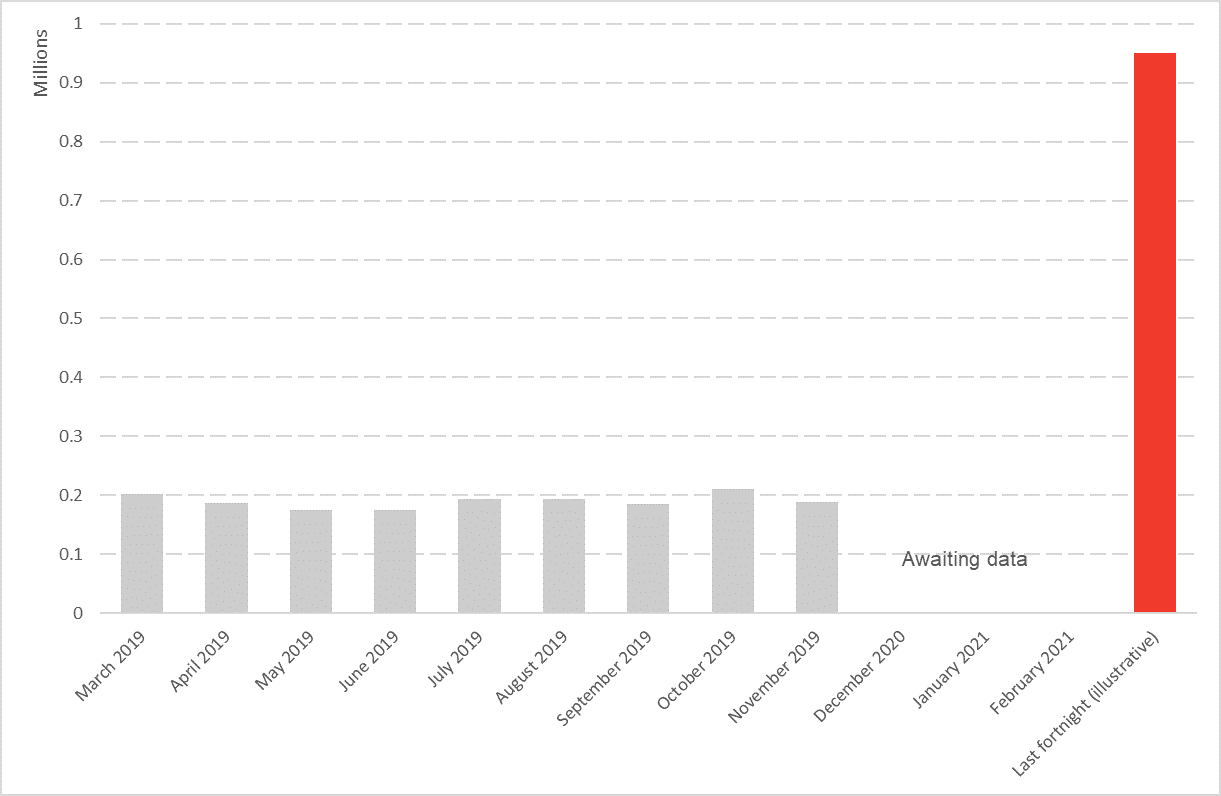 This represents a period of time where many people have lost their incomes overnight as a result of the shutdown in many parts of the economy requested by the government. Whilst there will be others in the months ahead who also see their jobs go, there hopefully will not be an as abrupt rise in claimants each and every fortnight. There will probably also be many self-employed people in this number who need income to tide them over until the Self Employed Income Support Scheme starts to pay out in June, hence the number of claimants may start to fall at this point.
As well as the self-employed who are waiting for support to kick in, there will be many people claiming UC because they are not eligible for any support from the new schemes set out by government. Our blog yesterday highlighted that the amounts available under Universal Credit are likely to be a lot lower than the amounts available through the other schemes introduced in recent weeks. This suggests a significant fall in income for some, but clearly it is better than nothing and hence worth applying for if eligible.
The minimum available under UC is £350 a month for under 25s, who have no housing costs. For over 25s this rises to £410. There are additional amounts available if you have children. Crucially, in addition to standard allowances at least part of your housing costs are covered, although in many cases you won't get the full amount and will have to pay some of your rent from your standard allowance.
In Scotland, the Council Tax Reduction scheme means that if you have zero income, you could be eligible to have your Council Tax paid for you in full, although you will still be liable for at least some of your water and sewerage payments.
For some people, it will be possible to live on what is available, at least in the short term. But for others, faced perhaps with high rents or other costs that be reduced quickly, their financial situation will become precarious quite quickly.
The Financial Conduct Authority this morning asked banks to introduce loan payment freezes and interest-free overdrafts for consumers whose finances have been hit by the crisis. Whilst this should help those who have costs significantly higher than the amounts they can get from Universal Credit, it will not seem fair that some people will be forced into debt by no fault of their own simply because they can't access the more generous forms of support on offer by the government, whilst others will come out of this crisis with their incomes largely unscathed.
Our blog yesterday highlighted a couple of ways that additional money could be funnelled through Universal Credit to help with some of this, for example by taking account of previous incomes documented via the tax system. At the very least, eligibility should be looked at so that those above the savings limit are considered, which would be in line with the other schemes set up in recent weeks.
The Fraser of Allander Institute (FAI) is a leading economy research institute based in the Department of Economics at the University of Strathclyde, Glasgow.