The latest data shows that turnover of Scottish businesses remains well below last year's levels but businesses are experiencing a recovery in new demand on a month-to-month basis. Business investment declined sharply in Q2 2020, with investment in buildings being the most severely affected. The number of advertised vacancies continued to recover during September – but the recovery is taking longer in Scottish cities compared to rural areas.
There remains a degree of uncertainty in the labour market and redundancy related Google searches are beginning to rise again as the furlough scheme approaches its end in October. Additionally, a recent survey from Edinburgh Evening News and The Scotsman found that over 60% of people in Scotland felt that lockdown had a negative impact on their mental health.
This week saw further restrictions announced for Scotland, particularly for those living in the central belt. It remains to be seen the effect that these restrictions will have on the economy.
The latest GDP figures for the UK were published today showing that the UK economy grew by 2.1% in August – disappointing growth particularly as we move towards tougher restrictions. Economic activity in August was 9.2% lower than the level in February. Scottish GDP figures for August are expected to be published on the 21st October.
Additionally, the latest Scottish Chambers of Commerce's Quarterly Economic Indicator for Q2 2020 highlighted that an unprecedented 95% of Scottish tourism firms reported a fall in business confidence.
Last week we published the four winning essays and six runners-up of the Economic Futures essay competition. Students were asked to write an essay on an economics topic related to COVID-19 – the competition was high with almost 100 entries. The four winning essays also appeared in our latest economic commentary published last week.
Chart 1: Effect of the Covid-19 pandemic on business cash reserves, UK nations, 7th September – 25th September: The majority of responding businesses in all four UK nations reported having cash reserves that will last longer than 6 months. Over 35% of businesses in Scotland reported having cash reserves that will last longer than 6 months however, around a fifth of Scottish businesses said that their reserves could last less than 3 months. 3% of Scottish businesses reported having no cash reserves.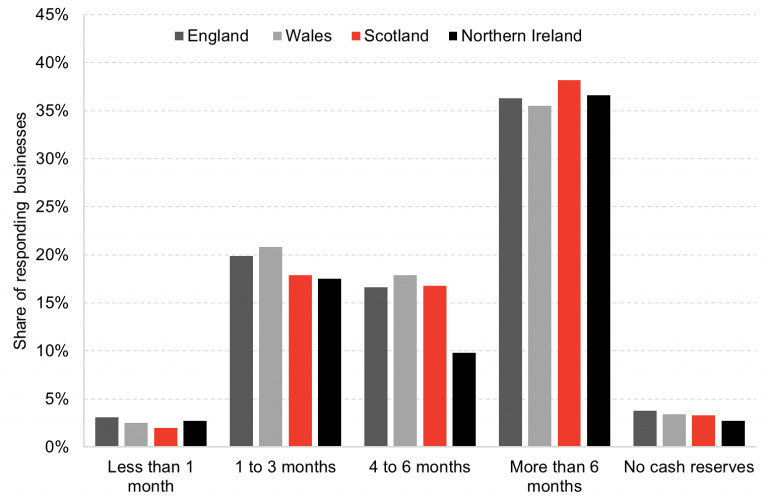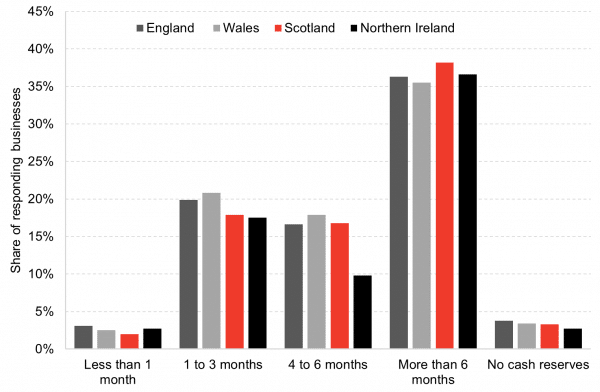 Source: ONS BICS
Chart 2: Business turnover index by sector, Scotland, January 2011 – August 2020: the latest business turnover index shows that more businesses continued to report reduced turnover, compared to 12 months ago in August, across most sectors of the Scottish economy. Accommodation & food services and culture & recreation continue to be the hardest hit sectors.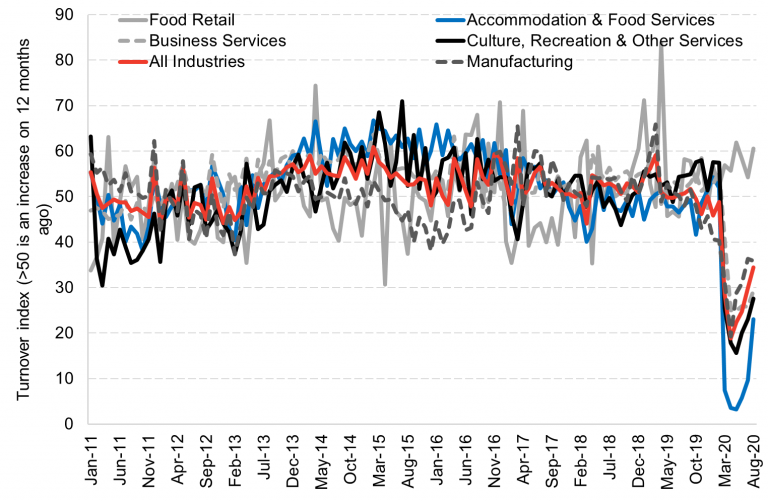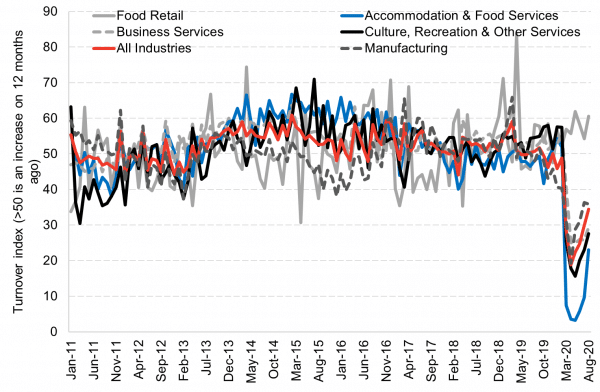 Source: Scottish Government

Chart 3: Composite PMI index, Scotland, January 2006 – August 2020: Backlogs of work and employment continued to fall in August however, businesses have experienced improvements from the severe lows felt during lockdown. Indicators of overall output and new business have grown for the first time in August since the start of lockdown. Prices and expectations of future output also continued to grow in August.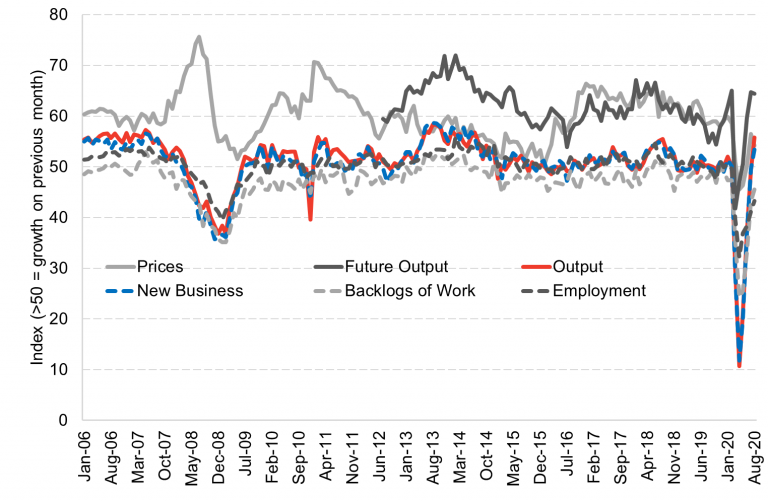 Source: IHS Markit
Chart 4: Business investment by asset type, UK, 2006 Q1 – 2020 Q2: the most recent GDP data for the UK revealed that overall business investment contracted by 27% in the second quarter of 2020 – a decline far greater than that seen after the financial crisis. The magnitude of the investment contraction was greatest for investment in ICT equipment (- 32%) and buildings (-35%).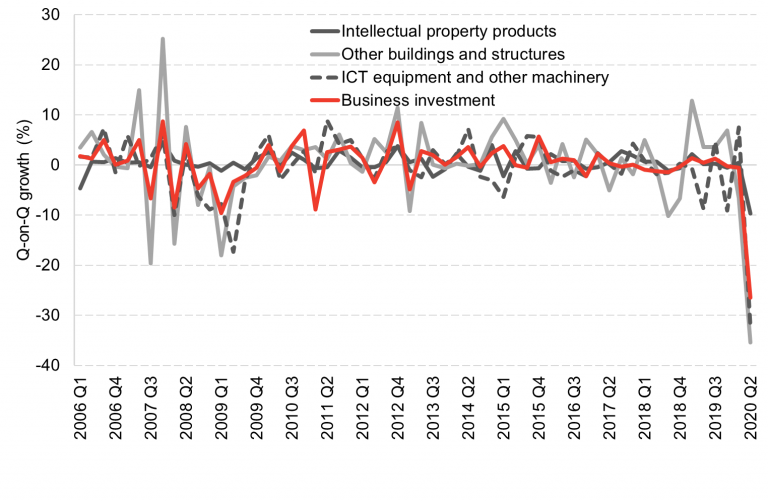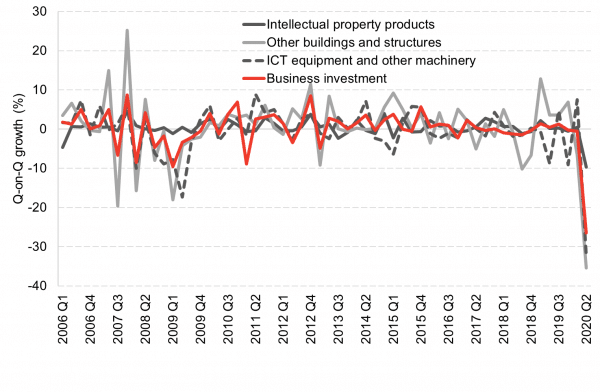 Source: ONS
Chart 5: Number of affordable housing completions, Scotland, 2016 – 2020: the number of affordable homes built under the Affordable Housing Supply Programme fell sharply in Q2 of 2020. Only 197 affordable homes were built in the second quarter of 2020, compared to 1,255 in the second quarter of 2019.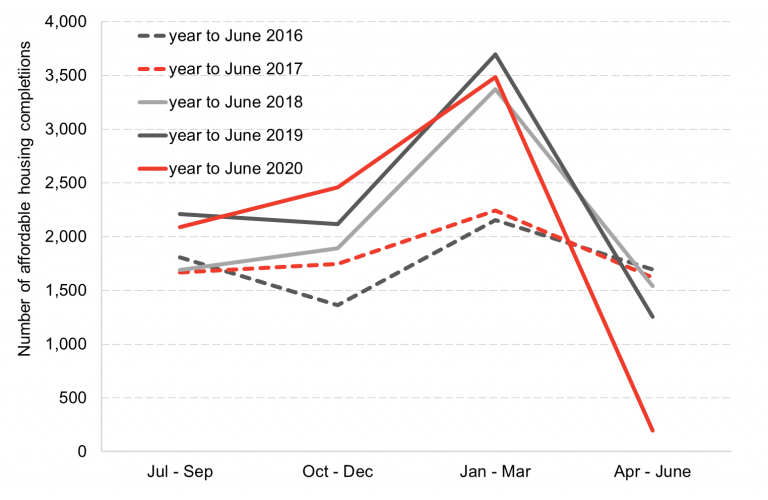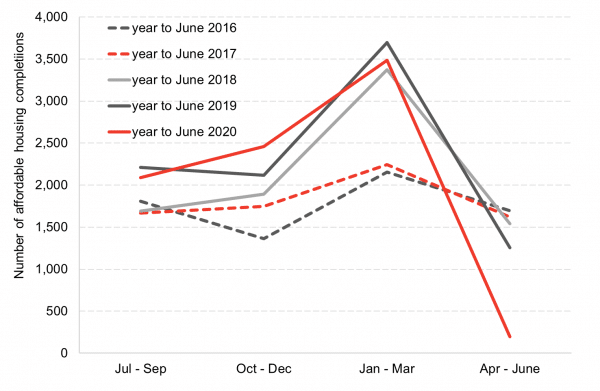 Source: Scottish Government
Chart 6: Number of vacancies, Scotland and 'best' and 'worst' performing Scottish local authorities, February 2020 – September 2020: the number of vacancies in Scotland rose to just over 25,000 in September, which represents a 13% increase on the previous month. Despite this, Scottish vacancies remain around 38% below pre-lockdown levels. There continues to be a degree of difference in the recovery amongst Scottish local authorities. Rural Scottish local authorities (Orkney, Clackmannanshire, Dumfries & Galloway) have experienced a smaller decline and have now recovered above pre-lockdown levels. However, cities (Edinburgh, Glasgow, and Aberdeen) were harder hit and have been recovering more slowly.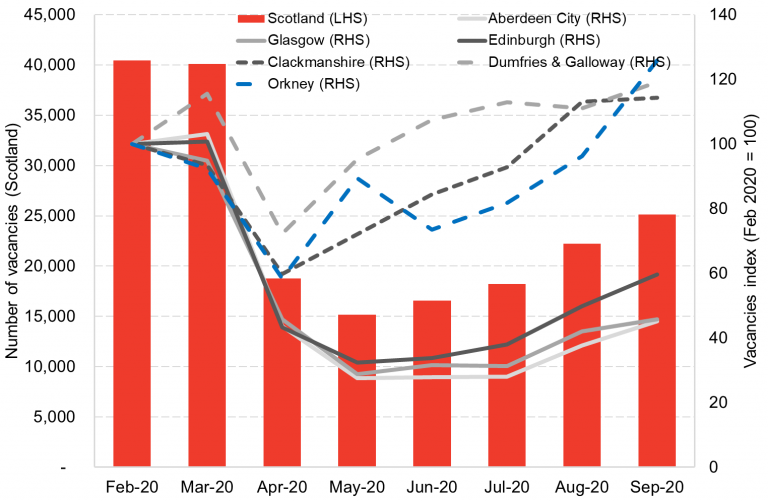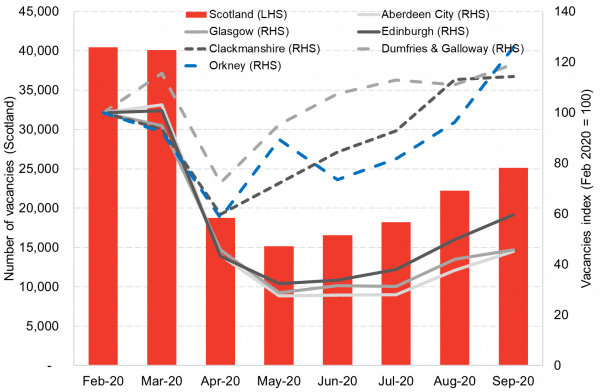 Source: Adzuna Labour Market Stats
Chart 7: Google searches for 'redundancy', Scotland and UK, week commencing 5th January – 27th September: search interest in the term 'redundancy' was highest in Scotland and the UK in June to July. The number of searches subsequently declined in August. However, during the second half of September the number of searches started to increase again and remain higher in Scotland compared to the UK average.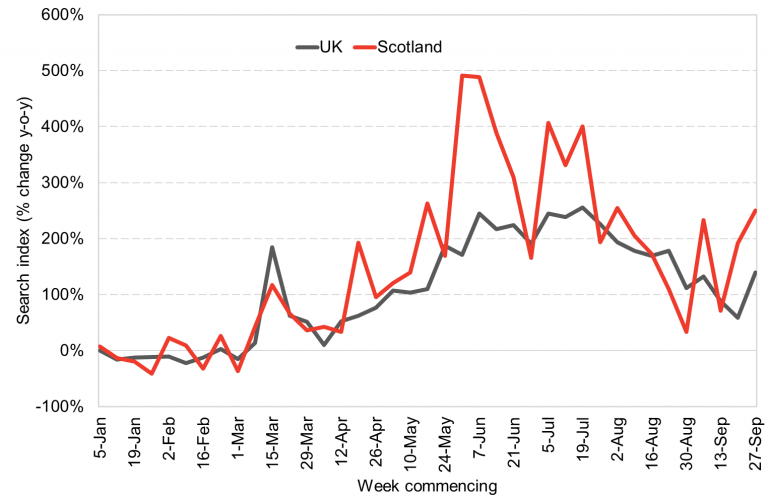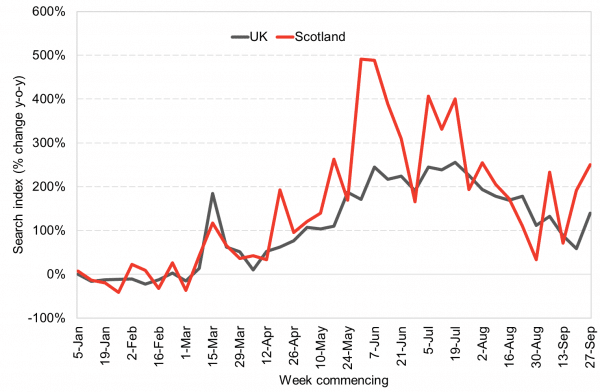 Source: Google Trends
Chart 8: Effect of the lockdown on mental health and household finances, Scotland, surveyed between 14th – 28th September: more than 60% of all respondents stated that their mental health has been negatively affected by the lockdown period and around a half of all people have cut down on spending. Additionally, 43% are concerned about household finances and 34% have concerns about job or income security.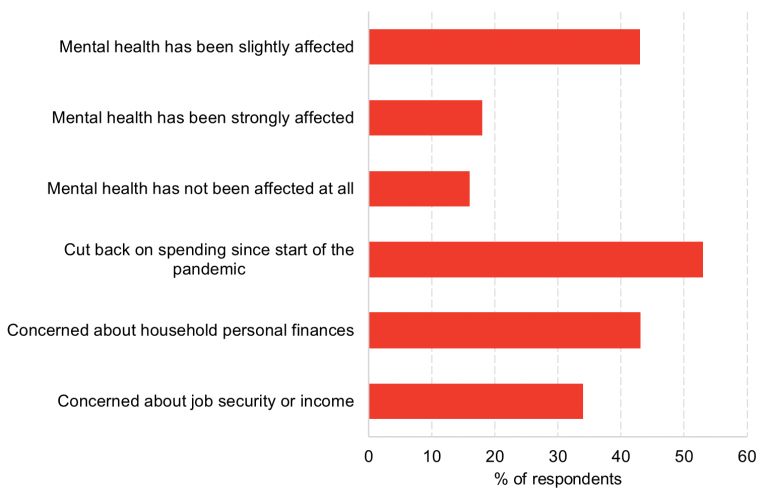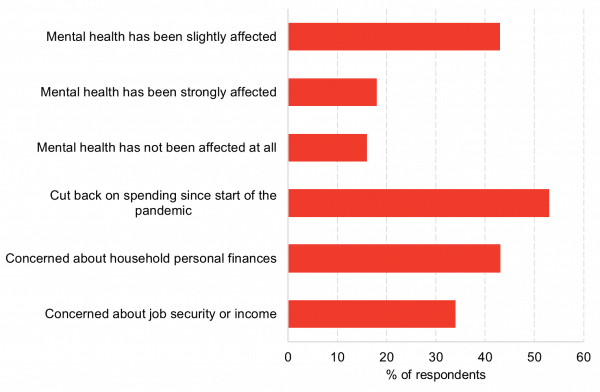 Source: Scotsman
Note on our real-term indicators analysis:
We review newly available data each fortnight and provide a regularly updated snapshot of indicators that can provide information on how the economy and household finances are changing. This allows us to monitor changes in advance of official data on the economy being released and also to capture key trends that will be missed by measures such as GDP. Each fortnight we investigate new sources from known data sources and use publicly available data.
The Fraser of Allander Institute (FAI) is a leading economy research institute based in the Department of Economics at the University of Strathclyde, Glasgow.