The Scottish economy grew by 2.1% in March, with economic output now 5.4% below pre-pandemic levels.
With almost all of Scotland now operating under Tier 2 level of restrictions, with the latest announcements moving a smaller share of local authorities down to Tier 1, most businesses that have been forced to close or operate at reduced capacity are now starting to operate at close to normal levels again.
With more than 3 million people having now received their first dose of the vaccine, ensuring the remaining younger population are vaccinated will help the Scottish economy return to normality (or close to normality).
A recent article published by the Economics Observatory suggested that not only are young children and adolescents more susceptible to longer term mental health problems given the lack of social interaction with peers, but also any further closure of schools could push students, particularly those from disadvantaged areas, further behind.
Additionally, a recent report by the Joseph Rowntree Foundation suggests that the UK is potentially at risk of a 'two-tier' recovery, with around 1 million homes expressing levels of concern about home eviction.
Table 1: Real time indicators dashboard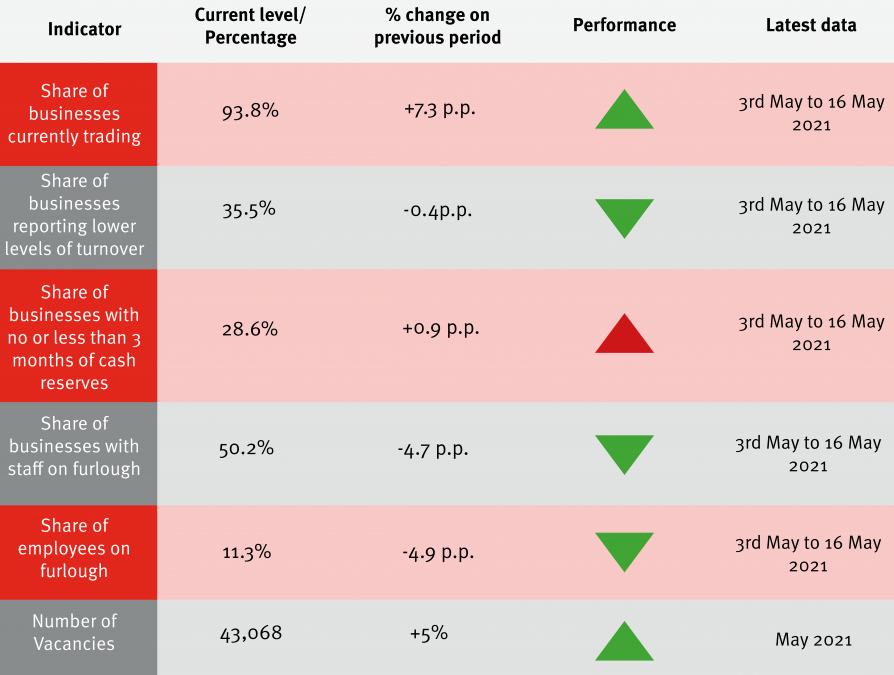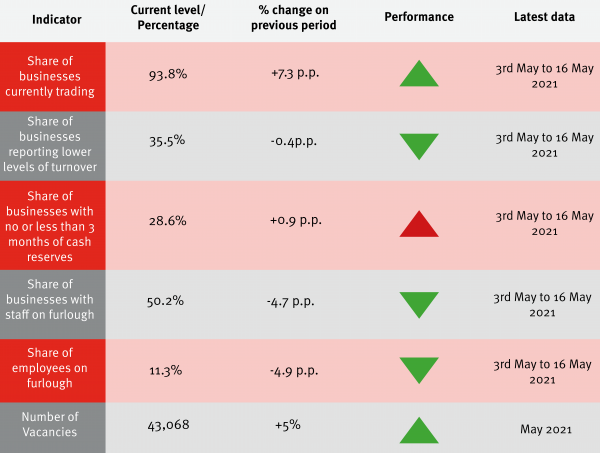 Source: Scottish Government; Adzuna
Chart 1: GDP Index, Scotland, Feb 2020 – Mar 2021: Scottish GDP grew by 2.1% in March, with output 5.4% below the pre-pandemic levels. Whilst the construction sector was a particularly impacted sector during the first lockdown last year, it has proven resilient – thanks to its adaptability – to subsequent local and national lockdowns. On the other hand, the hit to the accommodation and food services sector during the winter lockdown was not too dissimilar to that of last spring's.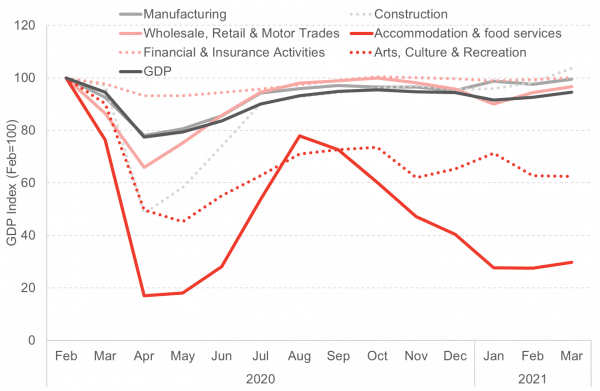 Source: Scottish Government
Chart 2: Share of businesses currently trading, Scotland: With most local authorities now operating in tier 2 level of restrictions, 94% of businesses are operating near normal levels of trading in Scotland. This is particularly evident in the accommodation and food services sector, with a 39.2 percentage point increase in the share of businesses trading between the start and middle of May.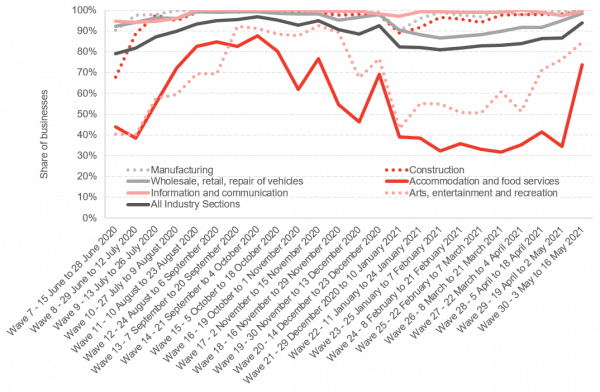 Source: Scottish Government
Chart 3: Share of workforce furloughed, Scotland: As the number of businesses currently trading increases, this has reduced the number of staff currently furloughed in Scotland. There has been a 20-percentage point decrease in the share of those furloughed in the accommodation and food services sector.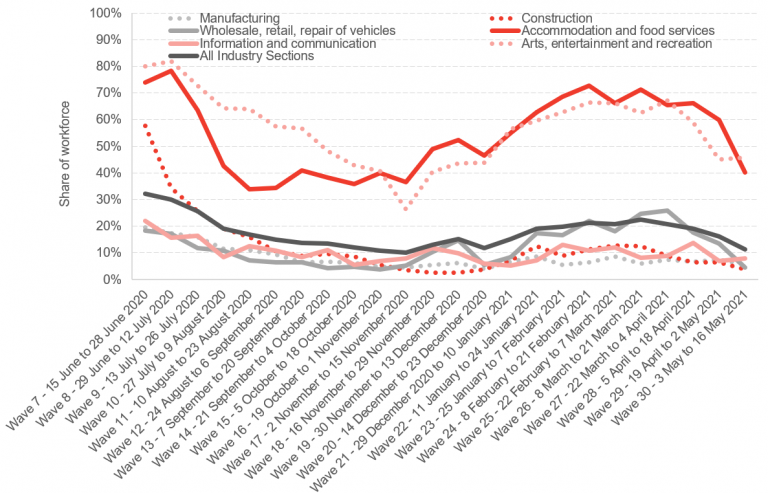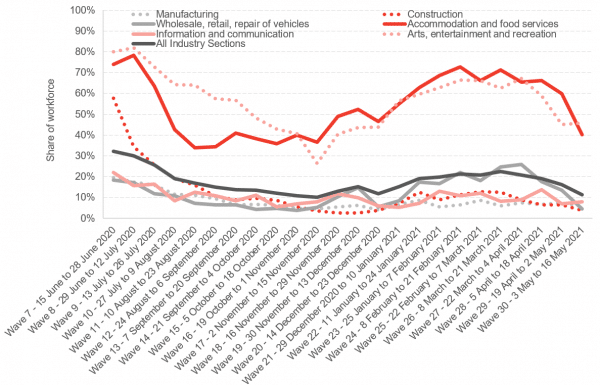 Source: Scottish Government
Chart 4: Growth in median monthly pay from PAYE RTI, UK, April 2020 – April 2021: Median monthly pay had gradually begun to decline in the latter months of 2020, however has started to pick back up recently as businesses begin to open up again. In April, Scottish median pay rose by 3% – this growth was stronger than the rest of the UK.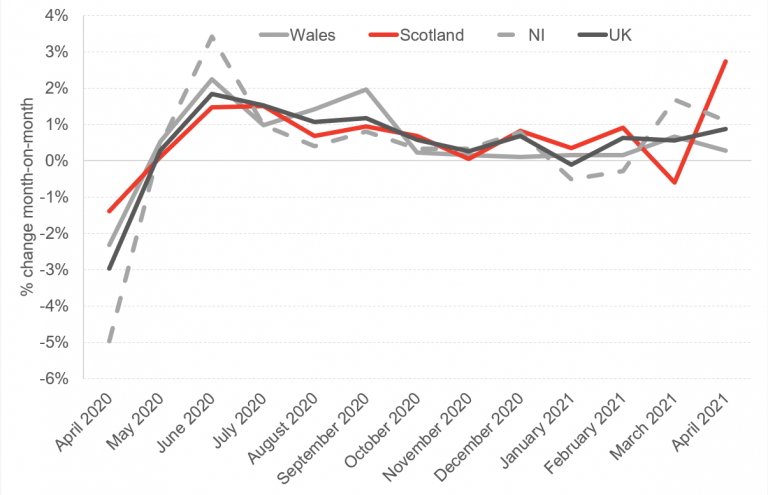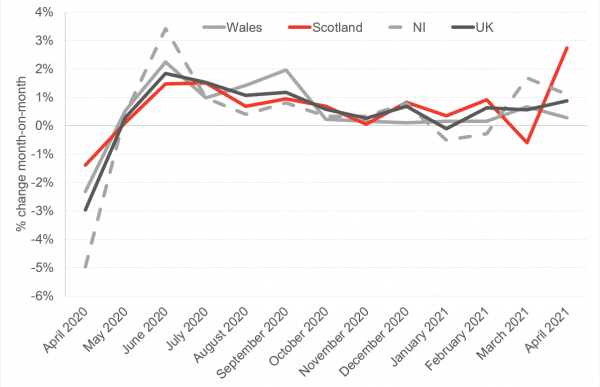 Source: ONS
Chart 5: Cumulative Covid-19 vaccine doses in Scotland: The rising numbers of those receiving both their first and second doses of COVID-19 vaccinations continues to give hope that the country will soon return to some form of normality. Over 3 million adults have now received their first dose of a COVID-19 vaccine, with more than half of that having also received their second dose.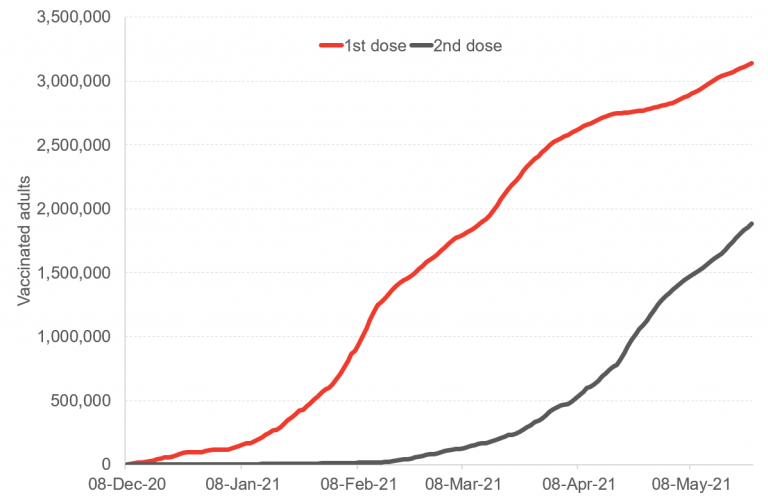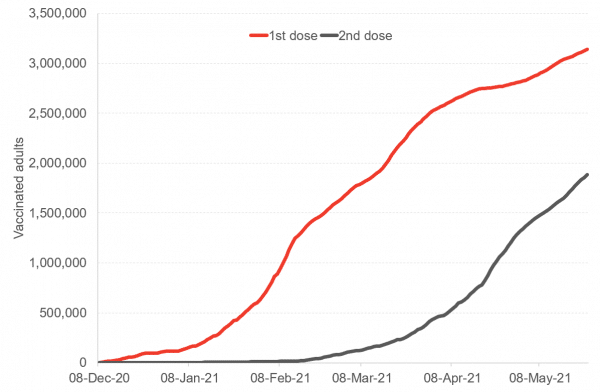 Source: Public Health Scotland
Note on our real-term indicators analysis:
We review newly available data each fortnight and provide a regularly updated snapshot of indicators that can provide information on how the economy and household finances are changing. This allows us to monitor changes in advance of official data on the economy being released and also to capture key trends that will be missed by measures such as GDP. Each fortnight we investigate new sources from known data sources and use publicly available data.
Ben is an economist at the Fraser of Allander Institute working across a number of projects areas. He has a Masters in Economics from the University of Edinburgh, and a degree in Economics from the University of Strathclyde.
His main areas of focus are economic policy, social care and criminal justice in Scotland. Ben also co-edits the quarter Economic Commentary and has experience in business survey design and dissemination.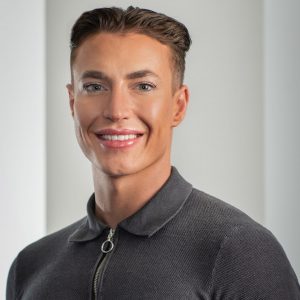 Adam is an Economist Fellow at the FAI who works closely with FAI partners and specialises in business analysis. Adam's research typically involves an assessment of business strategies and policies on economic, societal and environmental impacts. Adam also leads the FAI's quarterly Scottish Business Monitor.
Find out more about Adam.