Today we published our 4th annual Scotland's Budget Report.
The latest report shows that the Scottish Government's resource budget in the past three years has evolved more healthily than was anticipated at the start of the parliamentary term in 2016, due to both UK government spending increases and Scottish government tax decisions.
Following announcements of further spending increases this year – and via the Barnett Formula – the outlook for Scotland's resource block grant from Westminster has improved even further this year and next.  Real terms increases of around 2% per annum are anticipated for the next two years, the first time period of consistent real terms increases since the start of the 'austerity' period.
But two issues, both relating to devolved income tax, will offset some of this increase:
1. The block grant in each of the next two years will be reduced to take account of the fact that outturn Scottish income tax revenues in 2017/18 and 2018/19 turned out to be lower than forecast. The Scottish Government will be required to repay £200m in 2020/21 and potentially as much as £600m in 2021/22.
2. On the basis of the latest official forecasts, Scottish income tax revenues are on track to disappoint relative to the rest of the UK.
As a result, despite the block grant from Westminster growing by 2.1% in 2020/21, the resources available to the Scottish Government may still only grow by less than 1% in real terms.
All this comes at a time of heightened political and economic uncertainty. Financial responsibility for £3.5bn of social security spending will transfer to the Scottish budget in April 2020, bringing new pressures and risks.
Looking back: the first three budgets of this parliament
The Scottish Government's resource budget has evolved more healthily than anticipated when the first budget of this parliament was set in December 2016. This is partly because of UK Government spending increases which have boosted the block grant and partly because of Scottish Government tax decisions.
The government's approach to tax has generally been to raise additional revenues by progressive tax changes, although the policy on business rates has been to expand reliefs and reduce rates as part of an aim to secure a 'competitive' environment.
The distribution of Scottish Government spending is changing. The health budget has increased over 5% in real terms since 2016/17, and spending on most areas of education, enterprise and skills have been protected. A variety of pledges relating to new social security responsibilities have been made.
Inevitably, some areas have faced cuts, including universities and local government. Local government has responded by cutting spending on most areas other than education and social work.
An improving outlook for the next two budgets?
The outlook for the resource block grant this year and next has improved substantially following the UK Government's Spending Round this September. Chart 1.
Chart 1: Evolution of Scottish resource block grant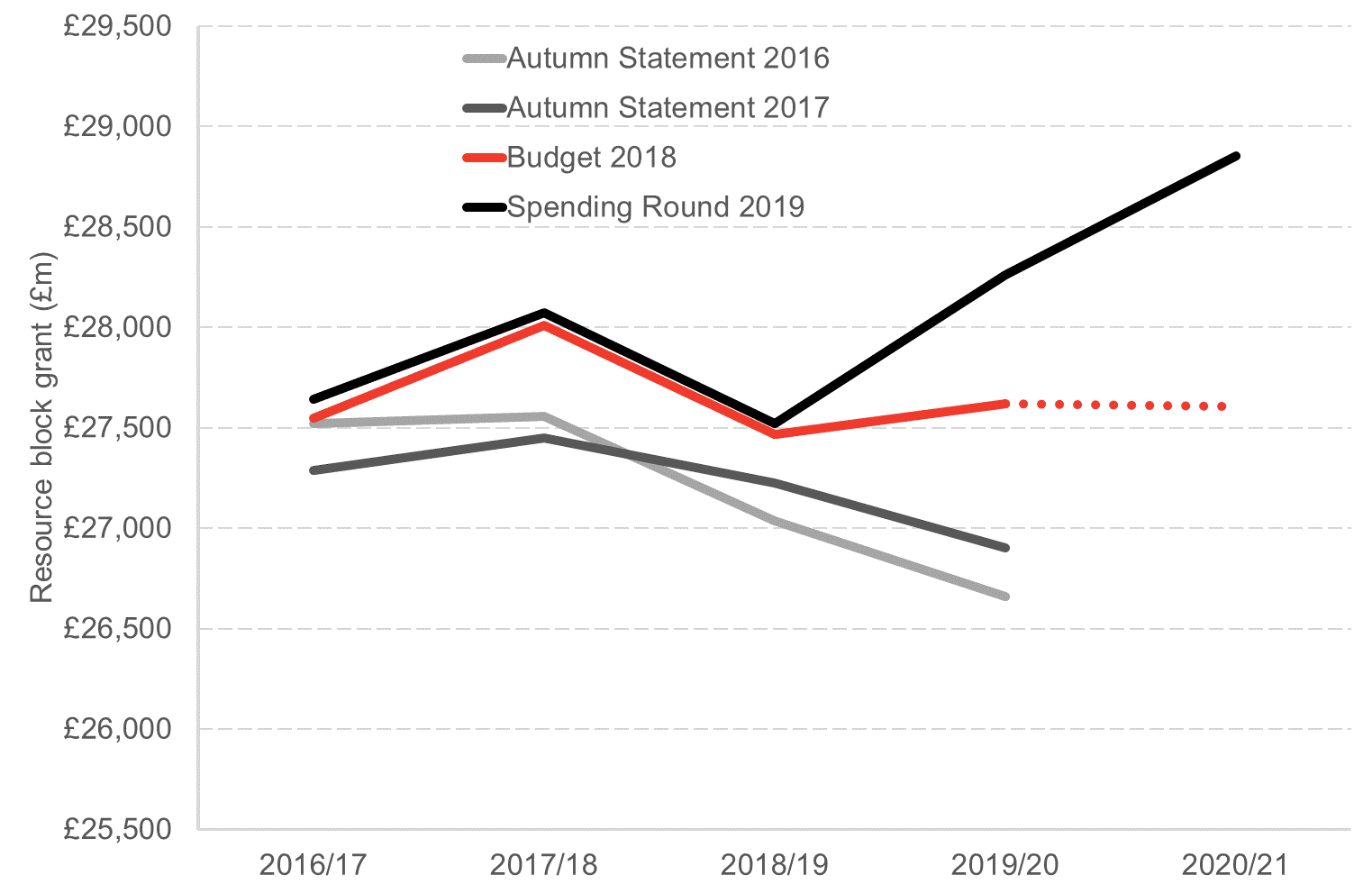 Source: Scottish Government, FAI analysis
However, some of this improved outlook will be offset by weaker outturn 'net' revenues from Scottish income tax in 2017/18 and 2018/19 than were forecast when these budgets were set. Budgets in 2020/21 and 2021/22 will be adjusted downwards to reflect this forecast error. Chart 2.
Chart 2: Income tax forecasts and reconciliations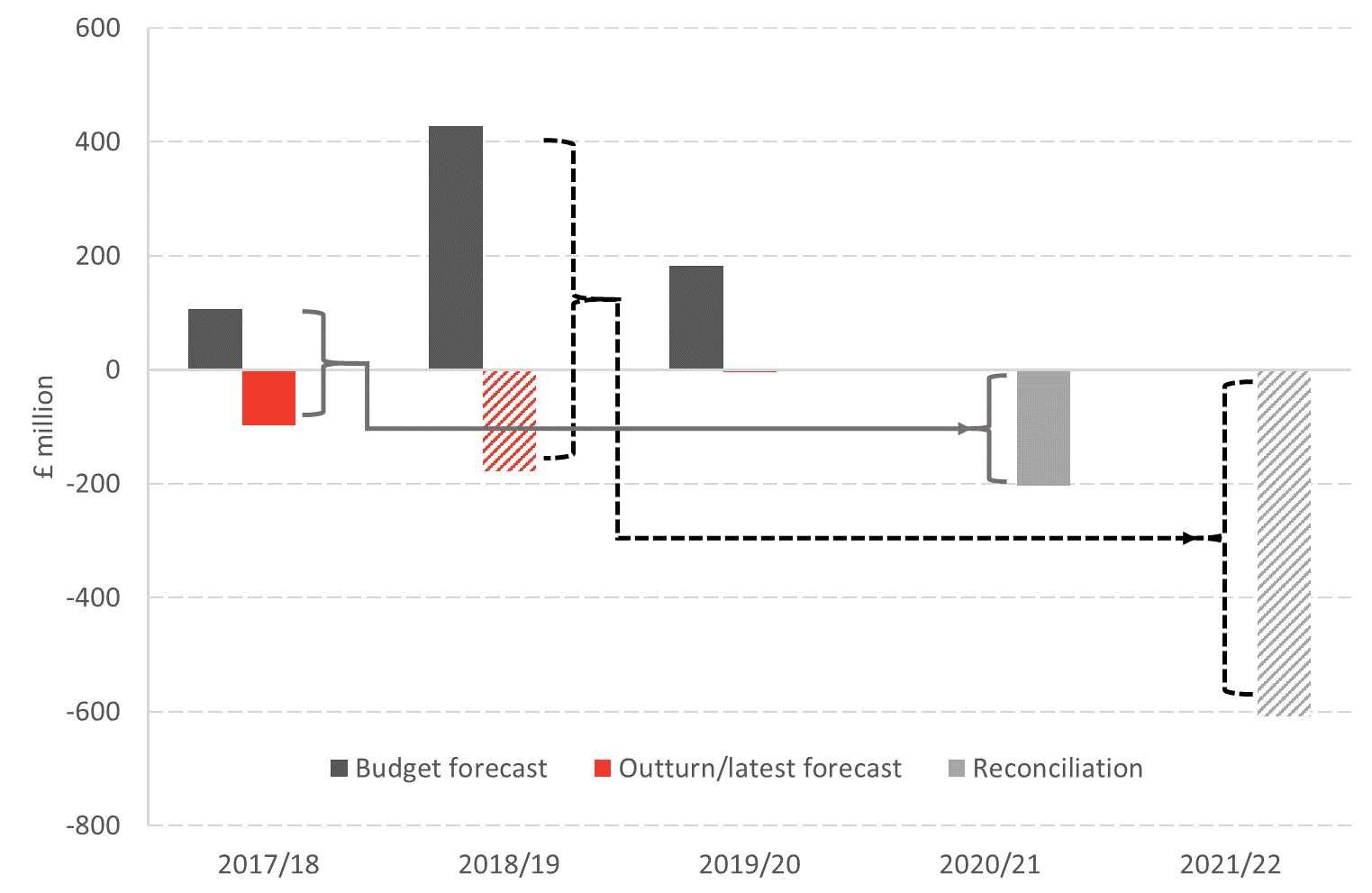 Source: Scottish Government, FAI analysis
The outlook for capital spending is much improved, and by all accounts is likely to only get better given the recent promises of all main political parties. Chart 3.
Chart 3: Capital block grant and spending outlook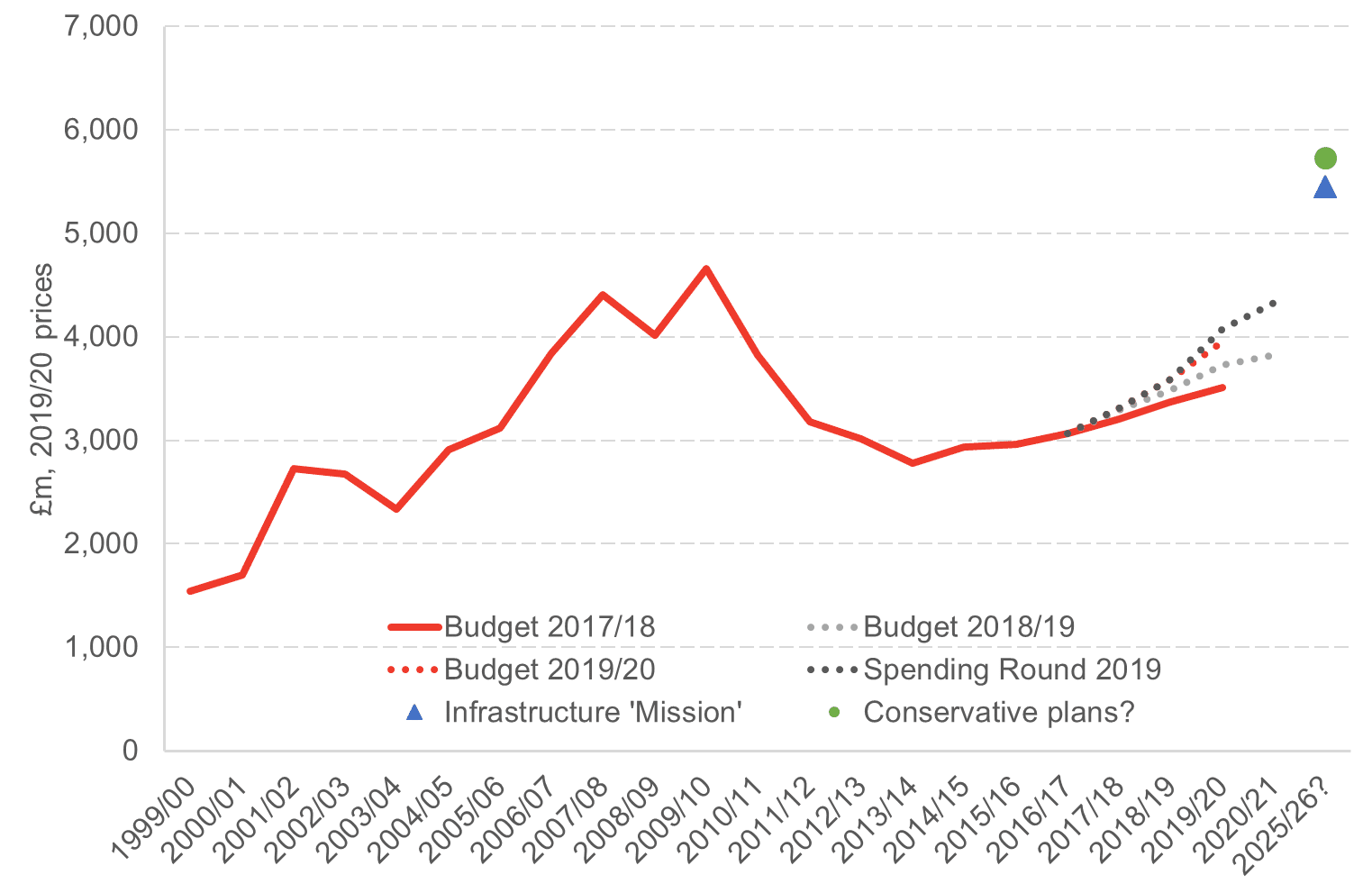 Source: FAI analysis
All factors considered therefore, on current projections the Scottish resource budget might grow by less than 1% in real terms in 2020/21 and 2021/22. This would imply another two budgets of challenging departmental settlements, despite the wider UK rhetoric of an end to austerity.
The Scottish Government's block grant will be 3.6% lower in 2020/21 than in 2010/11 and is projected to be 1.7% lower in 2021/22.
Unprecedented uncertainty
But there is greater than usual uncertainty around these projections for the next two years. The spending decisions of the next UK Government will affect the size of the Scottish block grant – with election pledges making increases rather than decreases look by far the most likely.
The Scottish budget will also be affected by UK Government income tax decisions, with the outlook very different depending on the result of the General Election.
Updated forecasts of the outlook for earnings, employment and economic growth will also affect the resources available to the Scottish budget.
The latest data indicates a slightly more optimistic note for Scotland than at this time last year, but much will depend on how forecasters choose to interpret this in the context of longer term trends.
Chart 4: Outlook for Scottish Government resource budget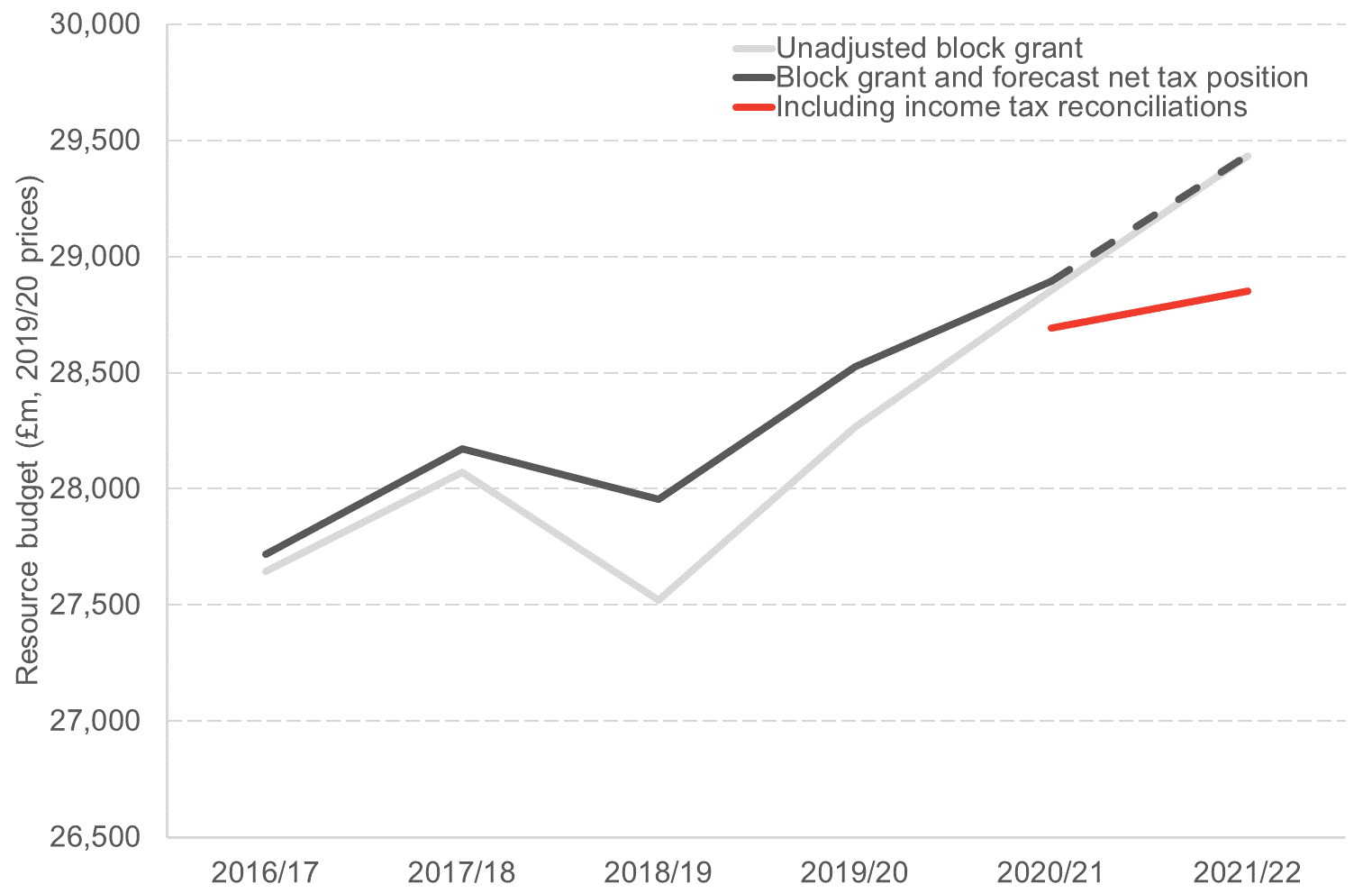 Source: FAI analysis
Underlying fiscal challenges
The Scottish budget faces a wide range of other challenges over coming years which will require careful management. These include the transfer of £3.5bn worth of new social security benefits to the budget in 2020/21, the review of Scotland's fiscal framework in 2021/22, the design and implementation of successors to EU funding, ongoing fiscal challenges of demographic change, and questions over the fiscal sustainability of local government.
"The 2020/21 budget will have to manage new responsibilities for social security alongside existing spending commitments and the effects of weaker than forecast tax revenues in previous years. But until the spending and tax plans of the next UK Government are known in more detail – and Scottish forecasts have been updated to reflect the latest economic trends – there remains uncertainty around what level of resource the Scottish Government will have to manage these challenges." – David Eiser, Head of Fiscal Analysis, Fraser of Allander Institute.
Fiscal analysis at the Fraser of Allander Institute is supported by Asianomics.
Read the full Fraser of Allander Institute Scotland's Budget Report 2019 here.
The Fraser of Allander Institute (FAI) is a leading economy research institute based in the Department of Economics at the University of Strathclyde, Glasgow.