Today's Scottish GDP figures – for the 3-month period to September 2018 – showed a further pick-up in economic activity in Scotland. The Scottish economy expanded by 0.3% over the 3-months to September (Q3). This followed growth of 0.5% in quarter 2 and 0.4% in quarter 1.
The economy has been growing on a continual basis for five consecutive quarters, the most sustained period of growth in a long-time. However, growth remains below trend, with output lower than UK growth of 0.6 this quarter.
In this blog we provide a quick summary of the key trends.
Sustained upturn in growth
Today's – consistent with the latest survey indicators and our prediction from last week – represent further evidence of the first sustained period of expansion since the downturn in oil and gas in early 2015.
Indeed, growth over the year to September 2018 was the fastest since early 2015.
The comparable growth for the UK in Q3 was 0.6%. This follows a period where the Scottish economy outpaced the UK for the first half of the year. Over the year, on a quarter-to-quarter basis, this means that the UK and Scotland grew at the same rate of 1.5%.
Annual and quarterly economic growth in Scotland since 2015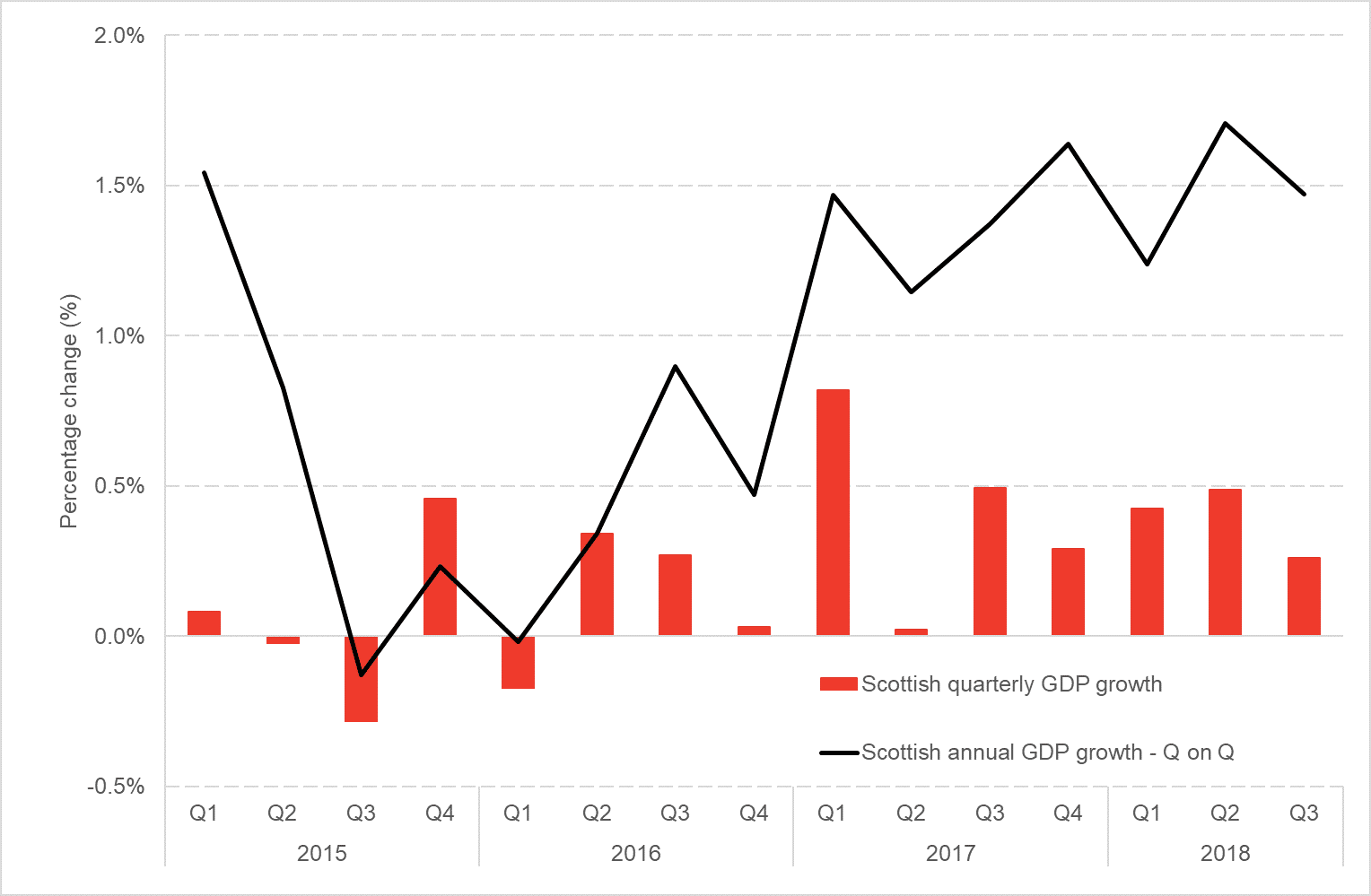 Source: Scottish Government
Today's growth rates are also close to the prediction for Q3 produced by the Scottish Fiscal Commission in their report last week.
Despite this sustained improvement in performance, annual growth of 1.5% still lags Scotland's long-term historical growth rates.
Some of the upturn over the last year undoubtedly reflects a degree of cyclical catch-up; with the UK having grown more strongly over the four years to late 2016.
GDP per capita – Scotland & the UK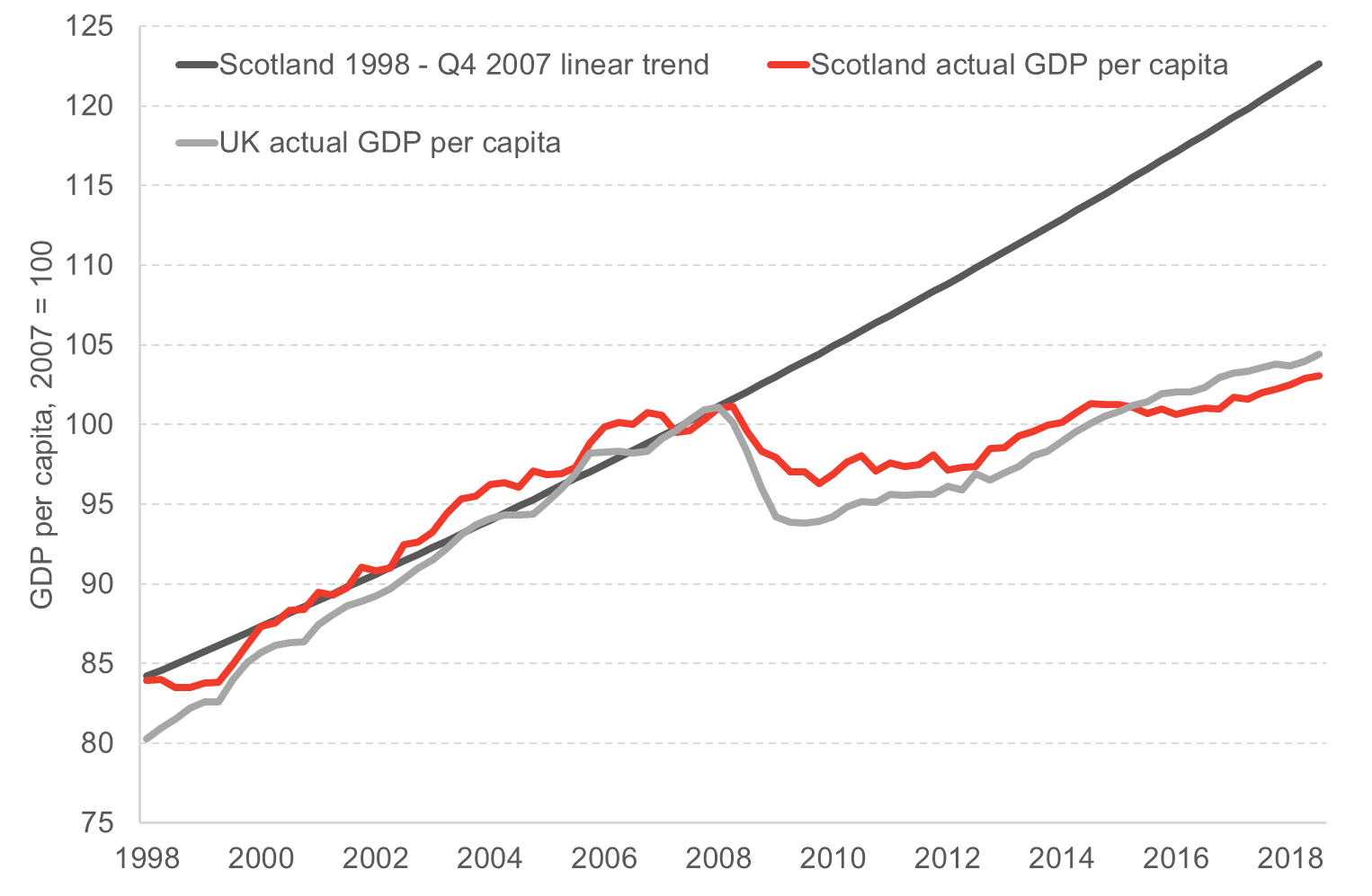 Source: Scottish Government
What has been driving the growth?
The results are fairly positive for the construction and service industries. Over Q3, there was growth of 2.7% in construction and 0.3% in services. The construction figures are the best quarterly results since early 2015 in the new revised series.
However, the picture in production is a little different, after a year of decent growth in the sector. This sector contracted by 0.7% in Q3, driven mainly by contractions in the manufacturing industry. Food and Drink manufacturing suffered the most, with a contraction of 4.5% over the quarter – albeit following two very strong quarters of growth.
Manufacturing and Food & Drink growth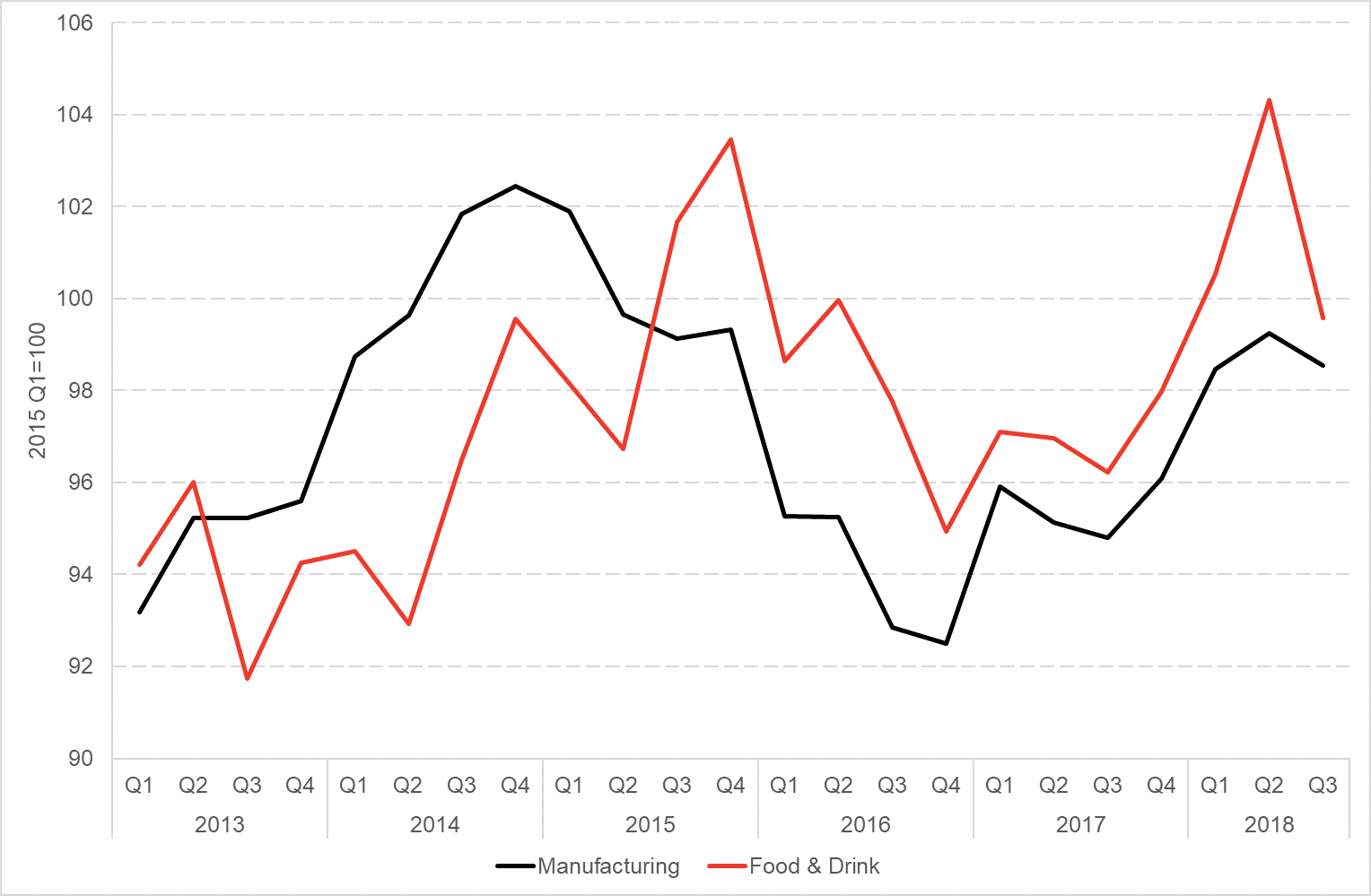 Source: Scottish Government
Electricity and gas supply contracted over the quarter, continuing the trend for 2018 so far for this sector. The latest data for onshore and hydro output were down in the UK: with Scotland having a disproportionate share of these generation methods, then it's no surprise that this sector has seen a fall-back in activity.
With services by far the largest element of our economy –over 75% of activity – it is no surprise that Scotland's overall rate of growth has been shaped by growth in this sector.
Drivers of growth – contribution to growth by sector (Q3 and past year)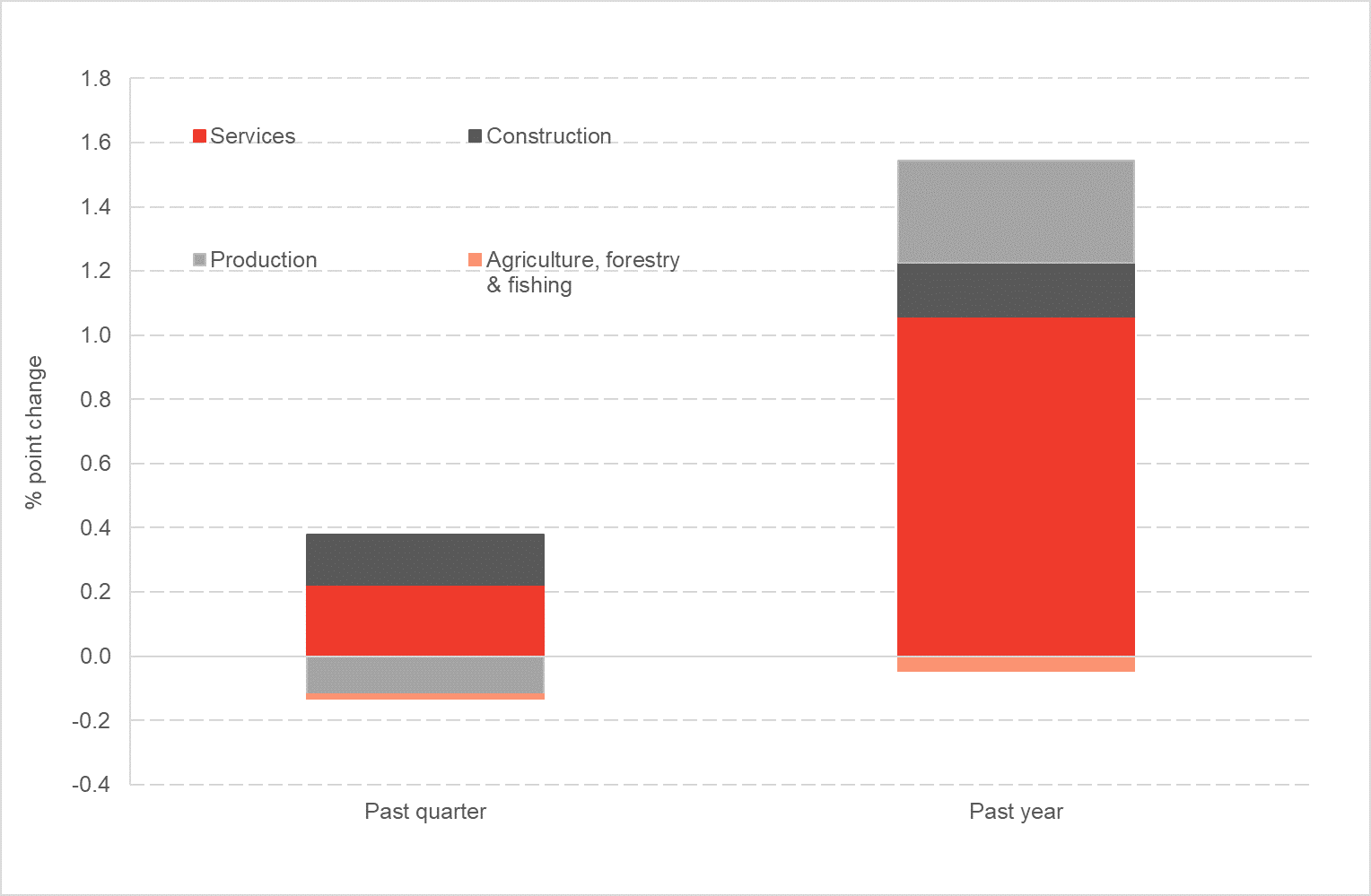 Source: Scottish Government
In services, the accommodation and food sector continued to grow strongly over the quarter and the year. Following a strong quarter 2, the retail and wholesale sector contracted during Q3, although it remains up over the year.
Whilst come of this is positive, it is clear from wider indicators that both sectors – and individual companies within these sectors – continue to find trading conditions challenging.
The global economy
The global economy has been in robust health for over two years. However, as we highlighted in our last comment, most economists believe that growth has peaked (at least in advanced economies).
Indeed, there is evidence of slowing growth in many of Scotland's key trading partners. Today's growth figures for Scotland do not look that out of sync with major advanced economies.
OECD & EU quarterly growth rates: 2016 to 2018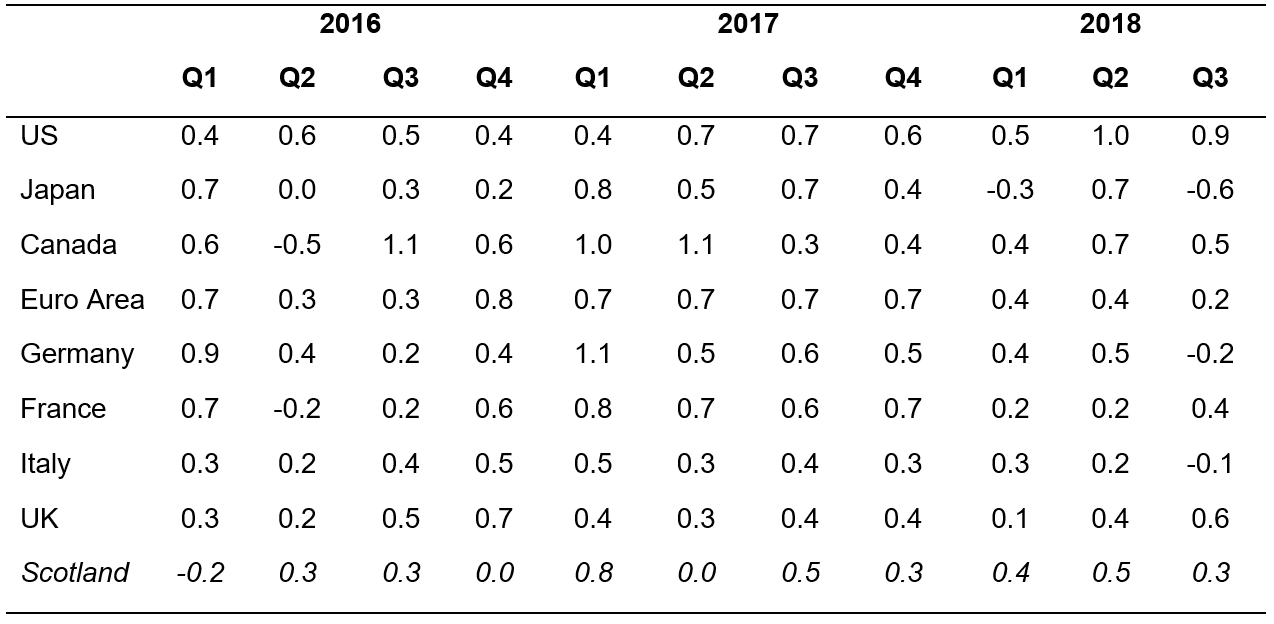 Source: OECD, Scottish Government
 Employment
Last week's employment data showed that the period of historically high employment and low unemployment  continues in Scotland. Scotland's headline unemployment rate is now 3.7%, the lowest ever recorded.
Employment & Unemployment in Scotland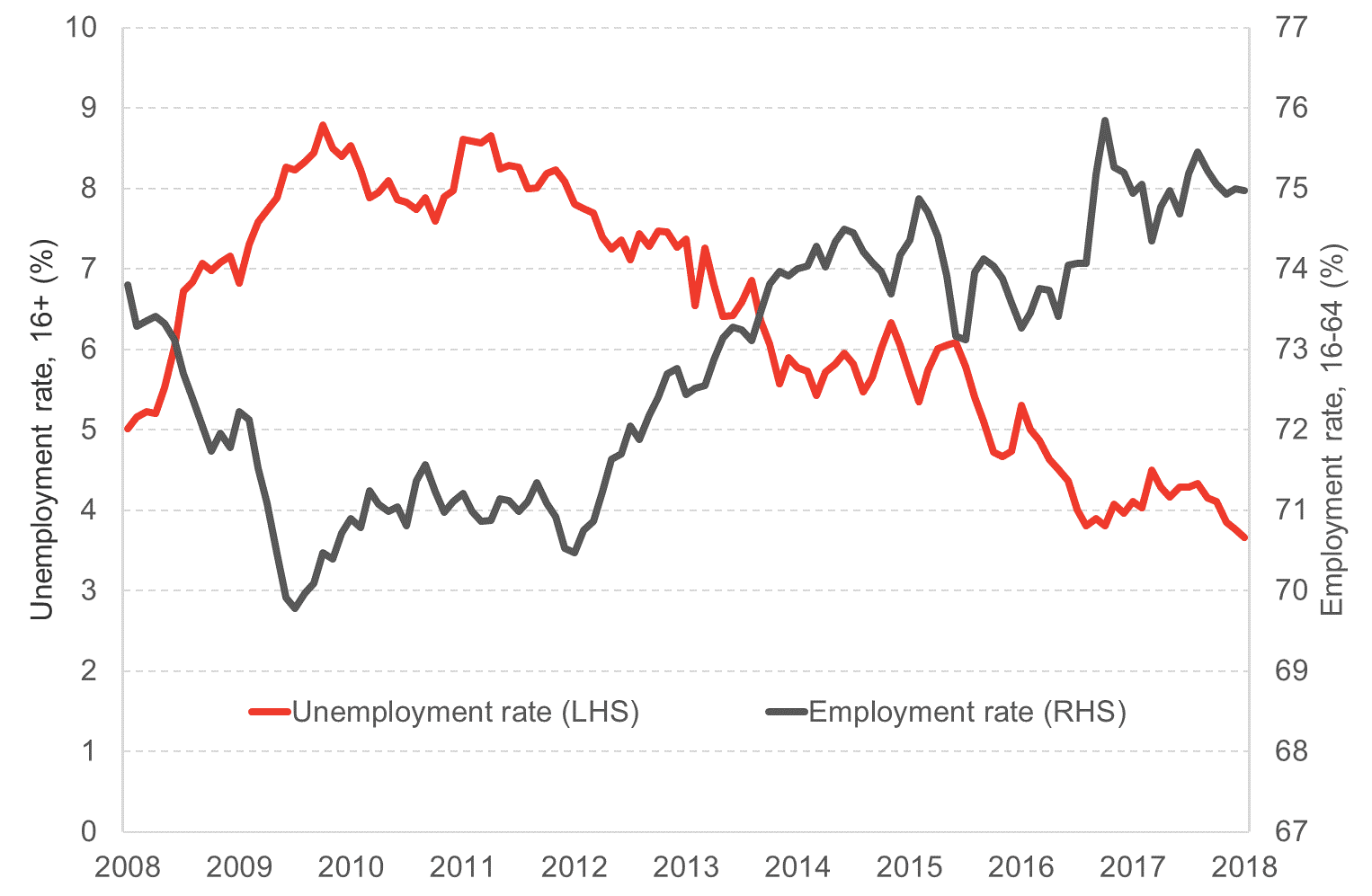 Source: Scottish Government
Summary
Today's GDP figures show the Scottish economy continuing to return to more normal rates of growth – albeit it is not making up ground lost following an exceptionally challenging 3 or 4 years.
Whilst positive, growth remains below trend and wider indicators within the economy – such as household incomes and real earnings – continue to underperform.
Of course today's figures say little about what might happen in the coming weeks and months should Brexit negotiations continue to go awry. Whilst – for the time being – many businesses appear to be 'looking-through' such concerns and are getting on with day-to-day activities, the outlook is clearly fragile.
The Fraser of Allander Institute (FAI) is a leading economy research institute based in the Department of Economics at the University of Strathclyde, Glasgow.