New GDP published today for Q3 2019 shows, as was expected, that the Scottish economy returned to growth in Q3 after a contraction in Q2. We discussed this upcoming data in our Commentary released yesterday.
The economy grew by 0.3% over the 3 months to September, and by 0.7% compared to the same quarter last year.
On this basis, growth in Scotland is on track to come in at around 1% in 2019 (or even lower). This marks another year of disappointing performance for the Scottish economy.
This blog covers some of the key points from the release – but it's nice and short as we're off for our Christmas lunch! 🙂
Chart 1: GDP Growth in Scotland, 2015 Q1 – 2019 Q3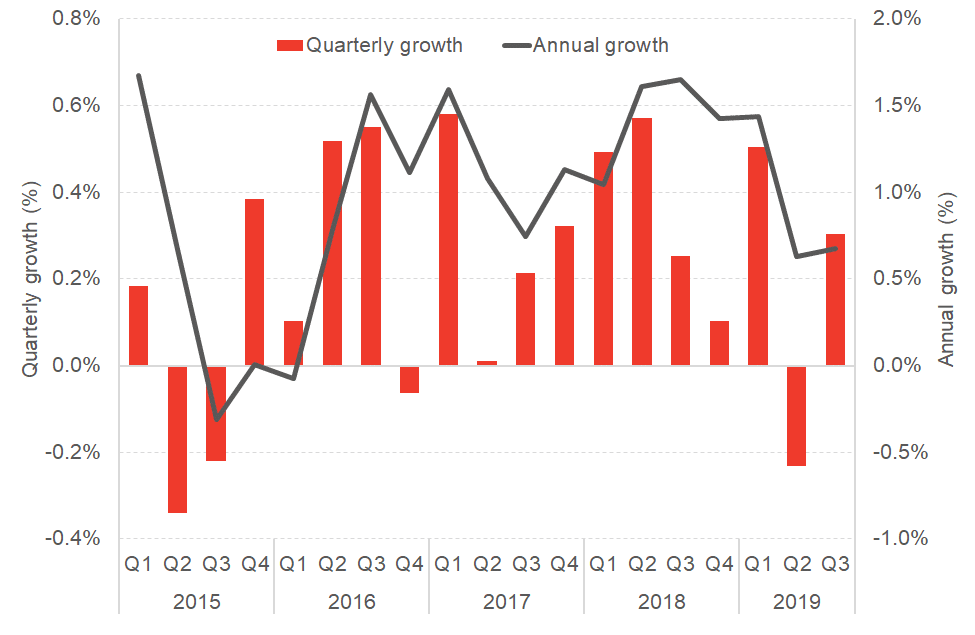 Source: Scottish Government
Production performed strongly in Q3, with growth of 0.9%. The service sector continued to grow at a steady rate, posting growth of 0.2%. Construction on the other hand posted no growth in Q3, following a 2.4% contraction in Q2.
Chart 2: Contributions to GDP Growth in Scotland, 2016 Q1 – 2019 Q3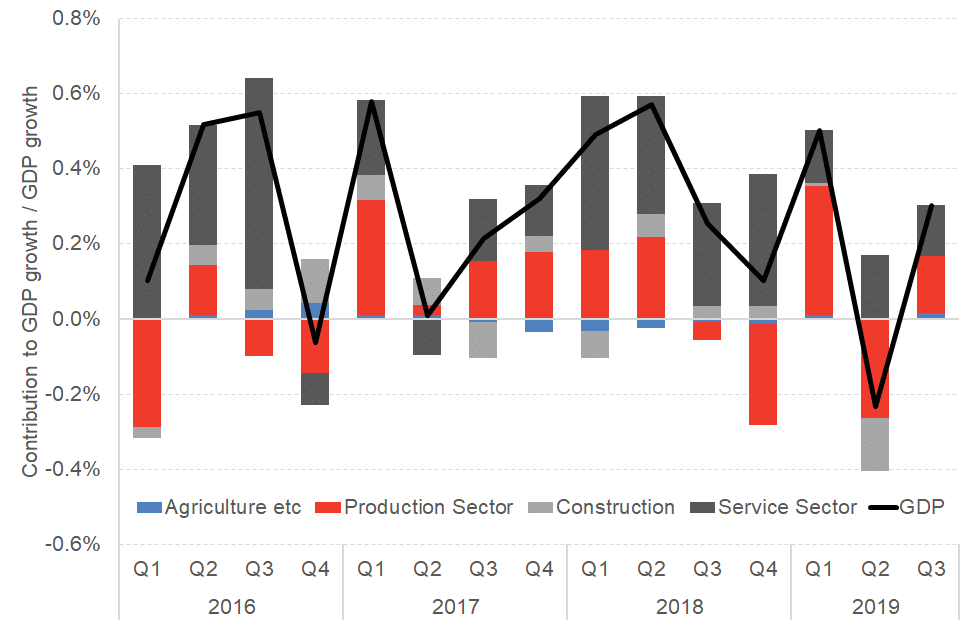 Source: Scottish Government
Whilst it could be expected that the boost in production was driven by a bounce back in manufacturing output, actually the main driver was 5.9% growth in Electricity and Gas supply.
Manufacturing actually continued to contract in Q3.
Chart 3: Contributions to production growth in Scotland, 2016 Q1 – 2019 Q3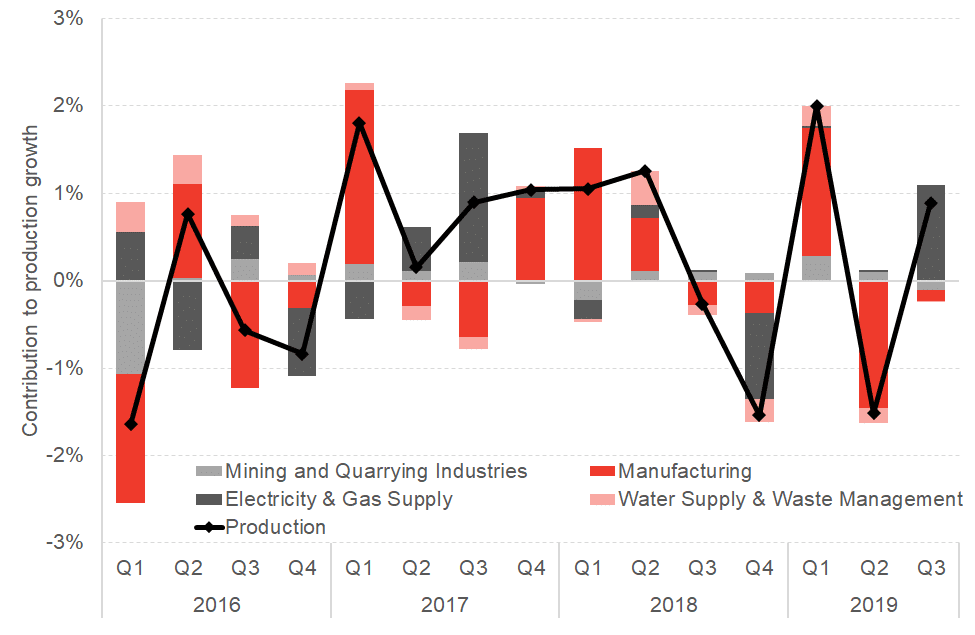 Source: Scottish Government
So what is driving this continued weak performance in manufacturing? Refined petroleum products and pharmaceutical products did show a big bounce back from last quarter, growing 9.3% over the quarter. However, this was outweighed by a 7% contraction in Metals & Machinery.
Chart 4: Contributions to manufacturing growth in Scotland, 2016 Q1 – 2019 Q3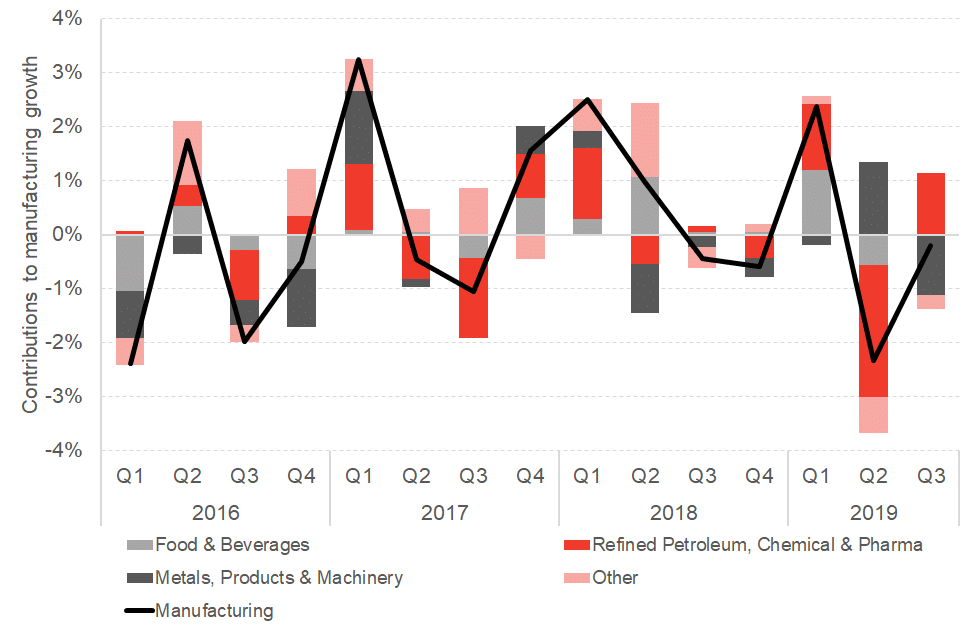 Source: Scottish Government
This could be linked to the poor levels of business investment that we have seen in Scotland. In February, data for Q3 2019 business investment will be published to allow us to analyse this further.
New publication launched today
Away from the GDP data, the Scottish Government have today launched a new publication examining the statistics on youth unemployment in Scotland. This gives figures up to September 2019, based on the Annual Population Survey – the National Statistics data source for labour market outcomes by age.
Chart 5: Scottish youth unemployment, 2008/09 – 2018/19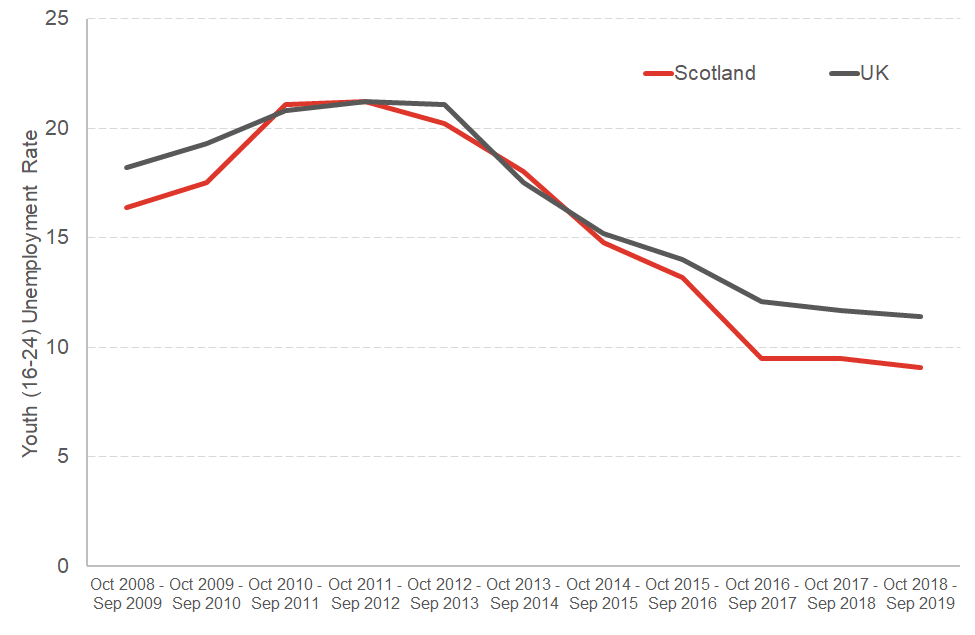 Source: ONS
This new publication with the focus on this important policy issue is to be welcomed.
Merry Christmas!
The Fraser of Allander Institute (FAI) is a leading economy research institute based in the Department of Economics at the University of Strathclyde, Glasgow.