This update provides a snapshot of new data on the Scottish economy and households.
Overall, we are yet to see change in most business indicators, although consumer interest appears to be improving. The labour market and household finances remain precarious.
Chart 1: Percentage of businesses which have temporarily closed or paused trading, devolved nations & English regions:  there has been a different pace of reopening of businesses across the UK with a higher proportion of businesses reporting that they have remained closed in Wales and Scotland than in England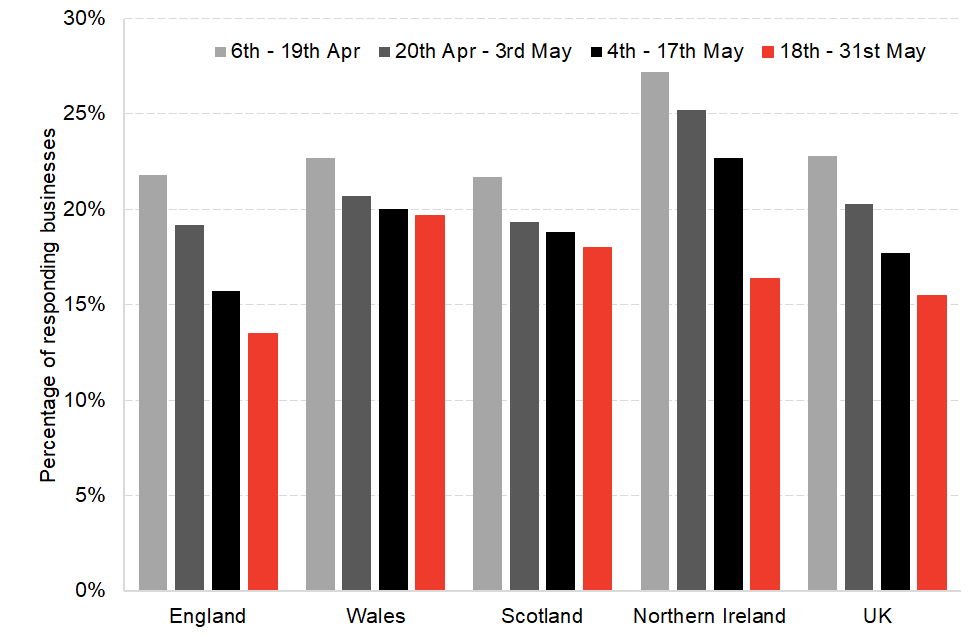 Source: ONS BICS
Chart 2: Percentage of businesses with cash reserves for 3 or less months, devolved nations & English regions: there has been little change in the number of businesses in Scotland reporting that they have cash reserves for three months or less in the latest data.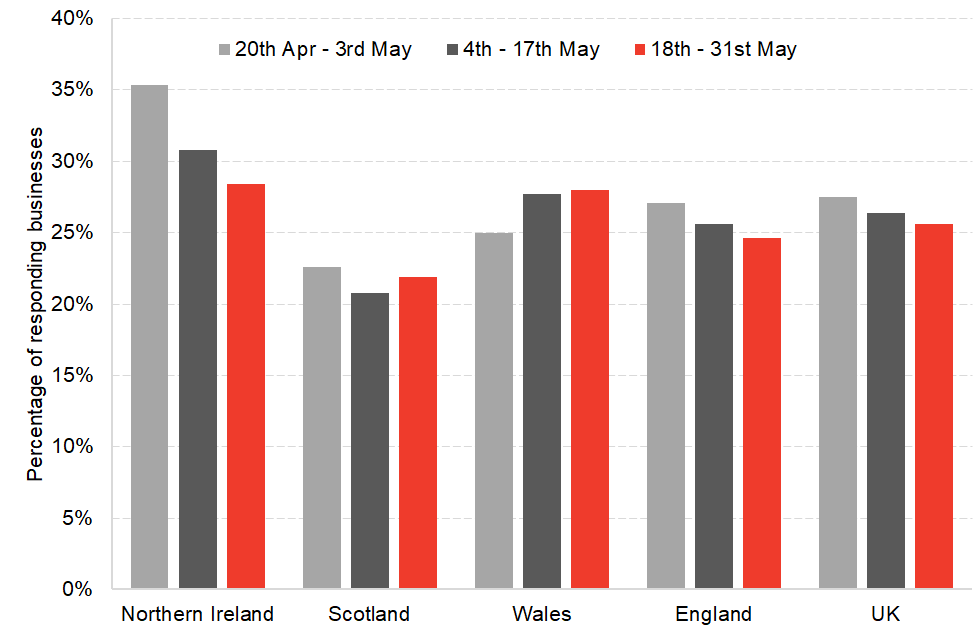 Source: ONS BICS
What is perhaps most concerning is the % of businesses that 'don't know' their status of reserves which currently sits at over 25% in Scotland.
See the ONS for more data from their Business Impact of Coronavirus Survey
Chart 3: Google searches for products and services in Scotland: consumer interest appears to be improving, with google searches for cars and high street retail picking back-up. Of course, whether this actually translates into a significant increase in spend remains to be seen (recent UK data shows a sharp rise in household savings). Searches for hotels and theatres are well below their level last year, but have also shown sighs of improvement.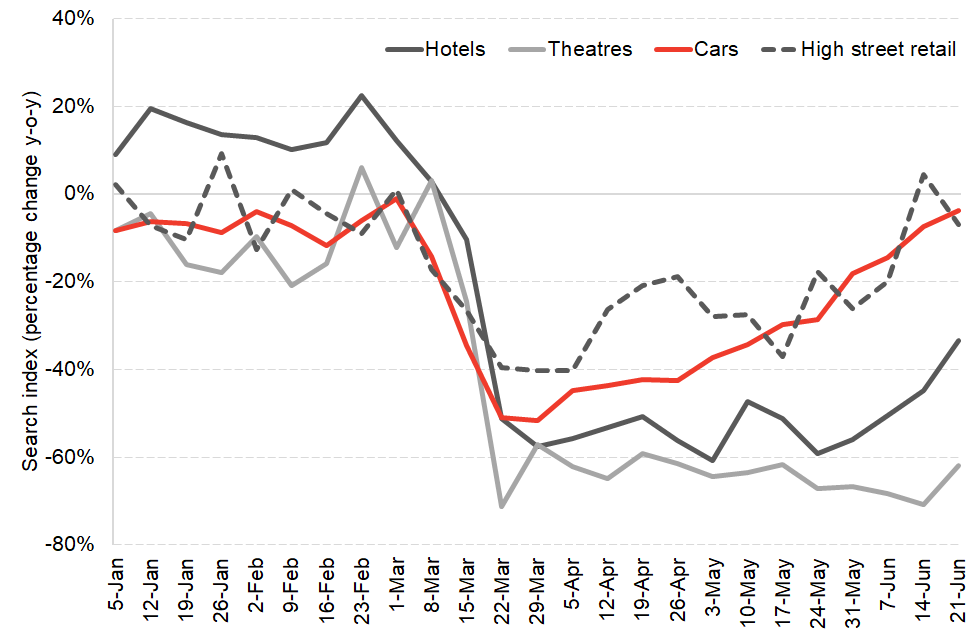 Source: Google Trends
Chart 4: Mobility of people in Scotland and the UK in week commencing 17th June: far fewer people are travelling to places of work and for retail compared to before Covid-19, and less so in Scotland compared to the UK average which is likely to be due to the slower speed of lockdown restrictions being eased.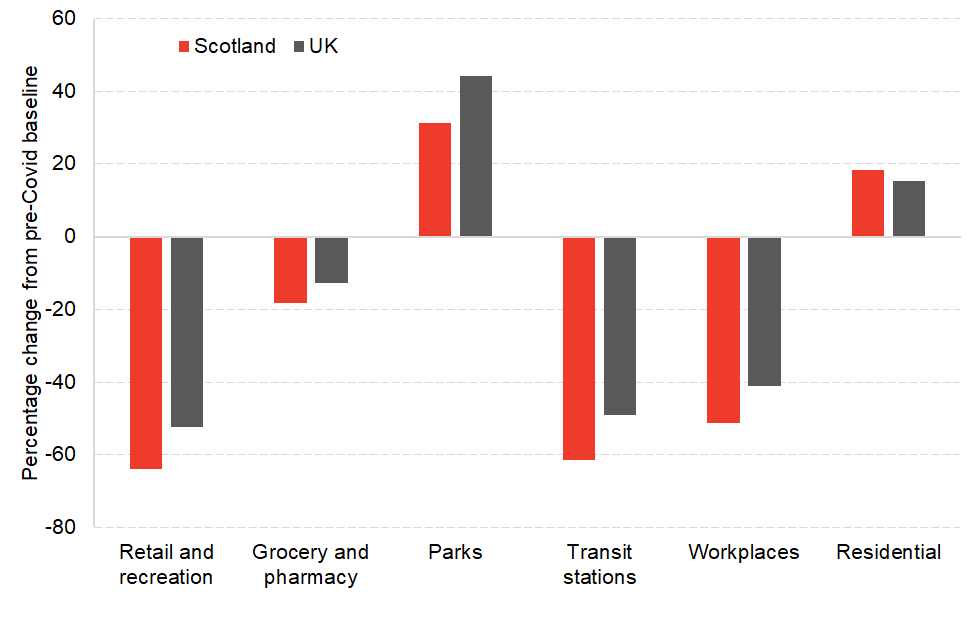 Source: Google Mobility Trends
Note: The reported data for Scotland is an average of the mobility index for Scotland's largest cities: Edinburgh, Glasgow, Aberdeen, Dundee, Stirling.
Chart 5: Google searches for 'redundancy' in Scotland and the UK: an increase in searches for redundancy may be due to people researching the issue rather than actual redundancy notices being issued, but the increase in searches points to a lot of uncertainty over the labour market at this time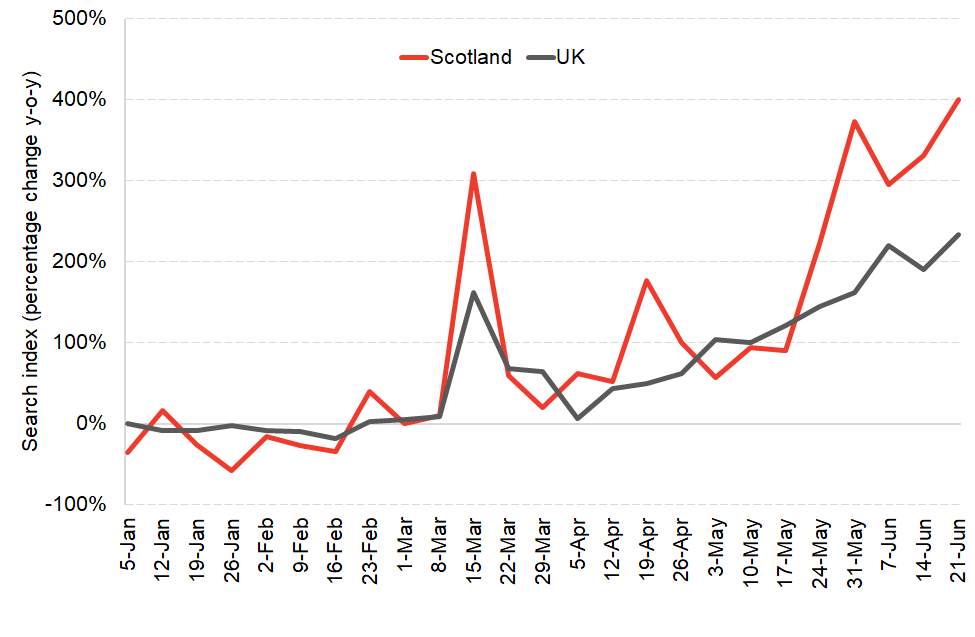 Source: Google Trends
Chart 6: Proportion of households who have fallen behind with one or more bill repayment by tenure in Scotland: survey data from the Joseph Rowntree Foundation show that many renters are reporting that they are falling behind with one or more bill repayments, an early indication of financial stress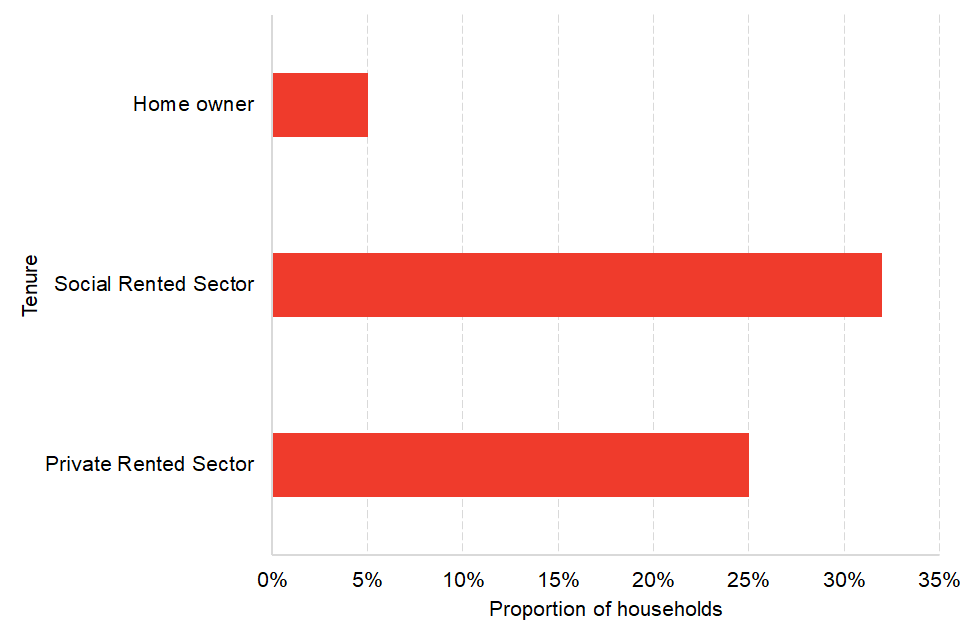 Source: JRF
See the JRF website for more data from this survey
Note on our real-term indicators analysis:
We review newly available data each week and provide a regularly updated snapshot of indicators which can provide information on how the economy and household finances are changing week to week. This allows us to monitor changes in advance of official data on the economy being released and also to capture key trends that will be missed by measures such as GDP. Each week we investigate new sources from known data sources and use publicly available data.
The Fraser of Allander Institute (FAI) is a leading economy research institute based in the Department of Economics at the University of Strathclyde, Glasgow.