Latest data on the Scottish economy – Update 7th August 2020
This update provides a snapshot of new data on the Scottish economy and households.
There are indications of optimism returning for some sectors, with consumer online interest beginning to return to pre-Covid levels in some areas. However, businesses are far from out of the woods yet with many still seeing record low levels of turnover. Wednesday's announcement of a localised lockdown in Aberdeen City has created further uncertainty, particularly in the hospitality sector as pubs, restaurants, and bars in the city region were ordered to close for at least seven days.
For households, high uncertainty persists. There have been slight improvements in vacancies in Scotland but the threat of high unemployment remains as we move closer to October and the end of the UK Government furlough and self-employment schemes.
Chart 1: Business turnover index in Scotland, Jan 2011 – June 2020:businesses in all sectors, with the exception of the food retail sector, reported decreased turnover in June compared to the same month last year. The accommodation & food services sector remains the most severely hit.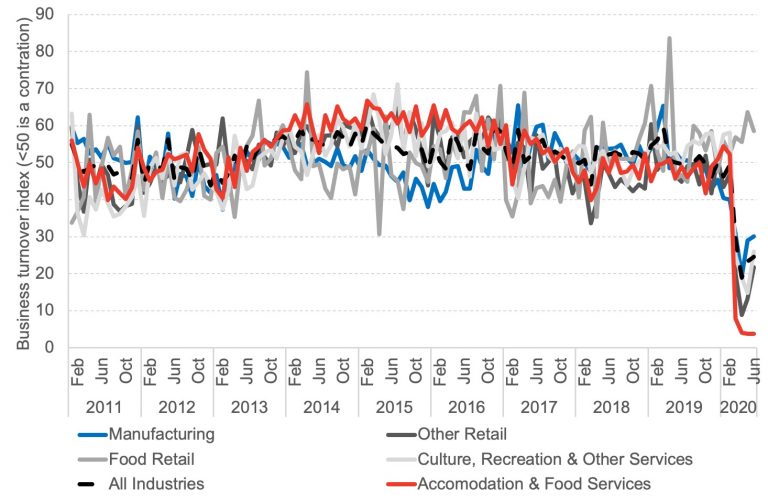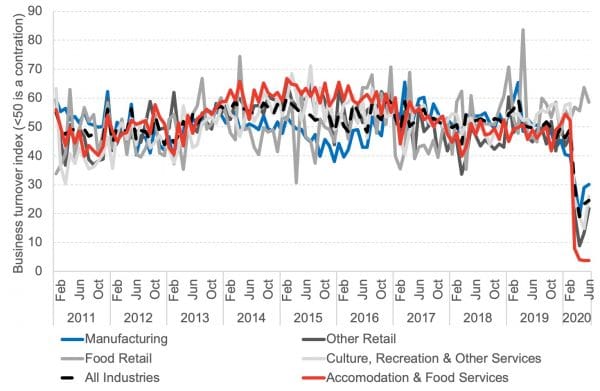 Source: Scottish Government
Chart 2: Google searches for products and services in Scotland, 5th January 2020 – 2nd August 2020: Consumer interest has picked back up in the hospitality sector, with pre-Covid levels of online interest returning. Searches for restaurants, bars, and pubs increased on 6 months prior and interest has also returned in museums, theatres, and cinemas, with many now opening as the country moves through phase 3 in the route map out of lockdown.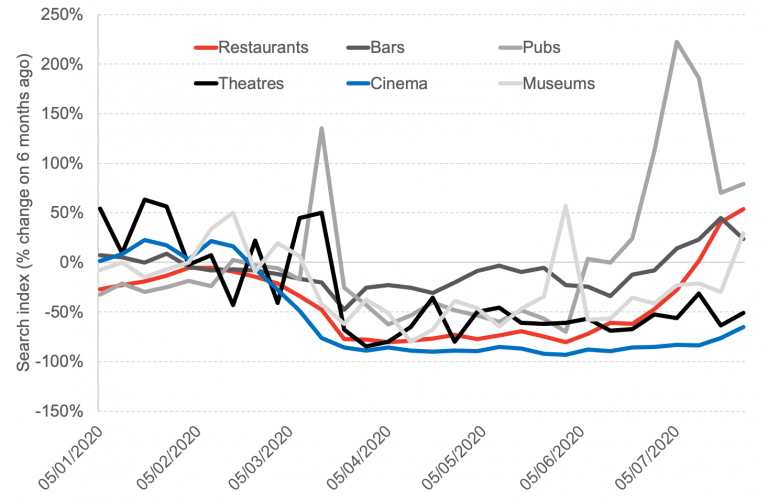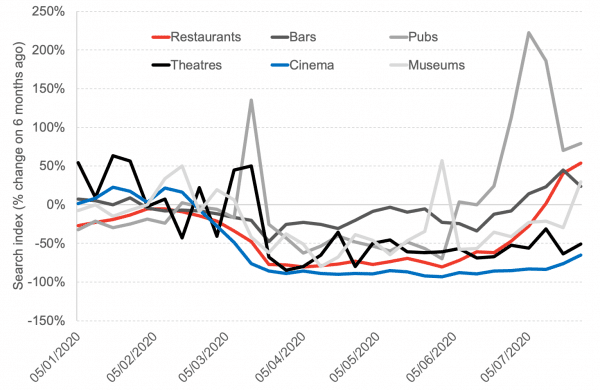 Source: Google Trends
Chart 3: Number of Vacancies in Scotland, August 2019 – July 2020: there was a small pickup in the number of vacancies in July on the previous month, however, vacancies are still down 45% since the start of the year.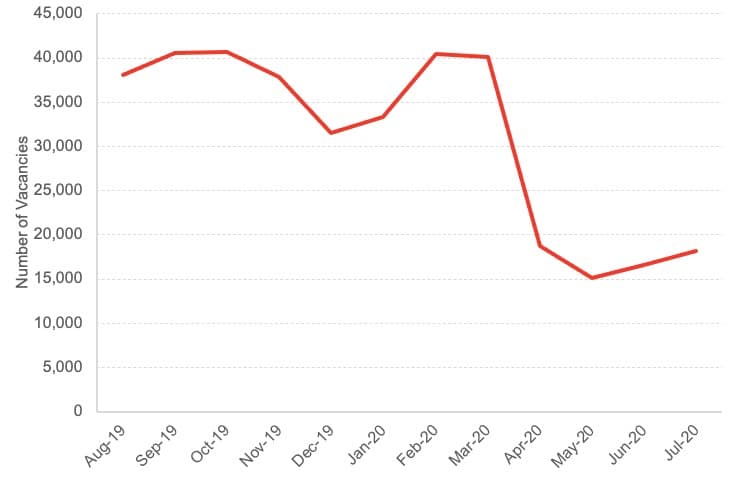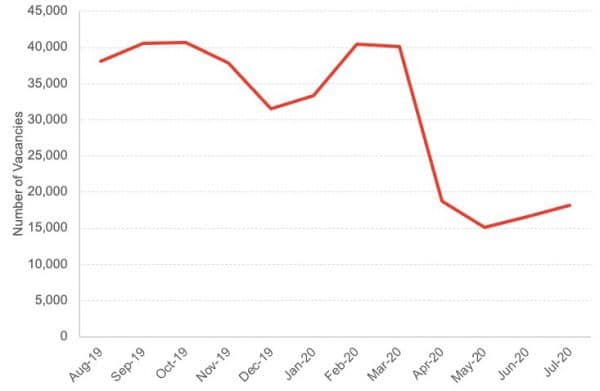 Source: Adzuna Labour Market Stats
Chart 4: Number of applications and expenditure on crisis grants in the Scottish Welfare Fund, January 2018 – June 2020: the number of applications for crisis grants was 40% higher in June compared to the same month last year. However, the number of applications and expenditure on crisis grants continues to fall from its peak in April.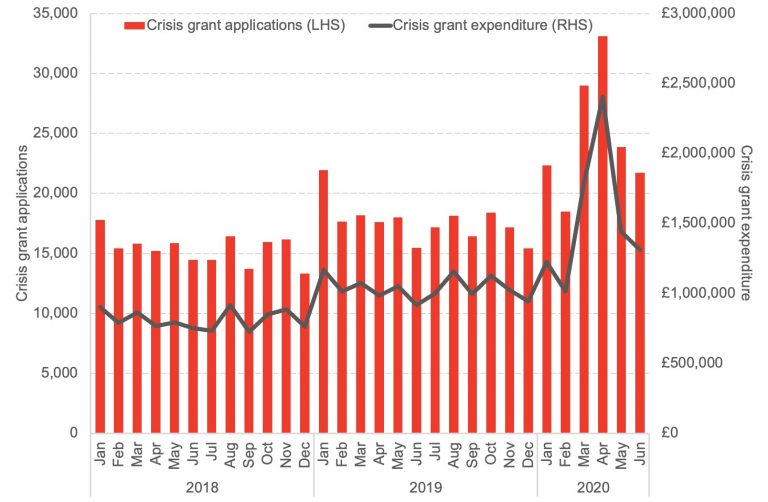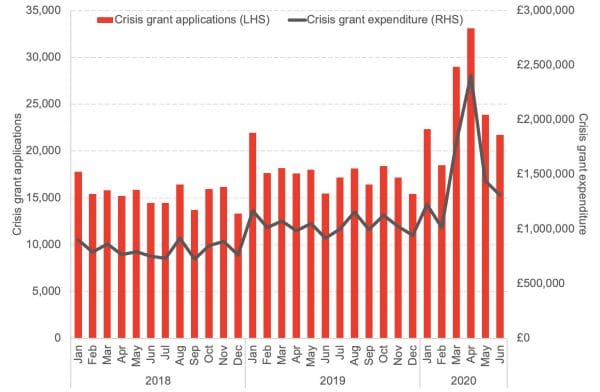 Source: Scottish Government
Chart 5: Mobility of people in Scotland and the UK, 13th July – 3rd August 2020:mobility of people outside their homes continues to be below average, and although some trends are improving, travel to workplaces appears to have reduced towards the end of July. This could be due to other factors, such as people taking annual leave in the school holidays.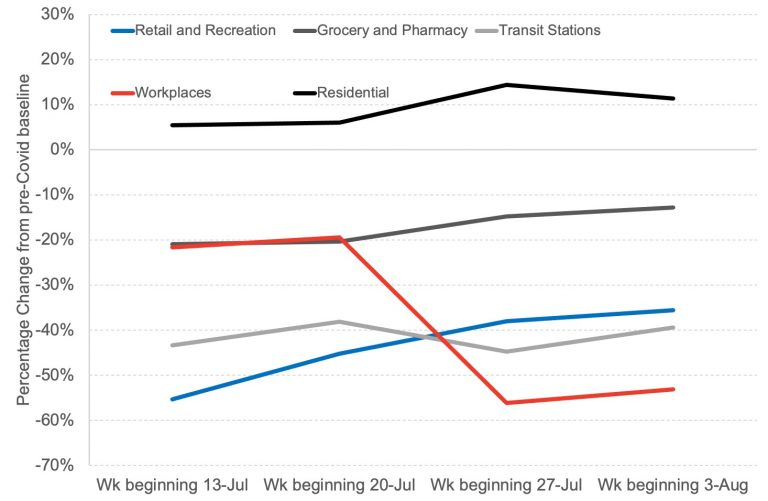 Source: Google Mobility Trends
Chart 6: Proportion of respondents who were very/extremely concerned with the statements shown, 12th June – 13th July 2020: around 1 in 4 households were concerned about their finances in Scotland. 25% of respondents reported high levels of concern in regards to having a job and providing for their household, with 23% expressing concern about being able to pay their bills.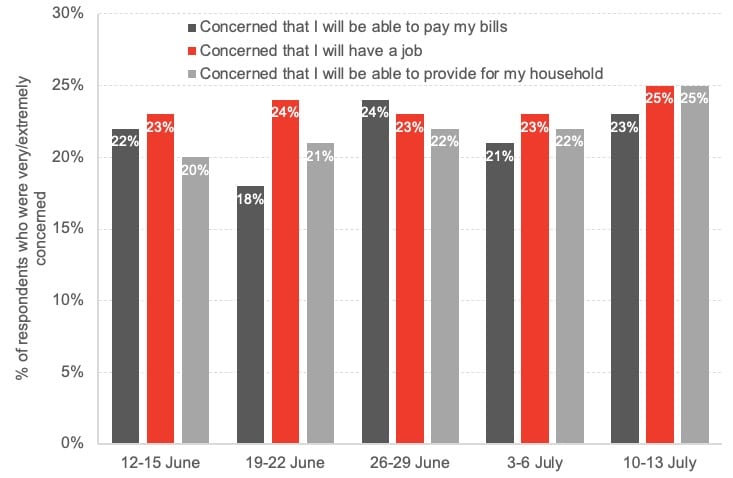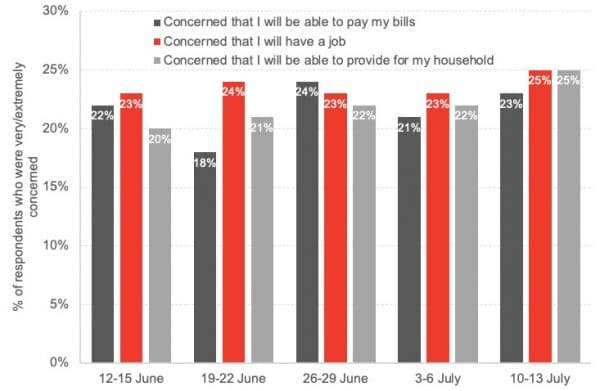 Source: Scottish Government
Note on our real-time indicators analysis:
We review newly available data each week and provide a regularly updated snapshot of indicators that can provide information on how the economy and household finances are changing week to week. This allows us to monitor changes in advance of official data on the economy being released and also to capture key trends that will be missed by measures such as GDP. Each week we investigate new sources from known data sources and use publicly available data.
The Fraser of Allander Institute (FAI) is a leading economy research institute based in the Department of Economics at the University of Strathclyde, Glasgow.