The latest GDP data for Scotland shows that the Scottish economy continued to contract into December with a decline of 0.3%. The Scottish economy remains 7.2% below pre-pandemic levels; this compares to 6.3% in the UK economy.
However, with the announcement on Tuesday that Scotland plans to return to a tiered system from April, there is some positive news for the hardest hit sectors of the Scottish economy, as a return to trading will hopefully mark the end of what has been an extremely uncertain year for businesses.
The latest announcement will also provide some much-needed respite for many households. However, whilst the end of the current lockdown does provide some relief, the long-term implications of the pandemic remain an issue.
Although there is some light at the end of the tunnel, many workers are still furloughed, the number of job vacancies in Scotland is falling and there remains a great deal of uncertainty on how the labour market will hold up once the job retention scheme ends in April.
The latest Mental Health Tracker report, published by Scotland's Mental Health Partnership, showed that whilst some indicators of poor mental health had improved on the previous waves, indicators such as depression have increased for both men and women; in particular, young men, aged 18-29.
Table 1: Real time indicators dashboard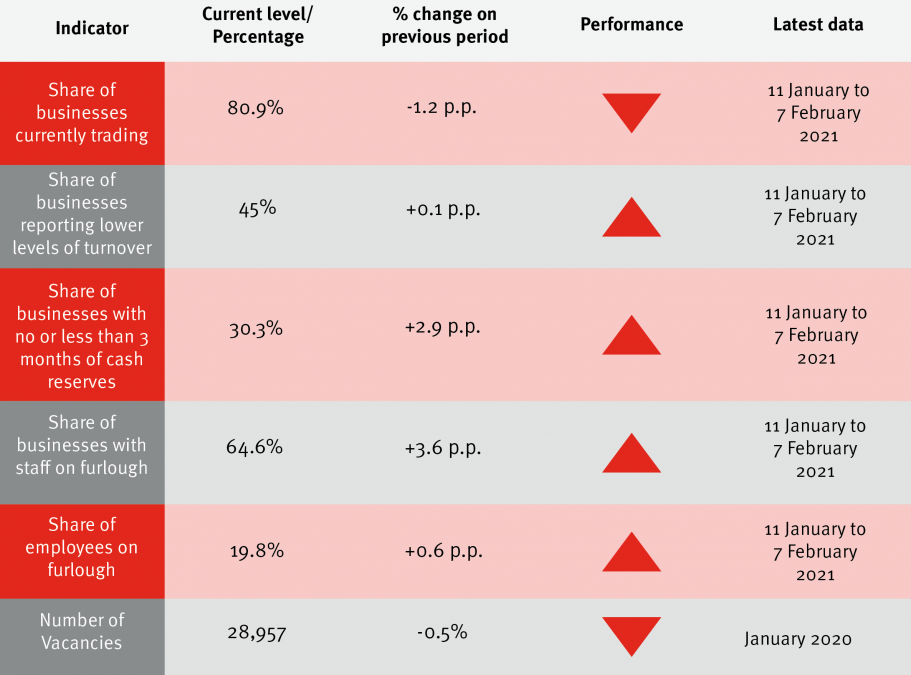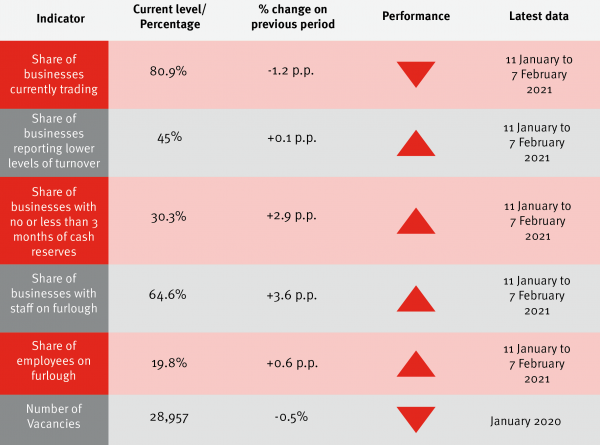 Source: Scottish Government, BICS, Adzuna Labour Market Stats
Chart 1: Estimated share of businesses that are currently trading, broken down by industry, 15th June 2020 – 7th February 2021: The share of businesses currently trading in the Scottish economy has improved since the December lockdown however, the share of trading businesses in the accommodation and food services sector continues to fall as it remains the hardest hit industry in the economy.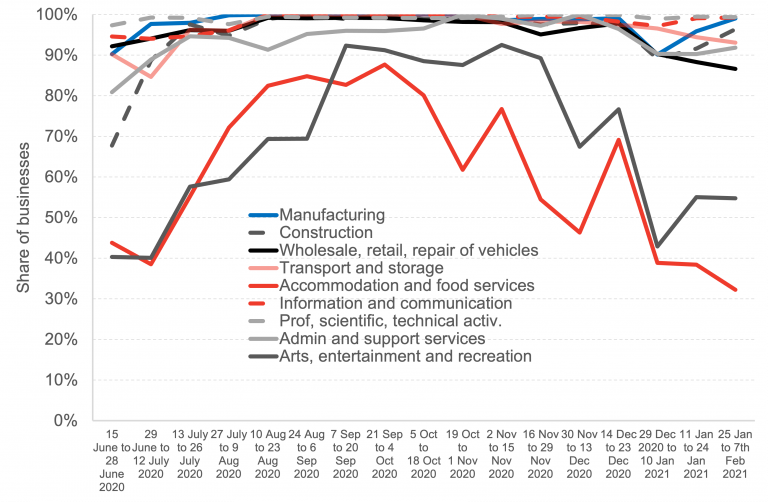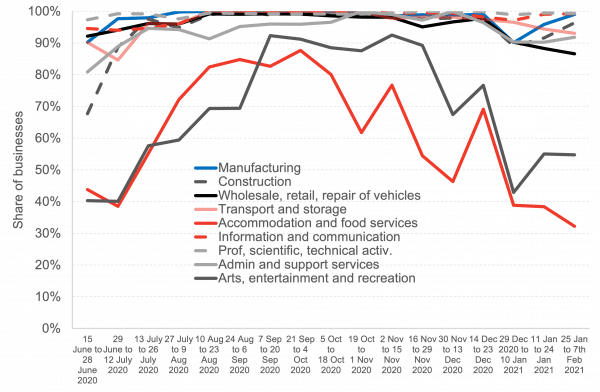 Source: Scottish Government, BICS
Chart 2: Estimated share of workforce working remotely instead of at their normal place of work, 15th June 2020 – 7th February 2021: The share of the workforce working remotely varies across most sectors but has remained at relatively similar levels since June 2020. There have been small increases in the share of those working remotely in the manufacturing and retail sectors over time. Unsurprisingly, the accommodation and food services sector has the lowest share of staff working from home; this industry has the highest share of employees on furlough.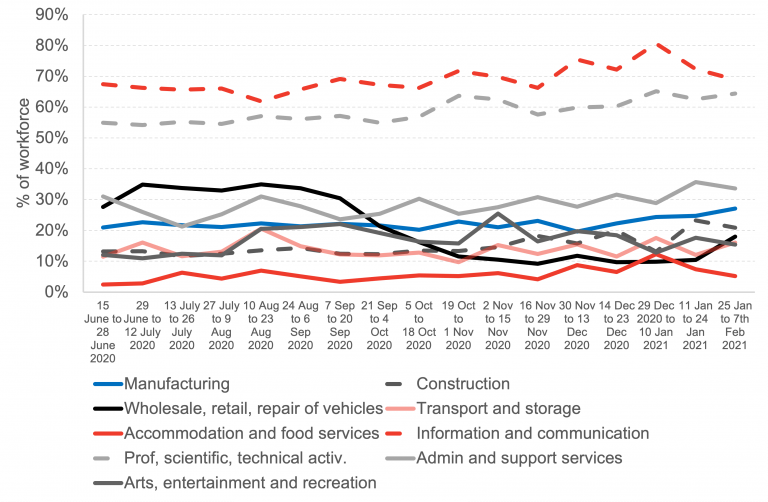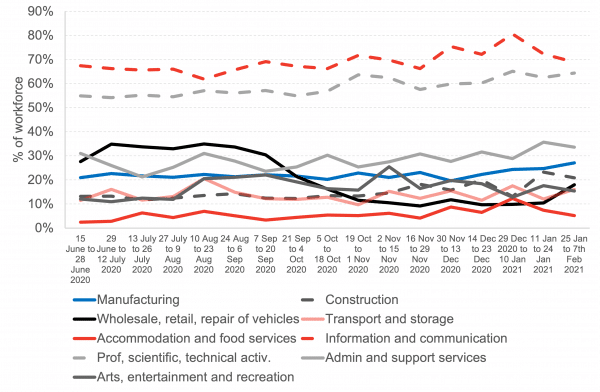 Source: Scottish Government, BICS
Chart 3: Claimant Count, UK, November 2020 – January 2021: In January 2021, the number of people on Universal Credit and Jobseekers Allowance fell slightly across all regions of the UK except Scotland, which saw a 0.3% increase in claimants. Overall, the changes in the Claimant Count in the last couple of months have only been marginal compared to the sharp increase seen in April and May last year.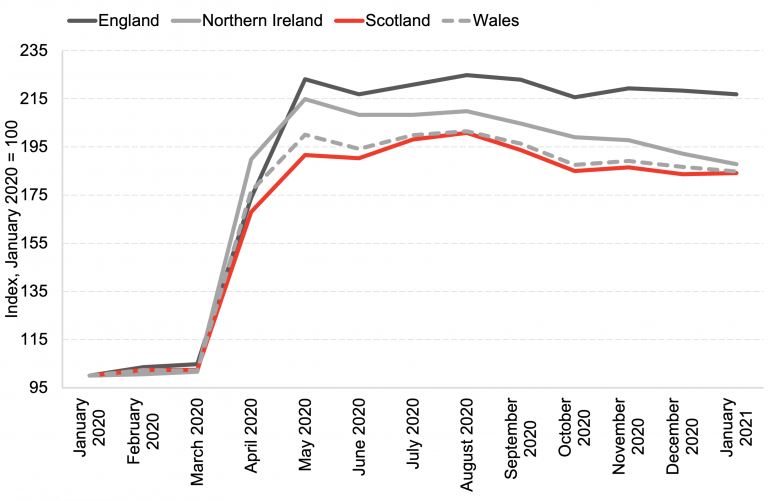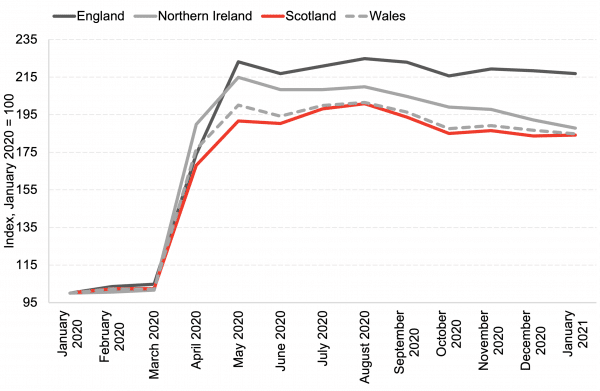 Source: NOMIS
Chart 4: Number of crisis grant applications and expenditure, Scottish Welfare Fund, January 2018 – December 2020: The number of crisis grant applications was 40% higher in December 2020 compared to December 2019. Monthly expenditure on crisis grants has been growing significantly since August 2020 and was 92% higher in December 2020 than in December 2019.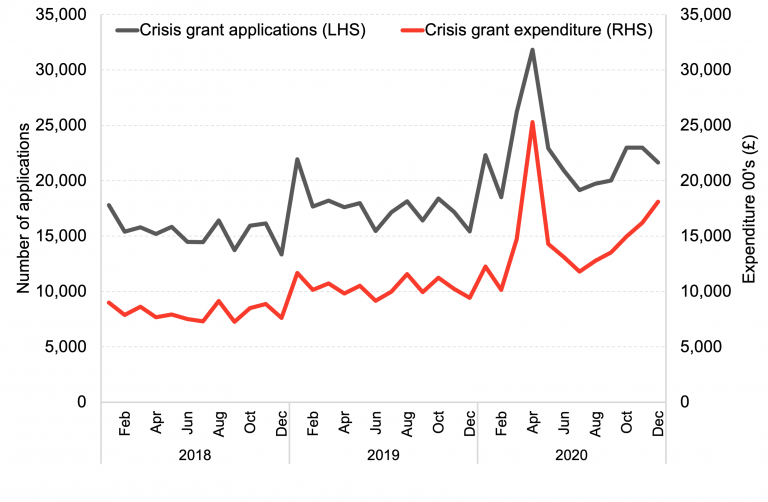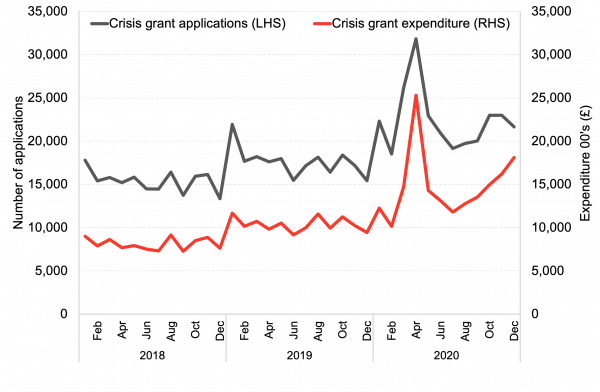 Note: Crisis grants provide financial support to households who have suffered an emergency like a loss of job or income.
Source: Scottish Government
Chart 5: Proportion of respondents reporting high levels of concern for each of the following issues, December 2020: The proportion of people with high levels of concern for their mental health and household finances remained unchanged on the previous month at the end of 2020. A tenth of respondents expressed high levels of concern for the impact that the pandemic has had on their ability to pay their bills and on the impact on jobs and the economy, however, this was an improvement on the previous month.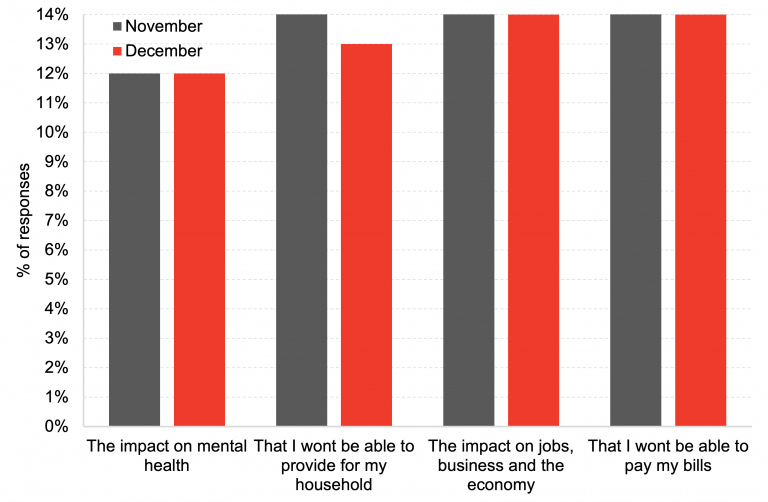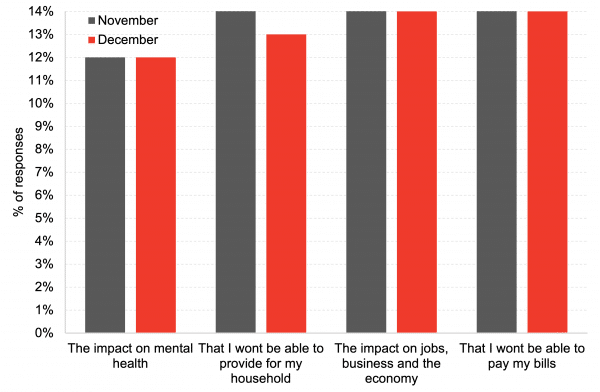 Source: Scottish Government
Chart 6: Scottish consumer sentiment indicator, April 2019 – December 2020: Consumer sentiment remains at historic lows but, expectations about economic development and household finances are now positive, with net balance responses for both recovering from a fall in October 2020.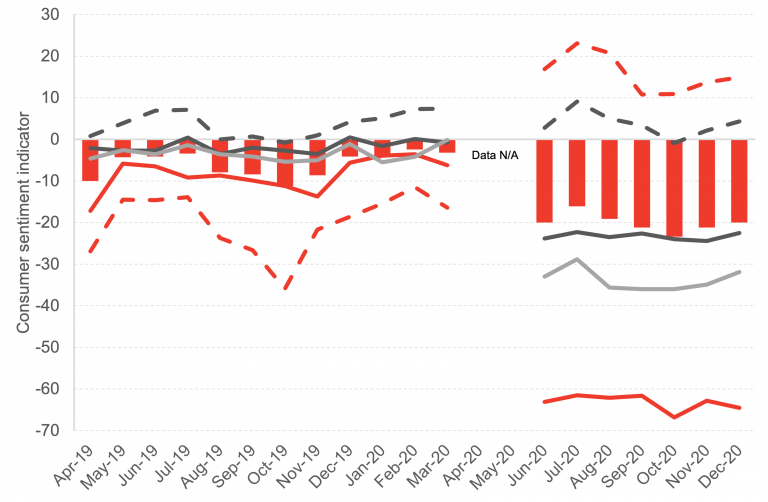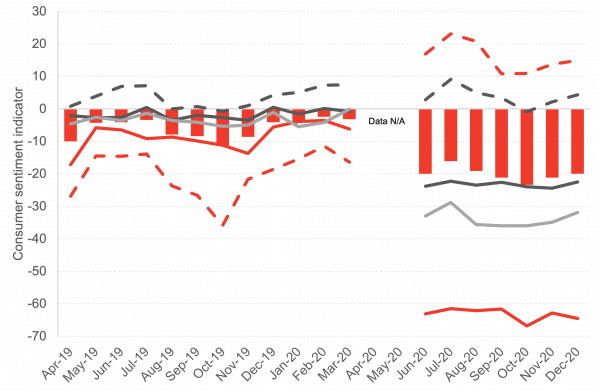 Source: Scottish Government
Note on our real-term indicators analysis:
We review newly available data each fortnight and provide a regularly updated snapshot of indicators that can provide information on how the economy and household finances are changing. This allows us to monitor changes in advance of official data on the economy being released and also to capture key trends that will be missed by measures such as GDP. Each fortnight we investigate new sources from known data sources and use publicly available data.
Ben is an economist at the Fraser of Allander Institute working across a number of projects areas. He has a Masters in Economics from the University of Edinburgh, and a degree in Economics from the University of Strathclyde.
His main areas of focus are economic policy, social care and criminal justice in Scotland. Ben also co-edits the quarter Economic Commentary and has experience in business survey design and dissemination.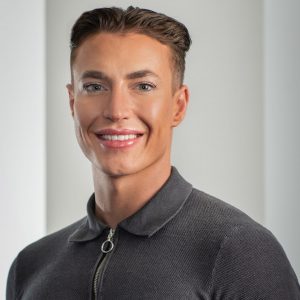 Adam is an Economist Fellow at the FAI who works closely with FAI partners and specialises in business analysis. Adam's research typically involves an assessment of business strategies and policies on economic, societal and environmental impacts. Adam also leads the FAI's quarterly Scottish Business Monitor.
Find out more about Adam.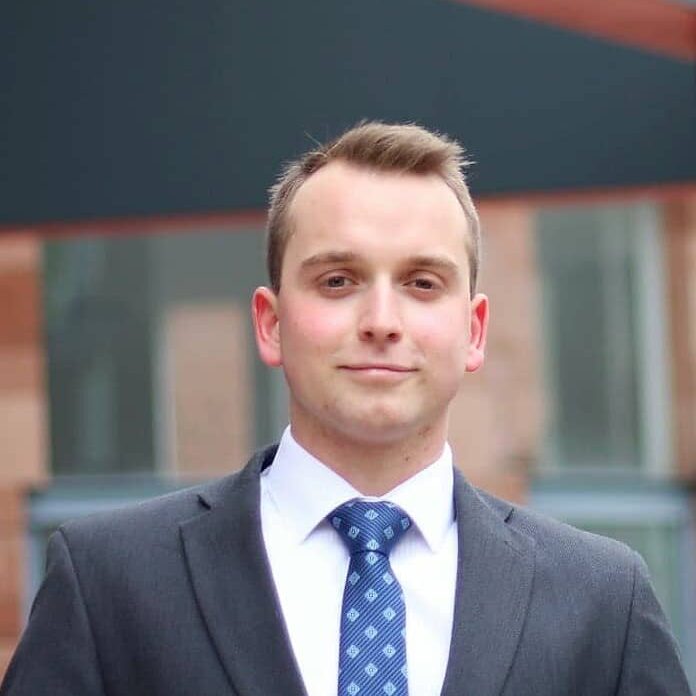 Frank graduated from the University of Strathclyde in 2019 with a First-class BA (Hons) degree in Economics. He is currently studying on the Scottish Graduate Programme MSc in Economics at the University of Edinburgh.
He has experience from a variety of economic policy institutions including the European Commission in Brussels, the Slovak Central Bank and the Ministry of Finance.