Latest data on the Scottish economy – Update 24th July 2020
This update provides a snapshot of new data on the Scottish economy and households.
The latest data shows consumer interest in some sectors rebounding but a sizeable proportion of Scottish businesses who remain closed and do not intend to restart trading soon. Furthermore, almost a third of all eligible jobs in Scotland had been furloughed at the start of July. Estimates of the financial impact on households of Coronavirus so far show a large real-terms fall in typical incomes in the range of 4.5%.
Next week sees the launch of our latest Scottish Business Monitor with Addleshaw Goddard and will give further insight as to what capacity businesses will be operating at in the coming months and also business's views on the SG and UKG's handling of the crisis.
Chart 1: Proportion of businesses that have temporarily closed or ceased temporarily trading: the proportion of businesses surveyed by the ONS that report they are temporarily not trading has fallen across the UK since the height of the lockdown. Around 12% of businesses report that they were still not open in Scotland at the end of June, an improvement on the 18% proportion reported at the end of May.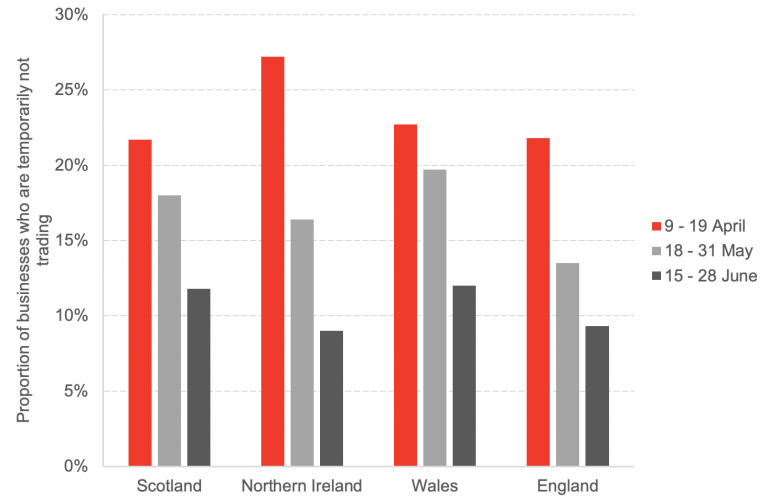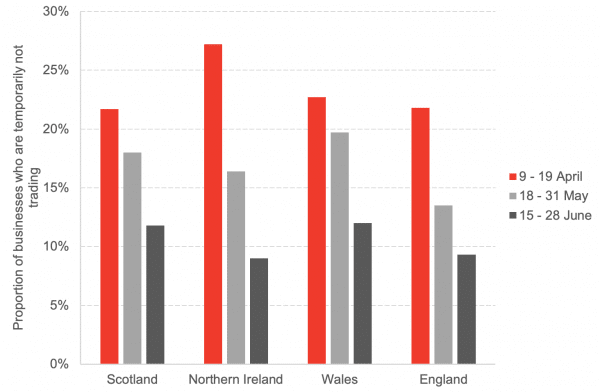 Source: ONS
Chart 2: Trading status of businesses, England & devolved nations of the UK, 15th – 28th June 2020: Of the 12% of businesses that have not reopened in Scotland, two-thirds did not intend to open in the next two weeks.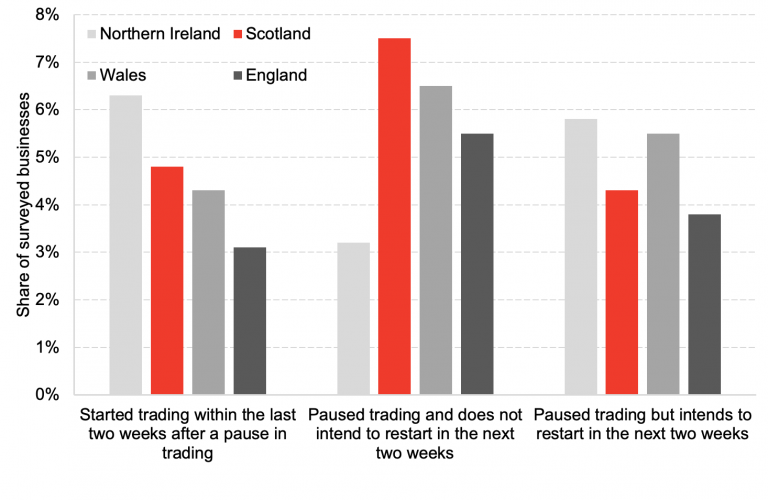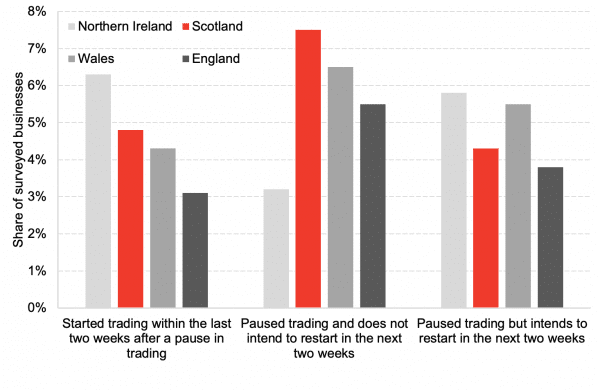 Source: ONS BICS
Chart 3: Percentage of businesses with cash reserves for 3 or less months, England & devolved regions of the UK, 20th April – 28th June 2020: the number of liquidity constrained businesses in Scotland continued to decline in the second half of June and remained the lowest out of all UK regions at 19.2%.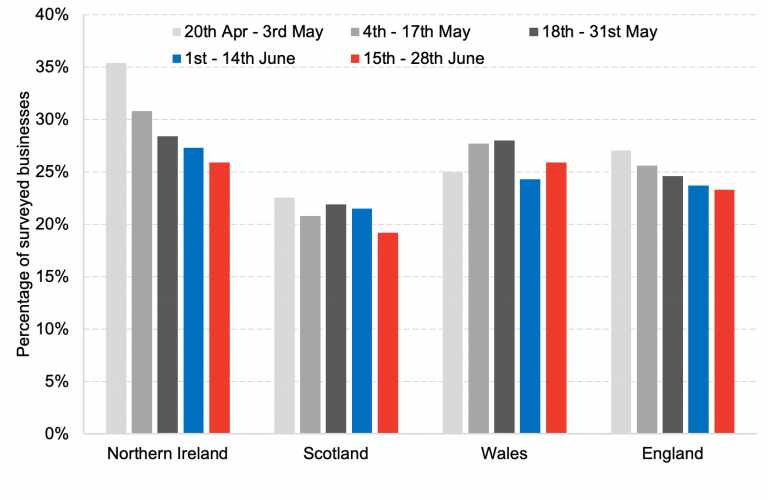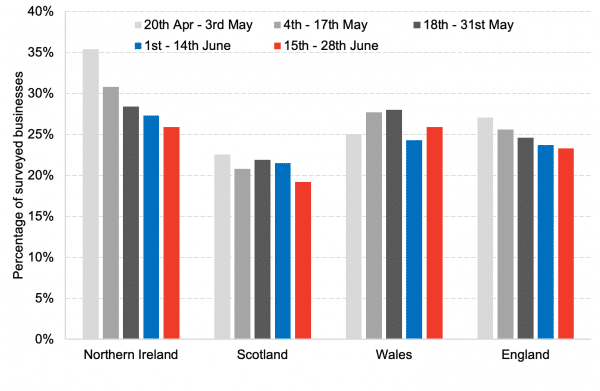 Source: ONS BICS
Chart 4: Google searches for products and services in Scotland, 5th January – 19th July 2020: consumer interest in pubs and high street retail was around 20% above the levels seen last year in the week commencing 12th July. Interest in hotels has been steadily improving over the last couple of weeks but remains circa 20% below trend.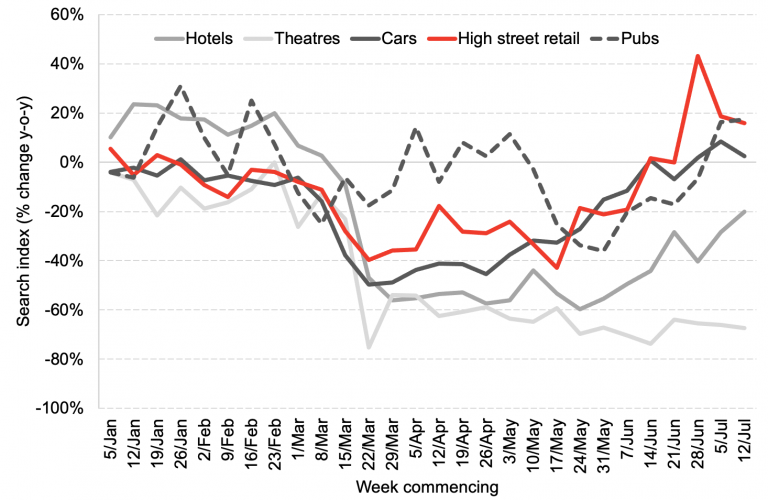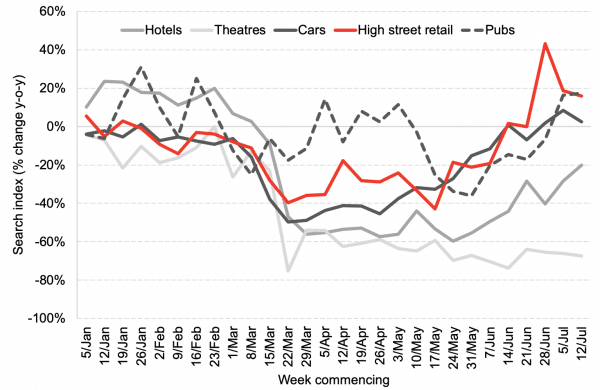 Source: Google Trends
Chart 5: Proportion of eligible jobs furloughed across Scottish local authorities, June and July 2020: the number of eligible jobs in Scotland which have been furlough via the UK government's Coronavirus Job Retention Scheme increased from 25% at the start of June to 30% at the beginning of July. Highland, Perth and Kinross, and Glasgow were areas with the highest share of furloughed jobs. Shetland Islands, Inverclyde, and Na h-Eileanan Siar had the lowest number of furloughed jobs (less than a quarter).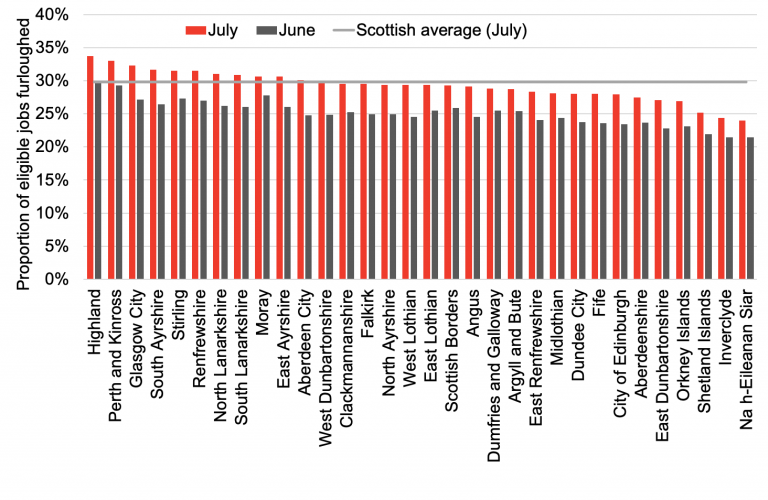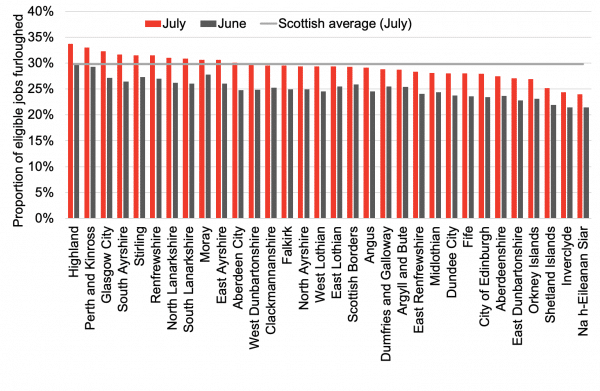 Source: HMRC
Chart 6: Did the support received from government initiatives or schemes help your business continue trading? England & devolved nations of the UK, 15 June to 28 June 2020: supporting measures from the UK and Scottish governments have helped around 69% of Scottish businesses to continue trading. However, the schemes and supporting measures did not have any impact on the trading ability of 21% of surveyed Scottish businesses (slightly less than England, but more than Northern Ireland and Wales).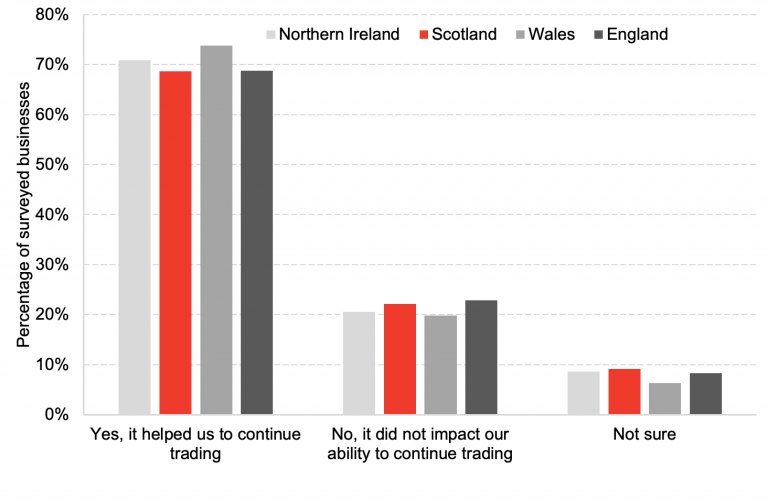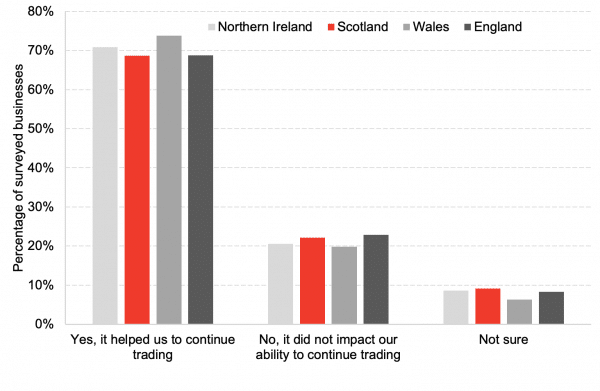 Source: ONS BICS
This week the Resolution Foundation released its Living Standards Audit for 2020, covering the whole of the UK. They estimate that typical non-pensioner income was 4.5% lower in May 2020 in real terms compared to income during the financial year 2019-20. Impacts have been felt throughout the income distribution, with adults in middle and higher-income households more likely to be affected in some way, yet the most severe effects being felt by lower-income families.
Note on our real-time indicators analysis:
We review newly available data each week and provide a regularly updated snapshot of indicators that can provide information on how the economy and household finances are changing week to week. This allows us to monitor changes in advance of official data on the economy being released and also to capture key trends that will be missed by measures such as GDP. Each week we investigate new sources from known data sources and use publicly available data.
The Fraser of Allander Institute (FAI) is a leading economy research institute based in the Department of Economics at the University of Strathclyde, Glasgow.