Backdrop
Local elections will be held across all 32 Scottish local authorities on 5th May. Just over 1,200 council seats will be determined.
Local government is a hugely significant part of the public service landscape in Scotland. Local government's revenue settlement from the Scottish government in 2022/23 is almost £12bn, accounting for just shy of one third of the Scottish government's total revenue spending.
Drawing on this settlement – plus resources from council tax, fees and charges – local authorities will manage and deliver social care services, pre-school and school education, and a raft of environmental, planning and cultural services.
In this context, it is perhaps surprising that turnout at local government elections is typically less than 50% (turnout in 2017 was 47%). Low turnout partly reflects a sense among the electorate that their vote makes relatively little difference to the delivery of public services, for two reasons.
First is a pervasive view that local authorities have relatively little power to influence service delivery in meaningful ways, regardless of the political control of the council, as local authorities are often perceived largely as delivery agents of the Scottish government.
Second is a set of issues around political accountability. The results of local government elections are often ambiguous – after the 2017 elections, no mainland council authority was controlled by a single party (moreover, it is not always the case that the largest party forms part of the governing coalition). On top of this, the profile of local politicians is often low. Recent research indicates that three quarters of people are not confident that they could name the leader of their council.
Data from the Scottish Household Survey – an annual survey of around 10,000 households – indicates that in 2019, fewer than a fifth of adults thought they could influence decisions affecting their local area. At the same time, only just over one quarter actually wanted to be more involved in the decisions of their local council (Chart 1). The last decade has seen a persistent decline in the proportion of adults who want to be more involved in local democracy.
Chart 1: Percentage of respondents agreeing or strongly agreeing with various statements about local services.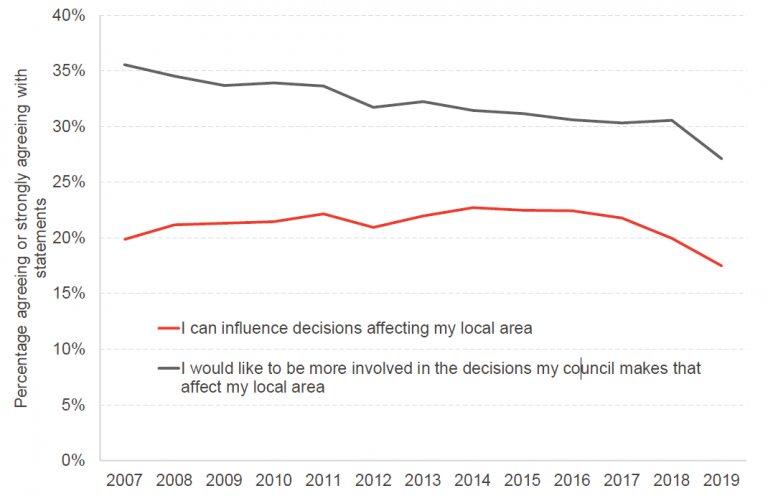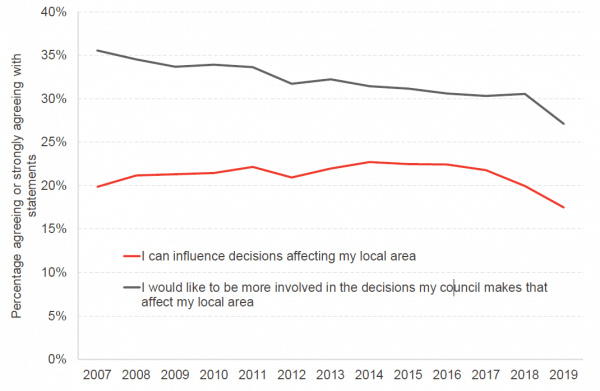 Source: FAI analysis of Scottish Household Survey
The Covid pandemic may have raised the public's awareness of local government and the breadth of activities it is responsible for. Local authorities were instrumental in delivering financial and other support during the pandemic – both to households and to businesses – supporting testing and tracing infrastructure, and ensuring the safe reopening of schools. It will be interesting to see whether this manifests in any increase in turnout in this year's elections.
People have different views about how much we should care about the public's relatively low interest in local government, and what we should do about it. For some, the answer is greater policy autonomy, both in general terms and in relation to local taxation in particular. For others, elected mayors (or provosts) would raise profile and accountability.
On the first of these issues, policy autonomy, there has been little progress during the past five years. In fact if anything, things are moving towards less not more local autonomy. Throughout the past five years the Scottish government has made increasing use of specific (ring-fenced grants). Meanwhile, the government's plans to establish a new national social care agency – which have a number of well meaning justifications – have been referred to by Cosla as 'a direct attack on localism and on the rights of people to make, and benefit from, decisions taken locally.
Local government funding, 2017/18 – 2022-23
One of the dominant issues going into the 2017 local government elections was the very constrained nature of the local government financial settlement over the past five years. Between 2013/14 and 2017/18, the core local government revenue settlement declined by £750 million in real terms according to SPICe which is equivalent to a 7% real terms reduction in its budget.
What's happened to local government budgets during the past five years?
Unsurprisingly, local government budgets increased substantially during the pandemic. Local government General Revenue Grant increased by £2.4bn in 2020/21 to reach £9.3bn. The increase offsets the loss of around £1bn of non-domestic rates revenue as a result of pandemic-related tax reliefs, and  also reflects increased grant to enable local authorities to play a critical role in delivering pandemic-related support to households, businesses, and the wider pandemic infrastructure (e.g. testing facilities).
The local government settlement in 2021/22 was not as high as in 2020/21, as the recovery began to take effect.
By 2022/23, core local government funding – including general revenue grant, NDR income and specific grants – is slightly lower in real terms than it was in 2017/18 (Chart 2). If we also include additional funding from the Scottish Government that is transferred into the local government settlement from other portfolios, then the story is that local government funding from the Scottish government is around 3.5% higher in 2022/23 than in 2017/18.
These additional revenues include £380m for health and social care integration and mental health, £234m to pay the living wage to social care staff, and £150m for additional teaching and support staff in schools. It does make sense to include these elements in the calculation. But even so, the 3.5% real terms funding increase has to be seen within the context of a significant increase in local government's delivery responsibilities over the same period.
In other words, whilst the story of the past five years has not been one of funding cuts – at least as clearly as at the last election – local government's funding settlement has nonetheless been very constrained.
Chart 2: Local government core funding from Scottish Government, real terms.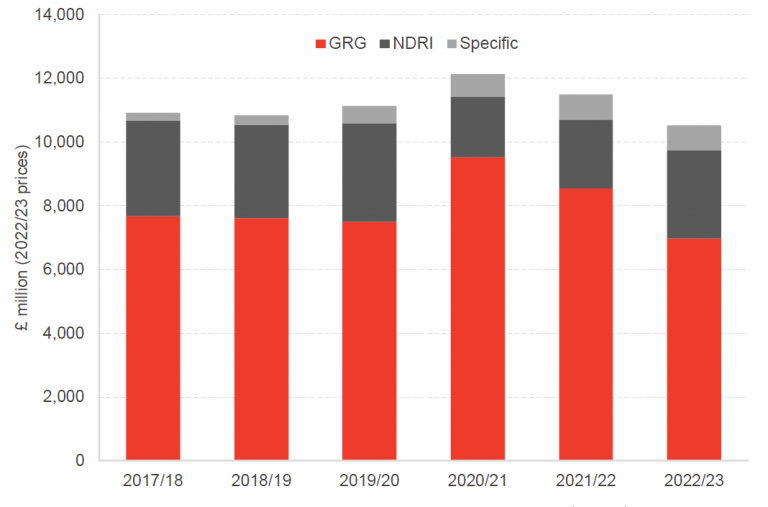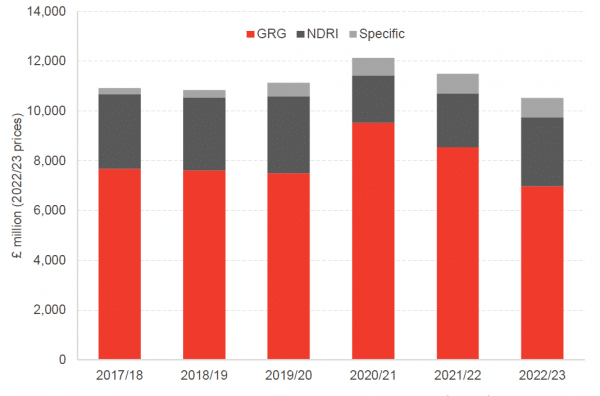 Source: For 2017/18 to 2021/22, Provisional Outturn and Budget Estimates (POBE); for 2022/23, Local Government Finance Circular 1/2022.
One result of this funding constraint is a further concentration of local government spending on education and social care. Between 2017/18 and 2021/22 (the latest year for which data is available), spending on education increased 6% in real terms, whilst for social work the increase was 5%. The flipside of this was a 9% real terms decline in local government spending on cultural services and an 8% decline in environmental services spending.
Despite these funding pressures, overall satisfaction with council services had held up reasonably well, at least until 2019 – the latest year for which we have comparable data (Chart 3). However, there was also some evidence of a decline in satisfaction with particular aspects of local government service delivery in 2017 and 2018. This coincides with a period when local government funding was cut particularly rapidly. It will be interesting to see how this trend is affected by the pandemic once data is available.
Chart 3: Percentage of respondents agreeing or strongly agreeing with various statements about local services.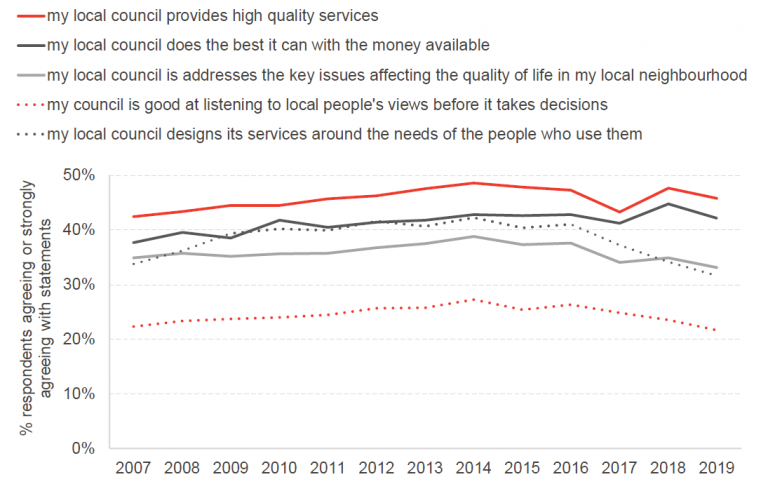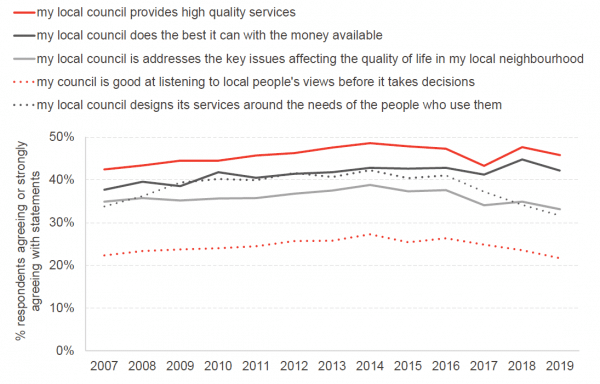 Source: FAI analysis of Scottish Household Survey
Looking ahead
Local government will retain a critical role over the next five years in delivering key Scottish government priorities and commitments, particularly around childcare, educational attainment, and climate objectives (e.g. in relation to improvements to the housing stock and active travel plans). And clearly, major existing agendas such as health and social care integration and digitalisation of public services will remain high priorities.
Yet at the same time, it is hard to see an immediate reversal in the broad trend of funding constraint. The forthcoming Scottish government Spending Review, to be published in May, should shed further light on the funding outlook for 2023/24 and 2024/25.
In addition to consideration of the local government funding envelope in totality, local government will be interested to know more about the outlook for its core budget, relative to elements of the budget that are ringfenced in some way. The government has committed to work with local authorities to produce a fiscal framework for local government this parliament. The expectation is that this might set out clearer criteria about when it is or isn't appropriate for local government funding resources to be ringfenced. But the timescales for production of the review are not yet known.
A major area of uncertainty is what the future of social care will mean for local government. The Scottish government has set out its intentions to establish a new National Care Service by 2026. There are a number of well-founded justifications for the proposed National Care Service, including parity with the NHS, stronger opportunities for staff retention, and consistency of service across the country. But there is little clarity yet about what the reforms will mean for the role of local government in shaping local priorities. COSLA has accused the proposals as representing an attack on localism.
Another uncertainty is the prospects for local tax reform. The past five years have seen relatively little movement on this front. The government has introduced legislation to allow local authorities to introduce Workplace Parking Levies, although the practical advantage of this as a policy has been temporarily stymied by the pandemic. Debates around the introduction of local powers over tourism levies is progressing slowly. On council tax, the SNP-Green Collaboration Agreement makes the case for a 'fairer, more inclusive and fiscally sustainable form of local taxation'. It proposes a process of deliberative engagement and a citizens jury to consider reforms in further detail. Whether this process culminates in a more concrete political willingness to reform council tax than previous processes remains to be seen.
The past five years have seen no major revolutions of local government financing arrangements or public services delivery. But evolution continues at pace. Local government played a critical role in supporting the pandemic response, and continues to play an increasingly important role in delivering core Scottish government commitments in areas from child poverty and the cost of living crisis to climate change.
The next five years may see more substantive evolution in the role and responsibility of local government in Scotland. Whether this happens in a way that enhances, or further erodes, public engagement with local democracy remains to be seen.
This article is part of the 2022 Q1 Fraser of Allander Economic Commentary.